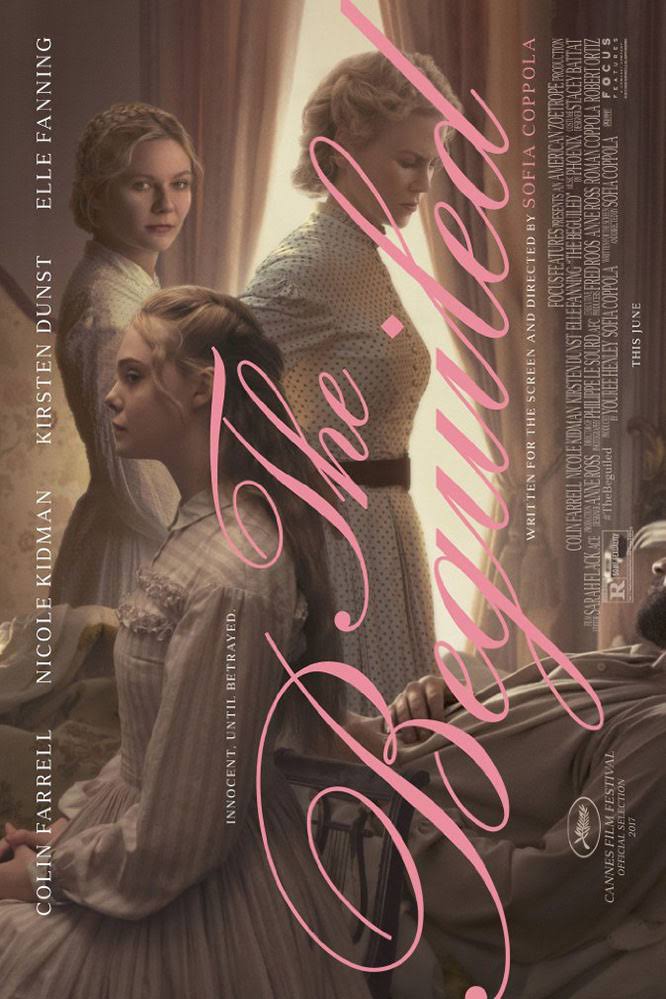 Release Date: June 23, 2017
Cast: Colin Farrell, Nicole Kidman, Kirsten Dunst, Elle Fanning
Director: Sofia Coppola
Studio: American Zoetrope, FR Productions
Distributor: Focus Features

Review Spoilers:
Light
IMDB
|
Wikipedia
|
Rotten Tomatoes
I have a suspicion that this is the type of movie that you have to watch multiple times in order to catch all the little details and symbolism hiding underneath the surface. Even though I only saw it once, much like fine whiskey, I also get the impression that the film will age really well with time.
Sofia Coppola won best director for this movie and, after watching, it's pretty obvious why. Her depiction of an enchanting girl's school nestled in the heart of the humid, Civil-War era South is nothing short of beguiling. *wink*
The real star in this movie (despite the star-studded cast) is the cinematography. The film is bathed in this heavy atmosphere, where every slice-of-life move the characters make is magnified, spotlit, and sprawled across center stage. From tending the garden to mending clothes to mushroom gathering, every action feels entrancing through Coppola's lens.
This atmosphere becomes the focus of the movie – the slow burn of the daily chores, lessons, and interactions between the women leaves the audience in suspense, constantly waiting for the thrill and horror lurking underneath the surface.
Now, The Beguiled was billed as a psychological thriller, and it hits those suspenseful notes perfectly. However, it was also billed as more of a Shutter Island type, Civil-War Era thriller, and I'm very happy to report that the violence and visual depictions of gore were not shown on screen. This wasn't a jump-scare type of film like I anticipated. This was a very understated, subtle take on a thriller, and that subtlety was nothing short of masterful.
As for plot, the movie was a bit thin. It centers around Colin Farrell's character, an injured Irish mercenary Union soldier recuperating from a leg injury at Nicole Kidman's girls school in the Confederate South. As he recovers, he develops romantic relationships with multiple women in the house (again, the sexual undertones, much like the horror and gore, were very understated), which ultimately leads to his ruin at their hands, though perhaps not in the way audiences expect.
One of many beautiful things about The Beguiled is that Coppola flips the trope of the femme fatale on its head, leaving audiences wondering who really is being played (the beguiled) and who is the player. Nicole Kidman's character has a brilliant line near the end of the film about how 'the enemy is not what we thought,' which suggests a complex relationship between appearance and reality and the difference female empowerment and duplicitous manipulation.
Final Thoughts: This movie has layers. Lots of them. I'm still trying to pinpoint why I liked it so much and what to make of it. It doesn't fit into any box I normally expect and enjoy. The Beguiled creates its own beautiful box with its subtlety, symbolism, cinematography, and atmosphere that leaves you thoroughly besotted without being entirely sure why.