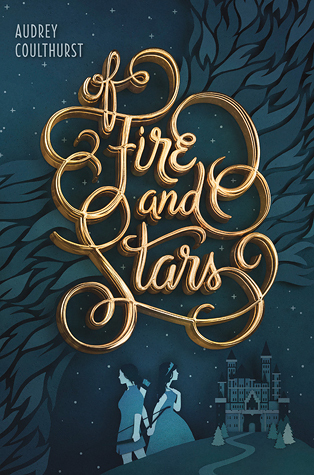 Author: Audrey Coulthurst
Release Date: November 22, 2016
Publisher: Balzer + Bray
Review Spoilers: Low
GoodReads | Amazon

Betrothed since childhood to the prince of Mynaria, Princess Dennaleia has always known what her future holds. Her marriage will seal the alliance between Mynaria and her homeland, protecting her people from other hostile lands. But Denna has a secret. She possesses an Affinity for fire—a dangerous gift for the future queen of a kingdom where magic is forbidden.
Whew. What can I say about this book? Romance, secret desires, hidden magic, adventure, horses, awkward encounters. This book has everything one could want in a fantasy YA with the strong dislike to love trope. But don't be scared off because it does have that trope in it, it really is a compelling book and one that you should add to your to be read pile.
Dennaleia is an interesting character. Torn between confusing real love and her duty to be good princess and future queen to her betrothed, she is constantly warring within her own mind. Add to that the magic that has suddenly grown stronger in the new land where she is to reign. The affinity itself is an interesting one. It is a large part of this story as she discovers how to control her gift, finds allies to help her, and shares it with her most trusted friends. But that's not why we are really here, right? We're here for the love.
Mare is the princess of Mynaria. A fierce soldier, a brilliant horseman, and intelligent, she is a whirlwind. Determined not to fall into the stereotype of the damsel, she fights against the status quo and holds court outside the protected walls of the castle. Though she may be strong and independent, there is one thing that softens her: the new princess Denna. Though she may deny it at first, and does her best to not fall down that rabbit hole, Mare is completely and utterly smitten.
Okay, this is where we get into my squealing over the perfectness of these two princesses getting together despite all the obstacles. First and foremost being, in a time where your destiny is determined shortly after birth, going against the grain and with your heart is a terrifying and hard task to undertake. Top that off with a healthy dose of forbidden magic, unsteady alliances, and political unrest, it is a strange place to be when fate intervenes and brings your love to you.
The relationship between Mare and Denna is truly star-crossed and beautiful. The slow build as they first become friends, then when they fall in love, and finally, that long awaited kiss and night. It is truly a work of art, and so tender that it is easy to take yourself there.
Overall, the story is easy to read and follow, even with flipping between the different viewpoints of the princesses. The characters, even the background ones, are well developed and relatable regardless of where you are or who you are in life. The countries are interesting, and have no lack of history. As a debut novel, Coulthurst does not disappoint. I truly am looking forward to reading more of what this author has to put out, and want to meet her one day for giving us a wonderfully done diverse book that doesn't rely heavily on the past tropes of lesbian love.
If you are looking for a book to read, diverse or not, this is one you should grab and give a go. While it is a typical unhappy strangers to deep lovers fantasy book, it is not one that should be overlooked. Enthralling and engaging, this book will have you sharing and talking. Bonus points, the author is charming, delightful, and easy to talk to on social media.