I had the pleasure of attending the The Get Down panel at the first annual Split Screens Festival. The Get Down is a series created by multi-talented Baz Luhrmann, and an amazing team of collaborators including Oscar-winner Catherine Martin, the legendary MC Nas, the incomparable Grandmaster Flash, Pulitzer-winning playwright Stephen Adly Guirgis, and hip-hop historian Nelson George.
The show is a music-driven melodrama set in the late 1970s, that documents the emergence of a new art form through the lives, art, music, and dance of a a group of young people in the South Bronx when New York was at the brink of bankruptcy; disco was dying out, and hip-hop was on the rise.
"Nelson has been waiting to do a show like this for a long time. An opportunity to present diversity, our city." — Stepehn Adly Guirgis
Despite the mass appeal for the show, Netflix announced last month in May that The Get Down would not be returning to the small screen. However, the cancellation didn't stop Split Screens from hosting an amazing thoughtful showcase panel!
Featured panelist's from The Get Down included, Stephen Adly Guirgis, series co-creator and executive producer; Nelson George, supervising producer; Sam Bromell, writer and producer; Elliott Wheeler, composer and executive music producer; Stephanie Diaz-Matos, music supervisor; Tremaine Brown, Jr., actor; and Shyrley Rodriguez, actress, moderated by Matt Zoller Seitz.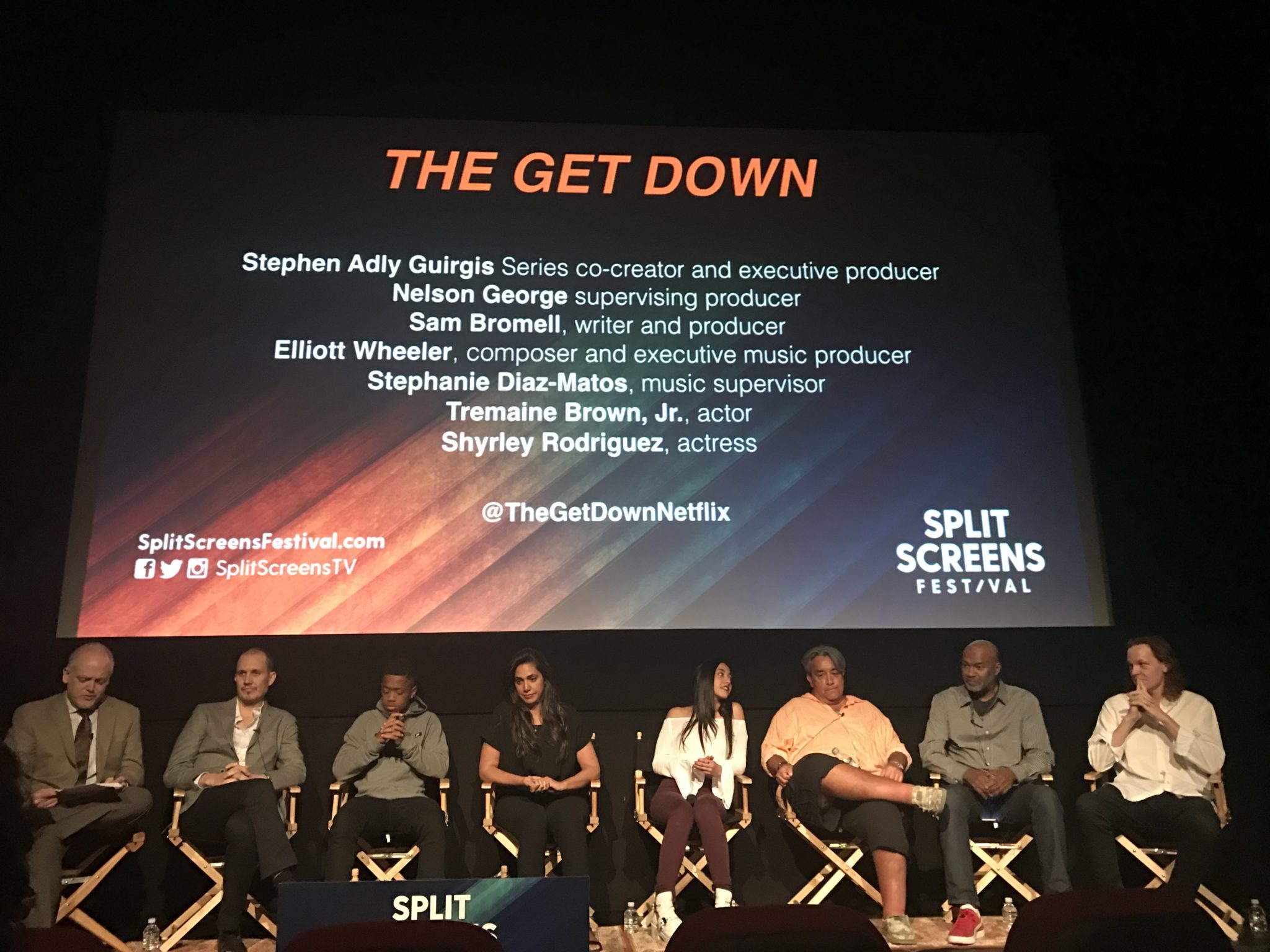 With the news of the cancellation, attendees didn't know what to expect from the panelists. The tension in the air was pretty thick as the panelists took the stage. Matt Zoller Seitz kicked off the panel by stating something I think we all felt, "Let's get this out of the way. I think it sucks that you can't do another season." For a few seconds the entire room was silent, and then just like that everyone began clapping.
After the applause died, Nelson George mentioned that it was unfortunate that The Get Down wouldn't be returning on Netflix. What they accomplished with The Get Down had never been done before. There's no movie or television series that told the story of this era from 1977 – 1979. The Get Down was essentially a 13 hour musical. George also went on to say how he felt a sense of pride because this project created a platform for young African American and Latino actors and actresses.
"When we started, the idea to do the show with basically a cast of all young people, all young people of color and all unknown, to have grown them. The young cast was able to make their marks efficiently, the flipside is… The Get Down was just one phase that has opened doors for other projects."— Nelson George
Thankfully, we'll be seeing more of the cast soon. Yahya Abdul-Mateen II will play Black Manta in Aquaman (2018), Shyrley Rodriguez has been cast in Pacific Rim: The Uprising (2018), and Justice Smith will have a role in the untiled sequel to Jurassic World in 2018.
It was important for people to understand that The Get Down had never been done before and that there was a lot of research that went in to building the show. Baz and George went on a walking tour in the Bronx. During the tour they realized the Bronx was filled with hills. They wanted to incorporate that into the show. They also found that you could see the city landscape from different angles on rooftops, so they knew they wanted to include that as well.
The Get Down is a multimedia collage, filled with shameless entertainment that ultimately samples pop culture history, New York City history, and music history from '77-'79 to create its own sound. Early on, the writers knew where they wanted the characters to start. However, the writers and actors struggled with rehearsal scenes.
Stephen Aldy Guirgis stated, "These kids were learning it as they went. It became about their performance and it wasn't just acting." Shyrley Rodriguez, who plays Regina and was part of the fictional group the Soul Madonna, claims she "loved doing the dancing and the singing." The actors had to work together and build together. They were rehearsing in the same space, side by side. The cast grew together and that's something you don't see often.
DJing and sampling have become such a huge part of our culture because it's easily accessible. But back then to learn one new thing on the turntables could take months; sometimes even an entire year. The obsession that a person had to have to get there was incredible. Grandmaster Flash was on set and would scratch for scenes. The blue crayon scene could have taken up a few episodes just to get across how much time and effort went into learning.
Rich and Tone were the choreographers that essentially became movement translators while on set. They helped explain how to capture the actors' movements on camera from certain angles. For example, the break dancing scenes were recorded from lower angles while the disco dancing scenes were captured from above or at a higher angle. Rich and Tone were a huge help, and essential for how the directors would capture movement.
Actor Tremaine Brown Jr., mentioned, "the choreography made the show. You had to make the choreography believable. You had to be there to understand." In every single episode there was at least one major musical number, sometimes more.
Stephen explained, "these guys would have to come in and learn the visual concept, Flash would do the scratching, while the actors would have to come in and learn the verse, record it in the studio, and then go and do the choreography." They had to do all the musical numbers live multiple times during filming. There was no set way of doing things and the actors really were learning as they went just like the characters they played on screen.
"The show is based off of a whole lot of rehearsals," says Shyrley, "Justice couldn't rap at all in the beginning, we all had to learn things." Stephen went on to mention that everyone knew Shameik was going to pop on scene, but they weren't sure about the others. Justice was the lead, and "everyone was worried he wasn't going to pop on screen, but he did. He learned everything from scratch, how to rap, etc. and he made us all so proud."
Tremaine was expecting it to be easy because he already knew how to dance. He discovered that he did in fact have a few things to learn from the choreographers (like how to properly control his movements and his breaths when dancing). Rich and Tone (choreographers) gave Tremaine guidance and taught him the dances from that era. It wasn't until the second season that Tremaine felt like he was getting a grip on things.
"There wasn't a Soul Madonna group in the beginning. The actors made that happen. By the end of season two Tremaine is able to hold his own on the screen, and is pulling off very dramatic scenes. We've literally watched him grow up on screen. These side characters were able to take what was given to them and pop on screen. The writers had to give them more screen time," says Nelson discussing how Shyrley and Tremaine were able to flourish and expand as actors in The Get Down.
"Every film is a documentary in its own making but I think it's especially true in the case of this show, you know in addition to this you're representing a historical period that is underserved and you're not just doing it in a docu kind of way. You're making this kind of fantasia version of it and that's new." — Matt Zoller Seitz
In places like Brazil and Italy, with a high populations of Africans, The Get Down was really popular because these people were able to see themselves from all over the world. The series definitely had a massive pop cultural impact and the upside of the show being canceled is the fan art.
According to Nelson and Stephen there's already been so much fan art and fan fiction around the show. Nelson even mentioned, "I imagine this [The Get Down] will come back in another form. I think he might be on to something, good things that have a positive impact usually find their way back somehow." Until then, I guess we'll all just have to enjoy the episodes that were produced on Netflix and support the actors we fell in love with their new projects.
5 Things You May Not Know About The Get Down:
Shyrley Rodriguez has a theater background.
Tremaine Brown, Jr., was discovered by a casting director while dancing on a New York City train.
All of the actors rehearsed in the same room, creating a natural bond amongst them all.
There are TV directors who know how to produce and direct a musical. None of them were hired for The Get Down.
Baz Lurhman Hip-Hop? Well Baz had never created anything with Hip-Hop until The Get Down. He accomplished this feat and managed to incorporate his signature style by including a narrator (Nas), and a triangle love story.