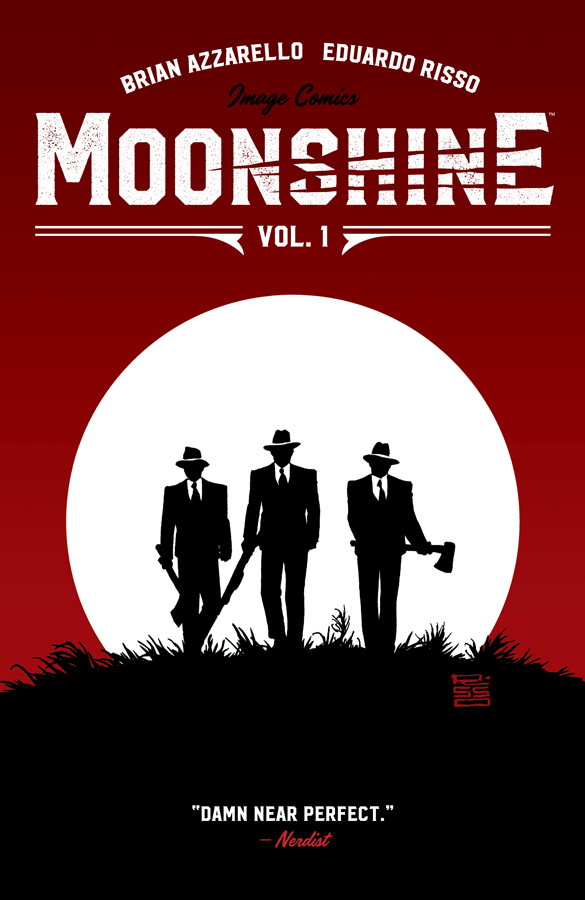 Author: Brian Azzarello
Artist: Eduardo Risso
Series: Moonshine Vol. 1
Release Date: March 24, 2017
Publisher: Image Comics
Review Spoilers: Moderate
GoodReads | Amazon

If you can't figure out from the cover that '
Moonshine
' is a double entendre meant to invoke both the book's prohibition era setting and it's eventual emphasis on werewolves then I apologize for that spoiler. However, it becomes obvious within the first few pages and by the end of this volume – which complies the book's first six issues – you'll have seen it all for yourself.
Moonshine
is a series that pits New York City crime bosses against backwoods, Appalachian moonshiners – who also just happen to be werewolves.
And if that doesn't hook you then I'm genuinely not sure what will.
The book follows Lou Pirlo, who works for a powerful crime boss back in New York City. He's been sent out into the middle of nowhere in search of a particularly noteworthy brand of hooch cooked up by a local known as Hiram Holt. The plan is to get Holt's moonshine up to New York where it'll make Lou's boss, Joe, rich. Simple, right? Except it becomes very obvious to Lou that something is wrong with Hiram Holt and their whole damn plan. And it has a little something to do with the number of bodies that seem to be left in Holt's wake.
Lou Pirlo is not really a likable character simply based on his personality but he is a pretty decent point of view character. He provides an honest narration to the series and his mistakes and blatant alcoholism basically doom him. Hiram Holt is a real figure to be reckoned with and he's got some pretty terrifying lines that might not even seem that scary coming from anyone else. Rounding out the cast are a series of interesting and at times strange characters – but the real secrets behind most of them elude us in this first volume leaving us wanting to know more.
Bloody and full of mystery, Moonshine is one of the more imaginative entries into the recent influx crime-centered comic books. Azzarello and Risso have traded the modern day for the Prohibition era with the plot focusing on old school bootlegging and alcohol. The supernatural element is a nice addition, too, and it helps to make the book feel fresh. Moonshine embraces not just the werewolf mythology but also hints at the involvement of witches and magic to greater effect in future issues.
I love a good horror comic and Moonshine really shines (pardon the pun) when it comes to setting a dark, dangerous tone. The backwoods, Appalachain setting is just rife with Deliverance-esque potential. Throw in Hiram Holt and the rest of the locals and it's quickly a place you probably wouldn't want your car to break down.
Unfortunately, it takes a little long for the whole werewolf part of the story to come into play and I think that's somewhat to the series' detriment. The pacing is a bit slow for me, but I will admit that at the end of the sixth chapter (or, originally, the sixth issue) the story really does come together. I'm just glad that I got the instant gratification of reading all of the issues together in this trade rather than reading them individually. The long wait between issues would have likely hampered the book's ultimately satisfying pay off for me.
Not that that's going to stop me from picking up issue #7 as soon as it's available.
If you're a fan of horror books, then Moonshine is definitely worth checking out. It's a well written book with fantastic artwork that brings Brian Azzarello and Eduardo Risso back together to tell an intriguing story of werewolves and bootleggers. Despite the somewhat slow build up, it has a satisfying conclusion and really makes me believe in the potential of future story arcs. It's not the best horror book out there but you can't go wrong picking this one up and giving it a read.