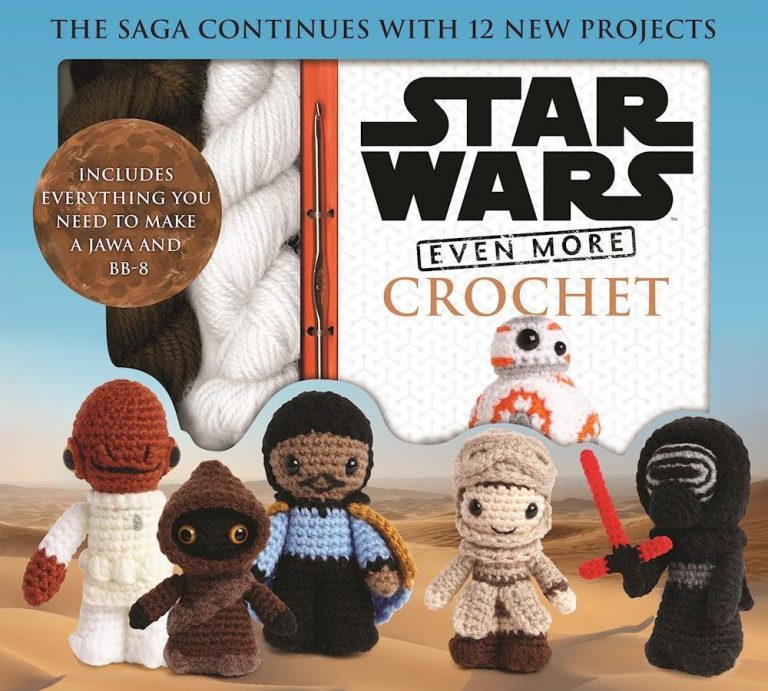 Release Date: March 17, 2017
Publisher: Thunder Bay Press
Genre(s): Crafts & Hobbies
Review Spoilers: N/A
Amazon | Barnes & Noble

What better way to celebrate May the 4th than with BB-8?! Thunder Bay Press released its
Star Wars Even More Crochet
kit in March of this year, with all the materials to your very own BB-8 included! Providing instructions to make twelve new characters, as well as the materials to make a Jawa too, crafty nerds everywhere can pick up a kit for endless
Star Wars
fun.
Perhaps because this is the second Star Wars kit in their crochet collection, Thunder Bay has leveled up alongside the reader. As opposed to the Marvel Universe Crochet kit that we've previously reviewed, which felt like a solid starting point for beginning crocheters, the amount of detail that these Star Wars characters require seems better suited to intermediate crafters. Many of the characters have smaller details that include sewing, attaching eyes, and such that could possibly be challenging to new crocheters.
But for those who are up for a challenge, the booklet includes instructions on how to make a Jawa, BB-8, Rey, Finn, Poe Dameron, Kylo Ren, Obi-Wan Kenobi, Lando Calrissian, Admiral Akbar, Nien Nunb, the Cantina Band, and Greedo. Adorably, there are even instructions on how to make each of the instruments for the Cantina Band members and Poe's helmet is removable.
If your favorite character wasn't included in the first kit, hopefully you see more characters to your liking here! And as previously mentioned, as soon as you purchase the kit, you can dive right in with all of the supplies to make BB-8 and a Jawa! With five colors of yarn, a size E/4 (3.5 mm) crochet hook, a tapestry needle, two sets of safety eyes, and stuffing, the only thing you may need to provide yourself is the supplies for the rest of the characters because seriously, are you going to be able to stop yourself at just the two provided by the kit?
The booklet itself, from author Lucy Collin, is 76 pages and does take the time to define the tools and terminology used throughout. Each project is gives a finished size estimate – with BB-8 being the smallest at around 2.75" and Kylo Ren being the tallest at 4.25" – as well as a little blurb on the character and the materials needed to complete the project.
Pictures which accompany projects at various stages of completion help crocheters to get a better idea of what the projects should look like at any given time and also showcase some of the extras that author Lucy Collin suggests to assist in making the projects easier, like pins and stitch markers.
Like the last booklet, I will say it was again difficult to keep the small booklet open to follow along at times. It being compact and slightly stiff meant that it would sometimes close on its own while I had my hands full of yarn. However, I read a great tip that suggested cutting off the spine and having the booklet spiral bound for future projects. That was it could lay flat and stay easy to read in the middle of projects.
All in all, even as a novice crocheter, I enjoyed this kit and the ease with which I could jump right into the crafting. Plus, there's no way you can't find a character to love with such an awesome variety of old and new, something Collin specifically choose to balance. It's almost a guarantee that you'll be the coolest crocheter in your crafting group with the whole Cantina Band backing you!


Did you make it this far and think, 'This is awesome! …But I'm not much of a Star Wars fan?' Thunder Bay has you covered with a variety of other fandoms – including Disney Classic Crochet, Disney Frozen Crochet, Disney Princess Crochet, Peanuts Crochet, Rudolph The Red-Nosed Reindeer Crochet, Marvel Universe Crochet, and The Wizard of Oz Crochet!