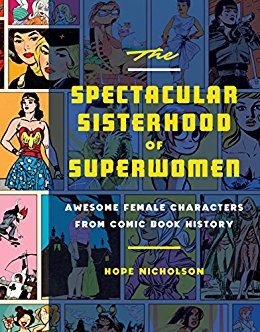 Author: Hope Nicholson
Release Date: May 2, 2017
Publisher: Quirk Books
Review Spoilers: N/A
GoodReads | Amazon

As a woman who loves comic books, female representation in one of my favorite mediums certainly matters to me. Superhero books tend to be notoriously male-oriented and the Marvel and DC Comics pantheons of superpowered, caped crusaders are largely filled out with male characters. Just look at the Marvel Cinematic Universe. We won't get a standalone film featuring a female hero until 2019 when
Captan Marvel
hits theaters…
eleven years
after
Iron Man
kicked off Marvel's film franchise.
Luckily, the written source material is doing a lot better about including more diverse characters. The bigger publishers are finally branching out and embracing new and existing heroes who break the traditional mold. Smaller, independent publishers have also been releasing some amazing series' lately, featuring some really awesome ladies leading their own books.
But let's not discount the female comic book characters that came before them!
The Spectacular Sisterhood of Superwomen is a collection highlighting some of the most noteworthy, memorable, and outrageous female characters from throughout comic book history ranging from the beginning of the comic book industry's first major book in the 1920s to the present. Hope Nicholson – the author of this stupendous book and the editor behind The Secret Loves of Geek Girls – organizes her book by decade, highlighting female characters you may be familiar with already and plenty more that may have been lost to history.
As Nicholson herself admits, this is not necessarily a book about the 'best' or 'most popular' female comic book characters. Instead, it's a cross-section of great (and sometimes not so great) characters that were emblematic of their times. The characters range from well-known classic characters like Little Lulu and Supergirl to unknown two-to-three issue characters like GI Jane and Tiffany Sinn. Some characters come from renown publishers like Marvel, DC Comics, and Charlton Comics while other characters come from self-published books, indie publishers, and webcomics.
Nicholson provides a really awesome sampling of characters and comics from across the decades. And don't worry that you won't recognize any characters. Even if some of the others might be unknown to you, Nicholson highlights an 'Icon of the Decade' at the end of each decade. If you aren't familiar with Jetta Raye or Superbitch, you'll recognize characters like Batgirl!
The books that are included in The Spectacular Sisterhood of Superwomen are incredibly varied. Some characters appear only a few times in books that haven't been reprinted since their original runs. Other characters come from modern books that are easy to get your hands on. The books from the 2000s and 2010s in particular are almost all really awesome and easy to get your hands on. If you're looking for some great recommendations for new books to check out – definitely start there. (We highly recommend Kamala Khan's Ms. Marvel, Bandette, Monstress, and Pretty Deadly to start off with!)
One of the best things about the Spectacular formatting is that Nicholson wants you to not only know about these characters, but see them in action for yourself.
Each character gets a brief rundown with her basic information as well as her first appearance in comics. But then Nicholson goes one step further and tells you how to find those issues – if you can. Webcomics come with links. Characters with long publication histories come with recommendations on which volumes to pick up first. If older comics are archived online, she'll even direct you to where to find them – though in one case her only suggestion was to have someone visit Canadian library archives to search through old comics for you.
The book isn't just about the characters, though they are the main focus. Nicholson also provides a very brief, generalized history of the comic book industry in each of the decades she highlights in the book. She provides a commentary on not only trends in comic books but also the Comic Code Authority, the rise of self-publication, webcomics, and more. Each decade's characters are preceded by an introduction that provides some historical context. Further context is often found in the character descriptions, too.
So the book isn't just a list of characters and their stories – but also where their stories fit into the history of comic books and how they fit into the trends of the time as far as the representation of women goes!
Lastly, I want to point out one more cool thing about The Spectacular Sisterhood of Superwomen: the cover design is awesome. Much like Jon Morris' Regrettable books the cover is comprised of a collage of characters found within. However, the dust jacket on this book is awesome. It's plastic and it basically just looks really cool. Be careful if you read the book with the dust jacket on, though. Once the plastic gets accidentally bent or crushed the folds don't just fold out like they might on a traditional dust jacket. (Trust me – mine has a couple of small cracks!)
I've got nothing but good things to say about Hope Nicholson's The Spectacular Sisterhood of Superwomen. If you loved the Jon Morris books or if you just love kick-ass ladies in comics, this the book for you. It's a fun read and you'll get to discover some really crazy, quirky, and outrageous women you may never have known ever graced the pages of comic books. Plus, you never know, you may find some new books to add your reading list! I know I sure did. (I'm looking at you Street Angel!)