A REVIEW COPY OF THE LEGION OF REGRETTABLE SUPERVILLAINS WAS PROVIDED BY THE PUBLISHER IN EXCHANGE FOR A FAIR AND HONEST REVIEW. NERDOPHILES WAS NOT COMPENSATED FOR THIS REVIEW. OUR OPINIONS ARE OURS AND OURS ALONE.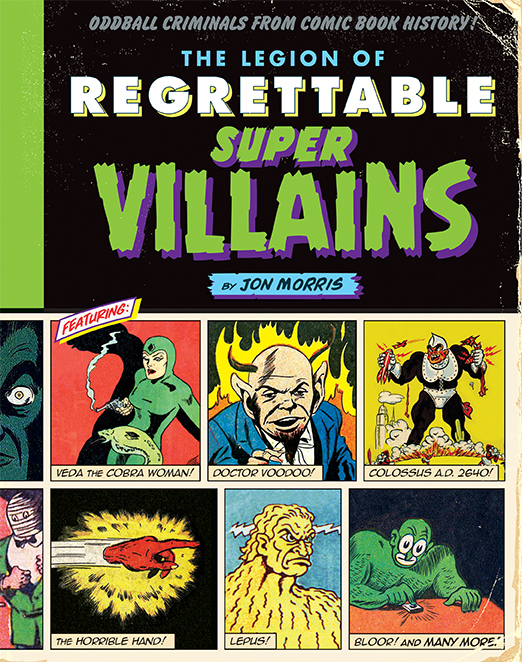 Author: Jon Morris
Release Date: March 28, 2017
Publisher: Quirk Books
Review Spoilers: Low
GoodReads | Amazon

About a year and a half ago
we shared a book with you
called
The League of Regrettable Superheroes.
I absolutely loved it and thought it was a fantastic little encyclopedia of the quirkiest, silliest superheroes to ever grace the pages of a comic book. Now, author Jon Morris has returned with a new book, this time focused on the 'regrettable' supervillains from throughout comic book history.
Some of these bad guys are truly regrettable.
Others just have powers, names, story arcs, or origins that are so outrageous you can't help but wonder what the heck their creators were thinking. While the majority of the characters included in this book have disappeared into obscurity, some – like Marvel's MODOK – still remain constant fixtures in their respective universes.
Like the first book, The Legion of Regrettable Supervillains is split into three sections: the Golden Age, the Silver Age, and the Modern Age. Each section is accompanied by a brief introduction from the author which sort of sets the stage for readers. It gives readers some perspective as to what was going on in the comic book industry at the time these characters were being developed, which can be pretty important.
Jon Morris did a really great job of curating this tome of oddball villains and he does a fantastic job of introducing readers to each and every character. Morris has a long history of scouring through obscure, old comics. He's run the Gone & Forgotten blog "in some form or the other" for a good twenty years now. This is a guy who not only knows what he's talking about but has a real appreciation for the bad guys he's chosen to showcase.
Each characters generally gets a two page spread – one page showing the cover of one (or the only) comic book issue in which they appeared and the other providing some background on the character. Some supervillains, like Bloor, even get three or four pages because their stories are just that crazy they need the extra space. Interestingly enough, it feels like a lot more supervillains get the multi-page treatment than superheroes in The League of Regrettable Superheroes ever did.
There are a lot of really great (aka kinda terrible actually) supervillains for you to discover throughout the book.
One of my favorite supervillains is featured pretty early on. The Balloon Maker's modus operandi is pretty freakin' creepy. He makes balloons out of peoples' bodies. That's pretty freaky – even if his heroic counterpart was actually Frankenstein (technically, his monster). I also thought Animal-Vegetable-Mineral Man was pretty great just because his name is so ridiculous. Seriously, who even thinks up that sort of moniker? Though, I could say the same thing about Egg Fu, who I still can't believe actually ever existed.
Don't think that inclusion in this book means that everyone's a laughing stock lost to history. As I pointed out earlier, MODOK has somehow surpassed his ridiculousness to be featured prominently in numerous recent Marvel series. Even more impressive, another member of Morris's The Legion of Regrettable Supervillains, Batroc the Leaper, even appeared on screen as part of the Marvel Cinematic Universe in Captain America: The Winter Soldier.
Comic book fans are going to love reading through the zany, sometimes unbelievable stories included in The Legion of Regrettable Supervillains. I've had the The League of Regrettable Superheroes sitting in my living room ever since it came out and it's the perfect nerdy coffee table book. They're both just really great books to just pick up from time to time when you're bored and anyone can enjoy them – which is why they're great to just have around or give as gifts.
While it doesn't matter which one you pick up first, I recommend checking out both The Legion of Regrettable Supervillains and The League of Regrettable Superheroes when you get the chance!