A REVIEW COPY OF STAR SCOUTS WAS PROVIDED BY THE PUBLISHER IN EXCHANGE FOR A FAIR AND HONEST REVIEW. NERDOPHILES WAS NOT COMPENSATED FOR THIS REVIEW. OUR OPINIONS ARE OURS AND OURS ALONE.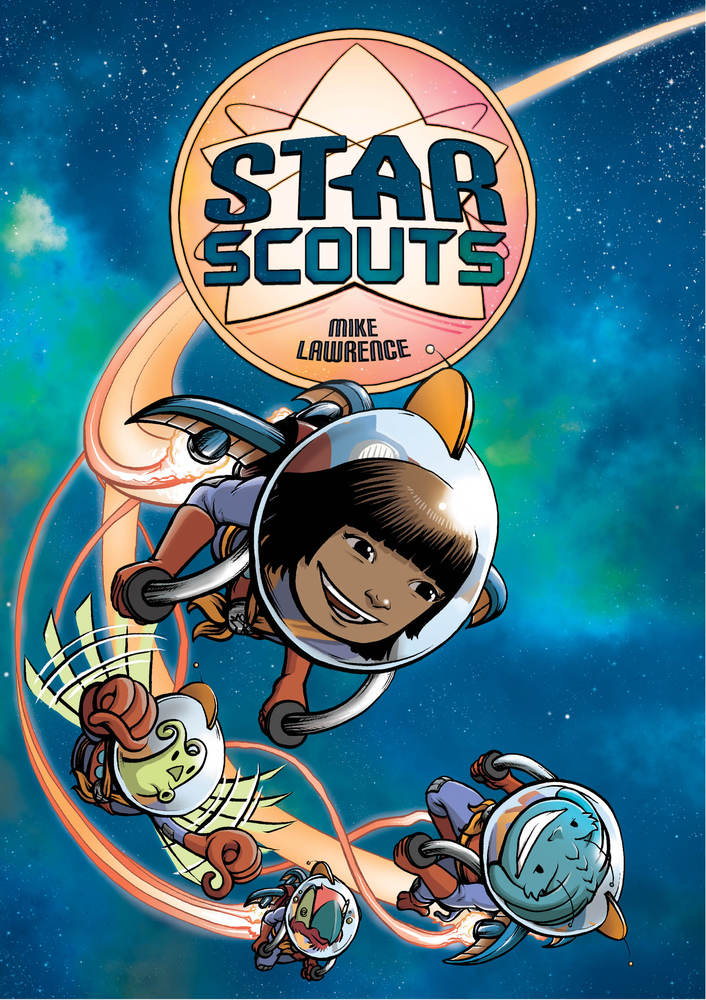 Author: Mike Lawrence
Release Date: March 21, 2017
Publisher: First Second Books
Review Spoilers: Low
GoodReads | Amazon

Ever wish your Girl Scout or Boy Scout badges had been a little more exciting?
That's how Avani, the main character of Star Scouts feels. After moving to a new town she's saddled with a less than adventurous troop of Flower Scouts who only seem to care about boys and pop culture. But after a chance encounter with an alien Star Scout she joins up with the intergalactic organization. Her scout work goes from 'Make-Up' badges to badges in xenoscatology (the study of alien poop), robotics, jet-packs, and more.
Instead of trying to make friends in her new home, she bonds with her Star Scouts troop and when the chance to go spend a week in space at 'Camp Andromeda' comes up she lies to her father and takes off for the stars. There she learns a lot about friendship, cooperation, and giving people a chance. She also undergoes some pretty tough challenges to prove that not only does she belong in the Star Scouts but that potential scouts from Earth in general are ready to join the organization.
Talk about pressure!
I've been pretty excited for Mike Lawrence's latest middle grade graphic novel Star Scouts for a while now. Science fiction has been my favorite genre ever since I was a little kid and so I always love to see new sci-fi stories reaching out to young readers. Mike Lawrence does a fantastic job with this book. He creates a fun, relatable story full of alien characters, strange creatures, and advanced robotics. It's full of science and action and teaches some pretty great lessons without coming off as too preachy.
I loved that the main character was an adventurous tomboy whose interests in rodeo and animals weren't necessarily the norm amongst her peers. And it was refreshing to see a main character who is a young woman of color taking center stage. Avani is an amazing character and everything about her story is relatable. Her reaction to being the new kid and her difficulties fitting in with the girls in her Flower Scout troop are things that many readers will have experienced themselves. And her resilience and determination when faced with the various challenges that arise at Camp Andromeda are a joy to watch – and the lessons she learns along the way will resonate with readers of all ages.
Now, as a former Girl Scout I was a little disappointed by the characterization of the girls and the organization via the stand-in Flower Scouts. While I distinctly remember feeling exactly the same way as Avani when joining a new troop as a child, the fact that the other girls were obsessed with the 90s boy bands of the time wasn't something that drove our troop. We still did all the try-its and badges we could and we camped on a frequent basis. The characterization of the 'Flower Scouts' as that super girly was a bit of a turn off.
Otherwise this was a really great read!
I'm game for anything cute, fun, and science fiction related. And if you or the young readers in your life feel the same way then I definitely recommend checking out Star Scouts. Middle grade graphic novel fans are going to love this one, especially those who enjoyed Zita the Spacegirl, Cleopatra in Space, and Astronaut Academy!