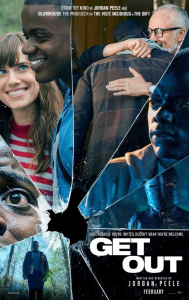 Release Date: February 24th, 2017
Cast: Daniel Kaluuya, Catherine Keener, Allison Williams, Bradley Whitford and Stephen Root
Director: Jordan Peele
Studio: Perfect World Pictures, Blumhouse Productions, QC Entertainment
Distributor: Universal Pictures
Genre: Horror

Review Spoilers
: Medium, but there will be a big ol' warning when they pop up.
IMDB | Rotten Tomatoes | Wikipedia
Here it is, the directorial debut for Jordan Peele, and the best horror movie of the year so far. Yeah, that's not a big praise as the rest of them have been downright trash, but still. It is very good. Preface, I suspect I don't have the correct vocabulary to accurately discuss some of the topics of this film. I do my best.
Get Out is the story of Chris Washington, a photographer who is going out with his girlfriend Rose to her family home to meet the folks. Oh, and Chris is black. Rose is white, as is the rest of the wealthy upper class family and friends who happen to gather at the Armitage home. Something is weird, but is it just Chris's imagination? Are these white folks as cool as they claim? Tensions rise.
The acting in this flick is astoundingly great, across the board. Daniel Kaluuya plays the lead with amazing emotional control, able to display the unease, paranoia, and unease with his paranoia to minute detail. When pieces of Chris's backstory are revealed, Daniel Kaluuya's command of expression is on full display. Catherine Keener as the Armitage matriarch and psychiatrist is fantastic and Bradley Whitford as the 'hopelessly white but not racist' dad is a role seemingly written for him. Allison Williams turns up the heat in several scenes, her performance creating heart-thumping tension as the story unfolds.
The elephant in the room of course is race. The movie is brimming with social commentary but deftly handles it, for a genre film or otherwise. Or maybe, specifically because it is genre. By having this discussion couched in a movie about paranoia and tension and suitable strangeness, the questions being discussed are able to be done so openly but also in a manner that doesn't do the plot disservice.
It is played amazingly even handed with the reactions Chris gets from the family, the help, and the family friends all giving understandable pause and yet he consistently tries to give the benefit of doubt to them. They mean well, he thinks, is he over reacting? In exchanges of dialogue with the father both characters walk fine lines wanting to seem racially aware and sensitive to the others attempt while also bristling that the exchange has to happen at all.
Chris allows the otherwise predominantly white cast of characters to backwards step into racism and shrugs it off. It's clear that he is used to this life and despite the awful questions or icky sounding compliments, Chris endures.
By having the point of view character of the film experience such overt racism, strange fetishism of his blackness, or benevolent prejudice, it's made clear to even the thickest headed of observer just how icky it all feels. This dialogue doesn't let up until the final scene of the film and it makes a hell of a point. It is an incredibly well put together movie and if horror, Jordan Peele, or discussions of race are subjects of interest for you, you gotta check this out.
SPOILERS FOR REAL TURN BACK NOW.
And that is how the movie goes, operating on weirdness, unease and tension for roughly the first half and then it all becomes amazingly, starkly clear what is happening. The movie commits to its horror leanings and the truth of the family, of the gathering are all revealed.
From that point on the social commentary is less the focus as is the pulse racing situation Chris finds himself in. Finally certain something is wrong he convinces Rose that it's time to go, and we breathe a sigh of relief, 'Thank god she's listening to him!' It makes the audience that much more worried when Chris finds evidence that maybe Rose isn't all she appears, and a scene built around their attempted exit of the home, with Williams frantically digging for keys as the family begins to loom menacingly. The audience begging, pleading for Rose to pull the keys and give our hero at least one ally in this house of shadows… And she pulls the keys from the purse revealing her role in the entire plot.
While this works, I couldn't help but feel slightly disappointed as a certain idea is then lost from the film. That idea, being of a 'good' character or person who grows up in casual, institutional racism, isn't even aware of it as a part of their lives but then made to see, and their reconciliation with it. I feel like that could have been a real benefit to this movie's audience, but that's me pretending my own ideas are better. They're undoubtedly not.
Meanwhile, back in the city the character of Rob, played by Lil Rel Howery, is watching Chris's dog. The two talk on the phone every day, Rob acting as back up to Chris's worries. This subplot allows for much of the humor in the film, which Peele flicks back and forth between with astute ability. I know for some that whiplash speed can throw them for a loop and ruin the vibe. It is a possibility.
Along with that humor comes the subversion of a number of horror, especially modern, tropes. Rob isn't in the situation, so he jokingly guesses at the possible awful nature of the home and he laughs it off. He isn't in danger, he's on the phone! When Chris sends Rob a picture of another black man at the party, feeling suspicious of him, Rob eventually takes to the computer in the way that every movie has anyone discover anything, but instead it's a believable manner.
Rob remembers the man, so he doesn't Google (or Bing) absurd specific halfwitted phrases. No he googles the persons name, he sees a couple of articles that are relevant and believable. Maybe that has to do more with the nature of the plot and less technology in horror but still. It was refreshing to not have to deal with Bye Bye Man levels of stupidity again.
I often wonder if comedy and horror writers are not cut from the same cloth. Both are built around build up, pacing, and reveals all with the ultimate goal of appealing to a very base function of us as humans. To delight to terrify. This film makes it clear that no matter the relation, Peele is without a doubt a deft hand at both.