Have you ever wanted to live that indie-hipster Bohemian life for a night, listening to a pop-up show with local artists? Have you ever read about secret concerts and wondered how people are in-the-know enough to get on the list? The ones where up-and-coming artists perform in non-traditional venues, like string-lit rooftops or tiny cafes?
If any of those scenarios sound appealing to you, I highly recommend the SoFar Sounds experience.
SoFar Sounds is like the AirBnB of music – it integrates the sharing of local locations and scouted talent with an internet guest list to create secret shows in unique locations all over the world.
Here's how it works: you sign up to be on the guest list for a concert in a particular city on a particular day in a secret location. You get put on a waiting list until a few days prior to the show – the area coordinator picks the guests who will attend and sends out a tentative acceptance email. If you want to go to the gig, you donate the suggested amount of money (mine was $20, $10 per ticket) to the site to confirm your space.
After you buy your ticket, the secret location is revealed, but you won't know which acts you're seeing until you arrive on-site. Each concert features about 3-4 acts, usually a mix of local performers with an occasional touring artist or two looking to promote their shows in town.
It's all very cloak-and-dagger, from the secret location to the secret bands – both aspects which really added to the excitement of the experience.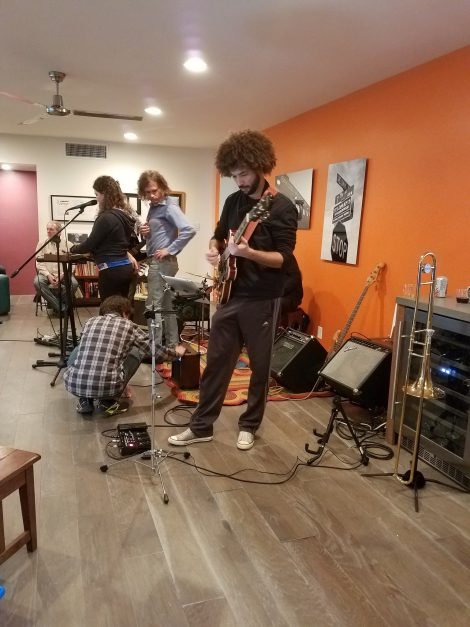 The event that I attended was in Phoenix in someone's house. No lie, I was very nervous about going to a concert in a random person's home. The social anxiety of walking into a situation where you have no idea of what to expect nearly discouraged me from buying my ticket in the first place.
The house was in a nice neighborhood with plenty of street parking; a SoFar sign was in the yard and an equipment van was set up in the driveway when I arrived. When I walked inside, my nervousness evaporated: the space felt open, clean, and friendly, and I was quickly greeted by one of the performers, the event organizer, and the owners of the property.
One of the best parts about this experience is how collaborative it feels. In Phoenix, which has been a SoFar city since August of 2015, they operate with a crew of 8 people on a mostly volunteer basis. The crew volunteers their time to rig audiovisuals, vet spaces, and scout talent for the shows.
The operation feels very professional, with quality sound and recording for the artists, even though it is set up and torn down for makeshift concerts in makeshift venues monthly. Artists choose their compensation: they can either take money for the gig, or they can choose to have their performance professionally filmed and put online on SoFar's Youtube channel (most take the exposure over the cash).
Our hosts were fantastic – most of the events are BYOB, but our hosts provided some drinks and snacks along with the space. More guests arrived, with a total of 40 or so people attending in total. The majority of the concertgoers were newbies like me, but the conversation flowed nicely and everyone was respectful of the house and of each other – I don't typically use the word 'vibe' but the event had a welcoming atmosphere to it.
The concert took place in the middle of the afternoon (my theory is that it serves a dual purpose of cutting down on the potential 'creep' factor of going to a private residence at night and it probably also cuts down on noise complaints) and lasted about two hours. We listened to a local singer-songwriter, a punk-y garage band duo, and a touring Brazilian folk-pop band.
Part of what makes SoFar Sounds great is that it exposes you to new music you probably otherwise would have never experienced. Would I have willingly bought tickets to see a Brazilian folk band? Probably not. Did I enjoy their use of cowbell and trombone? Hell yes.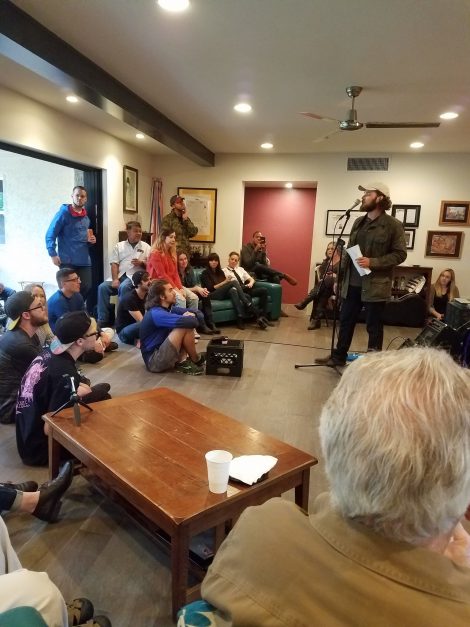 Final Thoughts: From the exclusivity of the signup process to the excitement of discovering new music, SoFar Sounds is in the business of providing musical adventures, giving you a little taste of being on the inside of the music scene.