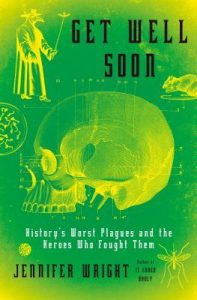 Author: Jennifer Wright
Publication Date: February 7, 2017
Publisher: Henry Holt and Co.
Genre: non-fiction, historical non-fiction, humor

Goodreads | Amazon
Get Well Soon is a collection of historical narratives detailing some of the worst plagues and diseases in human history and how humans fought them. We're talking everything from the bubonic plague to polio, with all its sewage-filled city streets in between.
If reading about these macabre topics sounds like it'll give you a case of the vapors, hold up for a feverishly-hot second. Jennifer Wright has the incredible talent to be able to transform dense, heavy subjects into riveting reads – a talent that translated well in her successful debut novel, It Ended Badly, which told the story of 13 of the worst historical breakups of all time (BUY IT. READ IT. TELL YOUR FRIENDS.)
No matter the topic, her voice is witty, the work is well-researched, and the historical narratives are fascinating. She has a sense of humor and voice that reads like you're talking to your best friend – your best friend who just happens to know more than most people do about syphilis and lobotomies. (Shout out to My Favorite Murder podcast fans, because I feel like you're my people and you'll understand what I mean.)
Get Well Soon is meticulously well researched and pays attention to detail without ever veering into dryness or tedium. Wright's excitement and humor about each illness makes learning fun again. The only unfortunate part is that #MLFA just doesn't have the same ring to it otherwise we'd put it on hats as a viral marketing campaign *cough*.
Each chapter of the book can be read as a standalone – at a tremendous benefit to the book. If you're not interested in how glamorous people thought other people suffering from tuberculosis looked (thank you, Moulin Rouge), you can always turn to a new chapter and learn about the coolest man of the cloth who ever lived and worked in a leper colony. Either way, you'll come away with a smile and a wealth of new information you can break out at parties.
The only downside about having the stories stand alone is that any attempt to convey an overarching theme feels disjointed. The book tries to have a takeaway about the tenacity of the human spirit and its capability for kindness, but it feels a little forced (probably in no small part due to our current political climate) and gets lost bouncing from chapter to chapter.
Besides that minor shortcoming, this book is a breath of fresh air. Wright makes reading historical non-fiction tremendously fun, no matter the subject. And because the subject matter is a little heavy, Jennifer Wright's humor and wit make a book about something rather macabre into an enjoyable and informative read.
Final Thoughts: Reading about how bleak these diseases made lives in the past and how the best of humanity banded together to fight and show each other kindness is the perfect chicken-soup-remedy to the chaos and unfriendliness in our political climate. Jennifer Wright knows her stuff, and knows how to make it sparkle, even if the subject matter tends to look a little under the weather.

A REVIEW COPY OF GET WELL SOON WAS PROVIDED BY THE PUBLISHER IN EXCHANGE FOR A FAIR AND HONEST REVIEW. NERDOPHILES WAS IN NO WAY COMPENSATED FOR THIS REVIEW. OUR OPINIONS ARE OURS AND OURS ALONE.