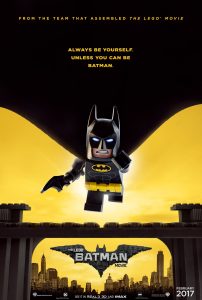 Release Date: February 10th, 2017
Cast: Will Arnett, Michael Cera, Rosario Dawson, Zach Galifianakis, Ralph Fiennes
Director: Chris McKay
Studio: Warner Bros. Pictures, Warner Animation Group, The LEGO Group
Distributor: Warner Bros. Entertainment
Genre: Animated Super Hero Comedy

Review Spoilers
: Low
IMDB | Rotten Tomatoes | Wikipedia
The LEGOverse returns to the big screen with The LEGO Batman Movie! Just 3 short years (almost exactly) after The LEGO Movie burst out and surprised – literally – everyone with its charm, the creators have gone back to that world and delivered a picture that is absurdly funny and charming in the strangest of ways. I enjoyed The LEGO Movie, but going into this I had zero expectations for anything good. I have never been so pleased to be wrong!
LEGO Batman starts with the Joker, surprisingly voiced by Zach Galifianakis and not sounding quite like any previous incarnation though by the end you're won over, perpetrating one of his many devious plans on the denizens of Gotham.
Batman, voiced again by Will Arnett, shows up to put a halt to those plans and in the midst of their climatic battle Joker finds out the worst possible news. Batman doesn't consider him his true villain, his most evil of opponents. Batman maintains there is no relationship with the Joker. A deflated Joker is stopped and what follows is the Batman movie no one knew we wanted or needed, as the characters overcome hurdles to find and defeat Batman's greatest foe… I'll leave it at that plot-wise.
The movie is hysterical. It takes the brooding Caped Crusader we've known so long and does it up as a parody, referencing the past Bats through loving detail and funny story nods while making Batman look like the emo rich boy we've all begun to understand he is.
In Richard Grayson, Michael Cera plays a variant on his past anxious young boy characters but rather than being anxious, nervous and unsure he is wholesome and positive. It's a delightful opposite to Arnett's Batman. Rosario Dawson plays a version Barbara Gordon, fresh as the new commissioner who is hoping to clean up the city. Obviously, Batman takes notice.
It wouldn't be a LEGO movie if it didn't take advantage of all the toy licensing they've acquired over the years so the film is chock full of characters whether as main roles or side characters and cameos, all used to fill out this toy box world.
The things you'll hear characters say in the background will elicit plenty of chuckles and every single one looks fantastic in the way they're generated. It's strange that computer generated versions of toy bricks can look so real and so perfect but they do, and that makes the whole look of the movie work so well.
The LEGO flicks have been known for their music and aside from a meh closing credit track, Batman is on the same level. Using 80s and 90s hits throughout to punctuate jokes and build the fun.
Honestly it's hard to go much further, to tell the plot risks spoiling and to specify much more risks ruining jokes. To summarize, fans of the previous LEGO movie will find a lot to love in this flick, with similar humor and style. If you count yourself among those, then you gotta hit the theaters and check this out. You're in for a treat.