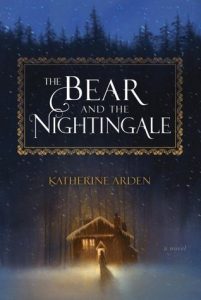 Author: Katherine Arden
Release Date: January 10, 2017
Publisher: Del Rey Books
Genre(s): Fantasy
Review Spoilers: Mild
GoodReads | Amazon

The Bear and the Nightingale
delivers an atmospheric fairy tale that curls around readers like the first tendrils of frost, slowly until it becomes all-enveloping and impossible to put down.
This debut novel from Katherine Arden, the first in a planned trilogy, introduces readers to Vasilia, a young woman whom we follow from birth through the realization of her destiny and the embracing of her mysterious gifts. Set in medieval Rus, what is known as modern day Russia, the unique location and time period brings with it a wealth of superstitions and lore amongst the people. Held with little reverence amongst a slowly converting Rus, Arden's mythical chyerti hold the key to protecting Vasilia's family from a dangerous force and only she seems to understand how.
One such story passed down through the generations serves as the immersion point in the story. Told by Dunya, the beloved house maid who has been with Vasilia's family for generations of women, the tale of Morozko, the frost demon and somewhat English-equivalent in Jack Frost, is a real Russian fairy tale that begins the book.
There are also further references to other stories and real life Russian figures from that era. While it is obvious that some figures are meant to stand out to the reader as important historical influences, it wasn't always obvious to me that this person or that person was someone I should recognize. The Grand Prince of Moscow Ivan II, his son, or the monks all could have been equally as fantastical as the creatures lurking in the woods for all I knew.
And I won't lie to you, I was slow to get into The Bear and the Nightingale. Reading it was a laborious process for me until readers first left the family home with patriarch Pyotr and his two sons. Partly, I found that the two and three names for each character somewhat difficult to follow, being unfamiliar with Russian myself. Vasilia, the main character and heroine of the book, is known as Vasilia, Vasya, and Vasochka depending on who is addressing her. One brother is both Kolya and Nikolai and other brother is Lyoshka, Alyosha, and Aleksei. These names are all used interchangeably and often, making things confusing for me from one page to the next.
However, once Vasilia came into her own as a young woman and she began pursuing her destiny and casting aside societal expectations put upon her (there are a few not-so-feminist views portrayed in the book that, sadly, went along with the time period), the story picked up and the captivating setting really paid off in terms of originality.
The book came to a very satisfying conclusion that left many opportunities to further and explore stories with Vasilia and her family, though Arden does tease what may be to come in Book 2 with the promise of moving out of the forest and into medieval Moscow. There will continue to be more characters from history, fairy tales, and the inclusion of more politics from the time.
For fans of fantasy and fairy tales without a romantic element, for strong female protagonists who want to live life on their own terms, and extraordinary settings that submerge readers in the story, The Bear and the Nightingale delivers on all accounts and promises more with future books.


A REVIEW COPY OF THE BEAR AND THE NIGHTINGALE WAS PROVIDED BY THE PUBLISHER IN EXCHANGE FOR A FAIR AND HONEST REVIEW. NERDOPHILES WAS IN NO WAY COMPENSATED FOR THIS REVIEW. OUR OPINIONS ARE OURS AND OURS ALONE.