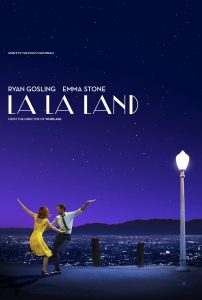 Release Date: December 16th, 2016
Cast: Emma Stone, Ryan Gosling, Rosemarie DeWitt
Director: Damien Chazelle
Studio: Gilbert Films, Impostor Pictures, Marc Platt Productions
Distributor: Summit Entertainment
Genre: Musical

Review Spoilers
: Low
IMDB | Rotten Tomatoes | Wikipedia
La La Land, the next directorial effort from Whiplash's Damien Chazelle features Ryan Gosling and Emma Stone playing love interests once more, as aspiring jazz pianist and actress respectively, their courtship, and pursuit of their dreams in the titular city.
As per usual with my reviews, first, the full disclosure. I am not a musical guy. For whatever reason I just don't enjoy the characters in my entertainment to break out into song and dance, and I say that as a guy who does that in his real life on the daily. Many songs have been sung about my dog's floppy ears or sleepy attitude. Anyways, that's who I am. And I'd be lying if I said I wasn't hesitant going into this flick.
The movie opens with a number 'Another Day of Sun,' after which my only thought was 'Well, that was impressive to have choreographed all that.' And I began to worry, 'Oh no… What if I don't enjoy this movie?' The dread takes over, that fear that you may have to spend the next hour and a half looking for something to like to at least salvage your time…
And then the movie cuts to Gosling and his ridiculously perfect comedic timing. Just like that all the worry fades away. The movie continues alternating back and forth between the two character's stories until they begin to inhabit the same space and the warmth of the movie just swells. You cannot help but fall in love with the two of them together, having perfected that chemistry first seen in Crazy, Stupid, Love.
The movie proceeds, alternating between dance and jazz numbers, just oozing charm. I dare say it is impossible to resist. All the while hitting beats that are romantic in that classic Hollywood way and others not often a part of the traditional romance narrative, finding itself free to be as fantastical and whimsical as it dreams. It delivers a lot more emotion oomph than expected to be sure.
Aside from the plot, the soundtrack has to discussed. All composed and orchestrated by Justin Hurwitz, who worked with Chazelle on his prior films. For some reason I felt like every song and dance was a musical standard by the vibe in the audience, everyone immediately into each. I can speak only from my own (in)experience and say that it all worked splendidly, leaving me with a smile from ear to ear.
Maybe its the baked in nature of the performing, that lead characters are pursuing these musical dreams, that lets the whole idea of musicals win me over. That these characters would sing and dance and tickle the ol' ivories (Guys I'm tellin' ya, I'm not a musician!) as opposed to I dunno, prisoners or lions or whatever, makes it an element of their reality. Anyways, my uncultured self was able to enjoy this flick and I cannot imagine how much fun it would be for audience who go in loving that stuff already.
If you love Gosling and Stone separately or together, and who are we trying to kid everyone does, if you were a drama or theater nerd in school, if you've had dreams of making it in showbiz, or if you've ever had your heart skip a beat, La La Land is for you. As the poster proclaims "Here's to the fools who dream."
La La Land is in select theaters this Friday, December 16th, 2016.