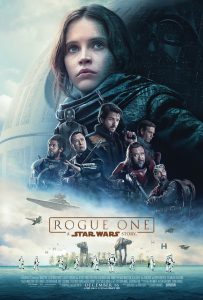 Release Date: December 16th, 2016
Cast: Felicity Jones, Diego Luna, Alan Tudyk, Donnie Yen, Wen Jiang, Ben Mendehlson, Forest Whittaker, Riz Ahmed, Mads Mikkelsen
Director: Gareth Edwards
Studio: Lucasfilm Ltd.
Distributor: Walt Disney Studios Motion Pictures
Genre: Space Opera Epic
Review Spoilers
: None
IMDB | Rotten Tomatoes | Wikipedia
Let's be clear about this. Like so many out there, I am a Star Wars fanboy. Everything that has been released from that galaxy far, far away I have sought out, absorbed, and synthesized into my life. I watched the OT — recorded onto one cassette and passed down to me by family members unknown — until the tape was worn through. I sat huddled in the library stacks, scouring through the massive expanded universe released in book format, reading the Young Jedi Knights series excitedly imaging my place in those worlds, alongside my lifelong friends.
If Episode VII, The Force Awakens, took us all back to that galaxy far, far away. Then Rogue One takes us back to that galaxy, and then further back into that time. Set immediately preceding the events of Star Wars Episode IV: A New Hope it tells the story that we first learned of in the opening seconds of the original film. Spoiler warning if you haven't seen the original, Star Wars Episode IV: A New Hope here's whats on screen for the first 20 seconds.

That right there is all the plot you're going to get from me in this review. To spoil anyone's experience (especially of this, a movie that you think couldn't be spoiled, I mean look at that screenshot, you know what happens!) would be my greatest failing as a fan of The Saga. So, in my responsibility as reviewer, what can I tell you that won't betray my allegiance to the true ways of the Force?
The story is fantastic. And as mentioned this is a story that has been told previously, numerous times in the EU, all different stories, all said to have happened. Before the New Canon was established, the EU was a wild west of story-lines to be sure. So, as a lifelong fan, I thought even more that I knew this tale.
And yet, after having watched the film, it is tied so tightly with the events of the original films it is now immediately hard to imagine it in any other way. Rogue One feels like a perfect synthesis of what makes Star Wars great. Fans of all the weird stories Star Wars has had to offer us over the last 40 years will find lots to love in the flick.
The cast is stellar. Every character is worthy of becoming a new favorite for fans everywhere. Every single one feels completely true to Star Wars. The diversity present on screen is gratifying and fits the story well. As I mentioned with the EU and the New Canon before, these characters feel like perfect additions to the movie, pulling from bits and concepts of what came before.
As for direction, I've been excited to see Gareth Edwards handling of the Star Wars story. Edwards is famous for his first film Monsters and his 2014 reboot of Godzilla both of which do an exceedingly good job of telling a smaller, personal story amidst huge worlds. Monsters, being a spectacular example of his ability to put a fascinating world on screen, but tell the story of the people who live there. In Rogue One, that means a movie that deftly performs so much world-building for the Star Wars universe, but trusts the audience's no doubt rabid knowledge of the world to focus on the things that matter.
The music is provided by Michael Giacchino is a good blend of the original trilogy's score and some pieces of his own. That said, there are a few pieces that seem a bit rough, no doubt because of the tight schedule for Giacchino to produce on (he landed the gig in September 2016) and I can't help but wonder what Alexandre Desplat's score would have sounded like.
I can say for myself that when these side story, anthology films were announced I was excited but practiced reserve. I don't need a new film every year, I've made due with a new trilogy every 10-15 years, so far. And when they announced their basic ideas for them I try to not get excited.
"Rogue One? We already know that story! A Han Solo flick? I dunno about that." This movie puts to rest all reservations. With a talented, passionate creative crew behind them, (often lifelong fans themselves!) these ongoing stories have the glimmers of greatness in each one, in that I have faith.
Here's what you came here for: It's good. It's very good. It has a few missteps as all stories do, but I won't reveal them here, and they are minor enough that the rest of the movie shines past. It puts the War in Star Wars. It surprises, excites, and inspires.
Rogue One tells you a story you didn't think you could care about, that you didn't think needed to be told, and it makes you care, it makes you want to proclaim the cause of the Rebellion until your throat is raw. I am not overselling it. This is the Star Wars movie we need now in the ever ongoing real battles of Good and Evil, when everything is against us, it is the story that talks about Hope.
Rogue One is in theaters across the galaxy December 16th.
May the Force be with you.