In the past, nerd ladies had to live with a paucity of clothing options. Most nerd attire was relegated to the men's section of your local store with oversized t-shirts requiring serious DIY to fit in any sort of proper way. But one of the greatest gifts of the past decade has been the increase in nerdiness in the mainstream.
With the propagation of Marvel films, conventions, and new Star Wars films, more and more companies have developed to offer fantastic AND fashionable options. So what should you get the fashionable nerd in your life? Check out these options below:
Dresses
WeLoveFine offers some more casual dress options, including a Steven Universe Cookie Cat dress. They have even started their Black Friday savings a little early with 15% off site wide right now!
Her Universe (founded by Ashley Eckstein, general badass and voice of Ahsoka) offers some truly delightful choices, and with their recent purchase by Hot Topic, the options will only expand. Currently, the Her Universe website is down for updates, but you can still find items, such as this Agent Carter inspired dress, at Hot Topic, ThinkGeek, and even Kohls.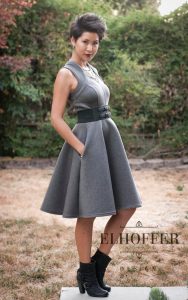 Elhoffer Design creates some of the most swoon worthy attire options and is created by one incredible seamstress, Catherine Elhoffer. She has both her general website and an Etsy shop, with a slight variation in the clothing listed.
While she does create custom pieces, the pictured Scavenger dress is one of her regularly produced. If you should purchase an item from her, be prepared for some knowing glances from other Elhoffer fans.

Leggings
No company does leggings quite like Black Milk Clothing – and these Doctor Who-inspired Gallifreyan leggings are simply stunning. Although the $60 dollar price point might seem a bit steep, the quality of these is definitely worth it.
And although not as large of a selection, For Human Peoples also has some fun, nerdy leggings like these Moon Pants for around $40.

Outerwear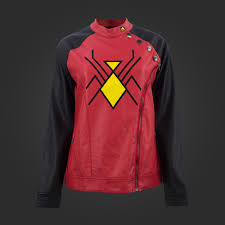 Musterbrand has some simple and understated nerd pieces like this Rey Knitted Sweater. Comfy, fashionable, and totally true to one's nerd self.
We Love Fine also has quite a variety of jackets, from this Spider-Woman Sidezip Moto to hooded capes to denim jackets. A style for everyone.

Shirts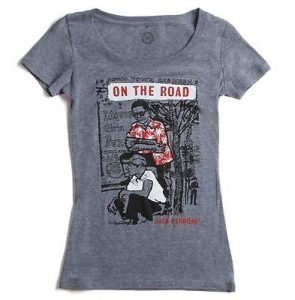 It can be hard to find nerdy t-shirts that are actually designed for women, but the options have been expanding. One company that provides t-shirts for the book nerd in your life is Out of Print Clothing.
Not only do their pay homage to some of the best novels, but they do good too by donating to literacy funds and providing book donations to impoverished communities. Two gifts for the price of one!
Jordandene is another shop that we love, with its minimalist take on the most recognizable geek sayings it's easy to stay fashionable and geeky at the same time. Not to mention the shirts are so comfortable! Our favorite design may or may not be this Matt the Radar Technician shirt.

Accessories
Finally, every nerd girl needs some accessories! And lucky for us, there are now a plethora of options including purses and jewelry.
Loungefly offers a variety of nerdy purse options, ranging from Disney to Star Wars to Sanrio. You can find their items on their website or through the numerous companies they sell through. If you purchase through BoxLunch, like this Stormtrooper purse, they donate meals (hence the name). What's better than a gift that keeps on giving?
And finally, Love and Madness offers perhaps the coolest jewelry option ever: the Opening Crawl Bracelet. Do you know someone who needs the entire opening crawl of A New Hope on their arm? This is the gift for them. The official Love and Madness website offers the bracelet in numerous colors, but it can also be purchased from GameStop.