I have a rule for myself: I don't buy things I can make. My mother started me crafting when I was a Daisy in Girl Scouts. I make my own jam for crying out loud. That song from Portlandia, "She's Making Jewelry Now," that's about me. So I've got a stellar list of DIY gift for you nerds, pulled straight off my Pinterest page. I was born to create this post!
And don't forget to check out some of our very own DIY guides on Nerdophiles, including a how-to create bookmarks, flower crowns for Fannibals, a quick and easily personalized sharpie mug craft, and instructions for making a gorgeous Star Wars terrarium that anyone would be thrilled to get!
Potions Necklaces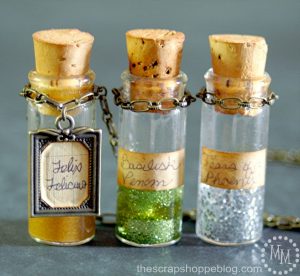 I wasn't kidding about making jewelry. And these Potions Necklaces are unbelievably easy. I actually made mine using a vial from Michael's and gold nail polish to create Felix Felicitas! But if you want a more realistic potion, try this!
Shrinky Dink Necklaces
I got a new job recently that required me to dress "professionally." Which means no more nerd t-shirts. Instead, I've used these Floating Charm Necklaces to express my nerdom. I've made Harry Potter, Doctor Who, and Firefly themed necklaces. Up Next, Game of Thrones! #HouseMartellForever
Sherlock Shoe Box Organizers
This project is high on my list of to-do's. It's perfect for your Sherlock friends who are coping with the latest hiatus. These beautiful boxes are sold on Etsy, but you can make and design your own! You can even fill each box with Sherlock themed treats. Moriar-Tea, anyone?
David Tennant Where He Should Be Charms
This is by far my favorite gift idea. Inspired by the Tumblr, davidtennantwhereheshouldntbe, they require only Shrinky Dinks and a love of the Tenth Doctor. Think about all the possibilities to customize this idea for your giftee's favorite celebrity!
Fandom Notebooks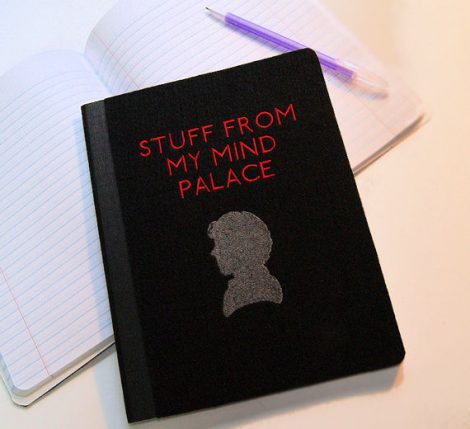 It's proven that people who create lists are more creative. So why not give a cool nerd notebook, created with love? You can customize it to any fandom! This one is from Etsy, but the possibilities are endless.
Personalized Calendars
This is what I am doing this year (Melissa's friends, stop reading now!). But seriously, what better way to end the year than with a calendar to begin a new year! Personalized calendars also means that you can engage in all areas of your friend's fandom.
I know I would want a calendar of Doctor Who, Harry Potter, FinnPoe and Daryl Dixon. Or maybe just Daryl Dixon. Like 12 months of Daryl Dixon. Hmmmmm…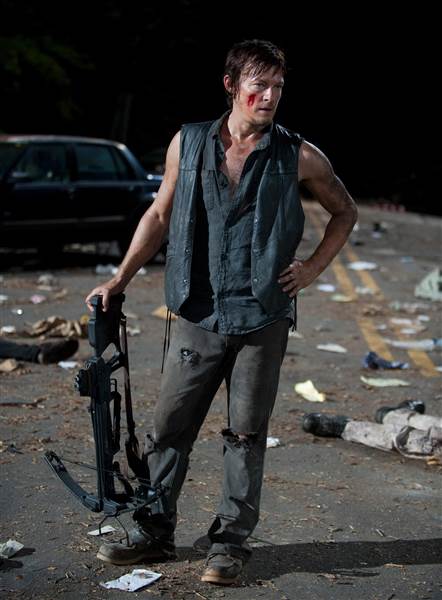 Holiday Ornaments
These Star Wars snowflakes never get old. Each year, artist Anthony Herrera comes out with more and more designs. They are the perfect addition to any nerdy house hold during the holiday season. Download a template here to get started!
I first saw these potions ornaments in an official Harry Potter crafts book. It makes so much sense! Now you can create your own Hogwarts-inspired Winter Wonderland. Get creative and change it up! Make an Iocane Ornament a la the Princess Bride. Or a bloody Hannibal ball for the Fannibals.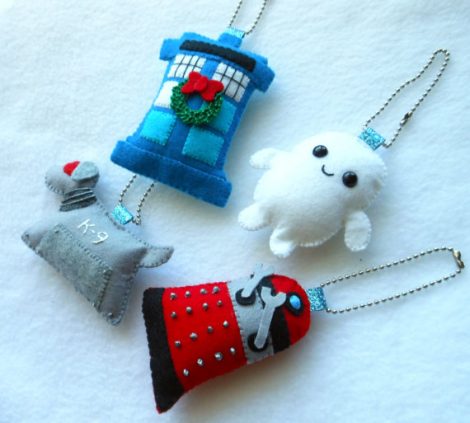 In case you wanted some Doctor Who ornaments or felt charms while you wait for the Christmas Episode, here is an adorable ways to do so. There's also Star Wars, Star Trek, Harley Quinn, and more.
We've also got our very own DIY guide to personalize an ornament with your favorite books!


What are some of your favorite DIY holiday gifts? Let us know in the comments what you're creating this year for your geeky friends and family!