Halloween swiftly approaches, and that often means a craving for the macabre, spooky, and frightening. Some may turn to scary movies (and Hocus Pocus), for the readers out there that might not quite fill the Halloween hole they feel.
Never fear, though, because we have your back and a list of perfectly paranormal comics to check out during this season of ghosts and ghouls. If you need some additional fright in your life don't hesitate to support comic creators and pick up an issue or two of the comics below.
Blood & Gourd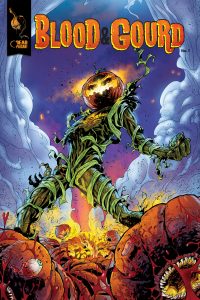 You'll never see a pumpkin patch the same way again after you take a peek behind the pages of this Pacific Northwest horror celebration. Things get chilling at the Henderson Farm one fine Fall morning when a day of family fun turns into pumpkin pandemonium.
Pumpkins come to life and thirst for blood as they tear through the pumpkin patch participants and challenge the very core of humanity. It is upbeat, 80's horror-esque fun that is sure to put you in the Halloween spirit, and ensure you never go to a pumpkin patch again.
Not convinced? You can check out our reviews of the first and second issues for a little extra convincing. You can pick up both issues HERE.
The Woods
Maybe pumpkins are not your thing, and you prefer leafless trees, creaking branches, and a science fiction twist. Thankfully, there is a comic for that, too. The Woods continues to squeeze its way into our #NerdsRead Pull List with its enchanting Stephen King feel.
After a host of individuals from Bay Point Preparatory School vanish without a trace, students, staff, and teachers find themselves in the middle of a primordial forest with no way home. As they tackle the chilling new land they were dropped in, they will be challenged in ways they never have before.
Ready to test it out? Support out friends at BOOM! Studios and pick up the first volume HERE.
American Vampire
Maybe vampires are more up your alley, and that is just fine. Everyone loves a classic blood sucking story, and Vertigo has got the perfect Halloween series that will keep you reading until the holiday ends.
Through American Vampire, comic creators explore the concept of vampires as a larger, multi-species category of creature. Each volume takes the reader through the movements of vampires across America as they integrate into or live on the fringes of society as we know it.
Pick up the first volume of the anthology HERE.
Afterlife with Archie
We have pumpkins, creepy woods, and vampires, but what about zombies? Sure, you could pick up a few issues of The Walking Dead, but how about something slightly off the beaten path? That is precisely what Afterlife with Archie offers.
Classically crafted by writer Roberto Aguirre-Sacasa and artist Francesco Francavilla, the story takes readers on an alternate universe adventure with the Archie crew as they face zombies after Jughead is bitten by his resurrected pet and becomes patient zero for the apocalypse.
You can pick up Afterlife with Archie HERE.
Fragments of Horror
If manga is more your style, then Junji Ito has got your horror hook-up with his classic book Fragments of Horror. Packed full of a series of unique stories, Ito takes readers on a ride into the surreal and terrifying. Though there is comedy to be found in the midst of it all, this is definitely a recommendation for anyone looking for a good creeping in honor of the spookiest holiday of them all.
You can find Fragments of Horror HERE.
Harrow County
Looking for a little bit of this, and a little bit of that? Then Harrow County is going to be your one-stop-shop for everything spooky. Monsters, ghosts, and a creepy wood, this story has got everything any Halloween fan could ever hope for tied together in an on-going series by Dark Horse.
The protagonist, Emmy, always knew there was something spooky going on in the woods outside of her house. However, she did not fully understand it all until she turned eighteen and realized she had been connected to the woods all along.
You can pick up the first volume HERE and check out our review of it HERE, or even read our exclusive interview with writer Cullen Bunn HERE.


That rounds out our preliminary list of Halloween favorites to carry you through this spooky season. Do you have any favorite, quintessential Halloween comics you want to share? Feel free to comment with your favorite – we're always looking for more creepy crawlies in our lives.