Titan Books celebrated the release of their Hannibal themed cookbook, Feeding Hannibal: A Connoisseur's Cookbook at New York Comic Con. In attendance at the celebration was the food genius herself, Janice Poon, as well as executive producer and creator of Hannibal, Bryan Fuller.
After navigating through the massive group of fans that came to the book signing, both Janice and Bryan took some time to sit down with us to discuss the release of the cookbook and give us behind-the-scenes insight into its creation.
When we sat down with Janice we asked her about the process of creating the cookbook, and she laughed. Her primary inspiration for creating the book? The fannibals. During the show's run, Janice started her own blog called Feeding Hannibal and shared all of her sketches, photographs, and recipes.
Once the blog got rolling, the response from fans was so immense and heartfelt that it continued to grow until she was approached by unofficial sources to create a cookbook based on the show. Having written a previous cookbook, Janice had initially sworn off ever making one again, but with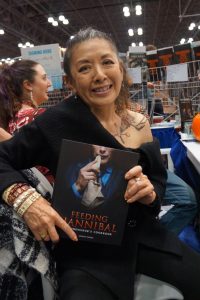 the fans of Hannibal chomping at the bit to learn more about her process, she finally gave in.
Making a cookbook is not that easy, because according to Janice "[it] takes a lot of work, it is messy, then you have a lot of food so you have to invite people over to eat it, and after that there's cleanup." But for the fannibals, she was willing to jump in and make the book happen.
After turning down the unofficial sources, who would not have been able to get her the access she wanted to all of her material from the Hannibal series, Loretta Ramos was named as the key to kicking off the concept of an authorized, official Hannibal cookbook.
Naturally, Bryan Fuller was completely on board and at New York Comic Con he expressed his excitement:
"Having a Hannibal cookbook is something I wanted before we started filming the show, because the food and its placement in the mythology of this character is so important that I wanted the audience to be as hungry for human flesh as Hannibal is. So working with Jose Andres and Janice Poon on crafting not only the aesthetic but the specificity of these dishes and learning a little bit about their history was so much fun."
Since the cookbook is done and in the hands of fans, we were interested to know how Janice got to this point. How did she get caught up in the world of food design and eventually land a gig on Hannibal creating grotesquely beautiful meals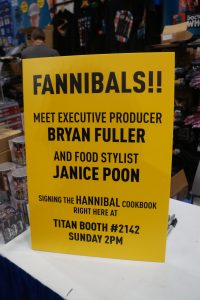 made out of people?
She shared with us that initially she tried to avoid the food industry, having grown up in a family heavily involved in food.
Yet as she started her career, somehow her design jobs always ended up in the realm of food. From sculpting huge subway sandwiches for advertising campaigns to food photography, everything Janice was offered involved food of some sort.
What else could she do but embrace it? Once she did, she came to realize how vitally important and significant food is in our daily lives and as a part of human interaction and culture.
"I feel that food in particular really holds the chart to human to human endeavors, to human desire, to culture, everything we do when it comes to food seems to be tied so much, is so personal, so deeply personal. […] It is a cultural binder, and it also attracts a great deal of history to be told [through food].  So I think you can really tell a lot about a person by what he eats, especially a cannibal."
Of course, in the end, we are all grateful she decided to embrace the love of food because without her, the scenes on Hannibal would not have the same loving attention to detail and the fandom would not have access to the amazingly lovely lady that Janice Poon is. Even though she was named as one of the 11 scariest women in film and television, we all know that at the end of the day she is a warm and welcoming presence who shares fan's fascination with the macabre.
Before we parted, there was one final question on our mind: what does Janice Poon consider to be her ultimate comfort food? She hesitated, then admitted that peking duck would probably fit the ticket. She does not get to have it often, especially since it is "full of calories," but there is something about it that earns it a place of high esteem in Janice's life.