It's All Fun and Games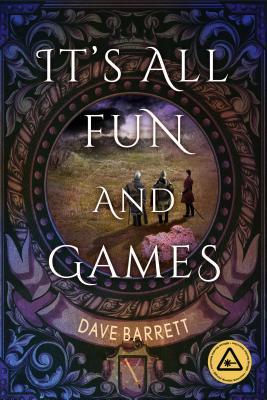 Author: Dave Barrett
Release Date: August 2, 2016
Publisher: Inkshares
Genre(s): Young Adult, Fantasy
Review Spoilers:  Low
GoodReads | Amazon | Inkshares


Rating:



The portal fantasy is probably one of my favorite sub-genres of fantasy. I just love idea that someone from our ordinary, boring world could find themselves swept up into an adventure all their own in some fantastical universe. It's escapism at it's finest and so when I heard about It's All Fun and Games I knew it was right up my alley.
It's All Fun And Games follows a teenage girl named Allison who gets dragged along to a weekend LARP event by her best friend. She's a total newbie and she's a little skeptical at first but she vows to make the most if it. They form a merry band of adventurers with some other kids from school and prepare to take on a weekend of fun, cheesy accents, and overcomplicated character sheets.
But things quickly take an unexpected turn.
One moment Allison and the others are following the same path through the woods that other bands of LARPers had followed just minutes earlier and the next they're transported to a very real, very dangerous magical world. If that's not crazy enough, they soon realize that they are beginning to take on the personas and abilities of the characters they had created for the game. Allison and the others have to utilize their new skills in order to survive and hopefully find their way home.
For anyone who has ever enjoyed the geekier side of things, It's All Fun and Games is a thoroughly entertaining read. Whether you're a LARPer yourself, an old school D&D gamer, or just a huge fantasy fan in general, this book captures a lot of what makes the portal fantasy subgenre fun. It's easy to swap yourself with any of the characters and imagine what you might do in the same situation.
It's really great to see LARP taking the centerstage for a bit and it's a fantastic vehicle through which to tell a story like this. It's cool to be a geek or a nerd these days and I really love that we're seeing a lot of that culture represented in literature these days. But gaming – especially the geekier sort – hasn't gotten quite as much attention as it could have. This is the perfect way to introduce LARP to young readers – and maybe it could inspire some new potential players. (The book also gets a few bonus points from me for having a female character leading this ensemble cast because girls are nerdy and love LARP, too!)
While the journey Allison and her friends take in the book is great, the journey that It's All Fun and Games took to be published is just as interesting.
It's All Fun and Games is the first book to be published as part of a new partnership between The Nerdist and crowdsourced publisher Inkshares. In August of last year the Nerdist put out the call for original book submissions as part of a convents where the selected winners would see their books published through Inkshares. Dave Barrett was one of five finalists from the inaugural competition and It's All Fun and Games was the first to be picked for publication as part of the Nerdist Collection.
The Nerdist – and all those folks who supported the book throughout the competition – can't be wrong about this one! And they aren't. It's just as enjoyable as you'd expect and a great start to Dave Barrett's debut fantasy series. It's All Fun and Games is a fun, easy read that appeals to the nerdy kid in all of us. The book hits shelves today so if you happen to see it definitely pick it up and give it a read.
And keep your eyes peeled!
We had a chance to sit down with Dave Barrett at San Diego Comic-Con last week and we should have our interview up on the blog within the next week. You don't want to miss it!


A review copy of  It's All Fun and Games was provided by the publisher in exchange for a fair and honest review. Nerdophiles was in no way compensated for this review. Our opinions are ours and ours alone.