Lucas Stand #1 (of 6)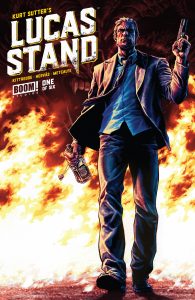 Author: Kurt Sutter, Caitlin Kittredge
Artist: Jesús Hervás
Release Date: June 22, 2016
Publisher: BOOM! Studios
Genre(s): Action, Sci-Fi
Rating: ★★★☆☆
Review Spoilers:  Moderate
Lucas Stand is the latest offering from a name most of us are familiar with, Kurt Sutter has made the jump from television into comic books with the help of BOOM! Studios and this series definitely has his fingerprints all over it.
Following the protagonist, Lucas Stand, fans of Sutter will recognize familiar themes that follow his works – the morally gray anti-hero with good intentions who just can't seem to toe the right side of the line. As a former soldier who has come back traumatized, who hasn't found healthy coping mechanisms to deal with the fallout, Lucas tries to end it all only to be introduced to a new purpose.
The solicitation seems to give away more than the issue itself, spoiling the twist ending that doesn't quite get explained – the reveal of just who Lucas might have made a deal with and I wish I could say I was surprised in the least. Consider Lucas Strand as the low-budget Constantine and we're in business.
The first issue is busy, quickly moving through Lucas quitting his latest job in a fit of rage, to his decision to end it all, to being given his new purpose, and then seemingly failing miserably at his very first 'mission.' It's a lot to unpack and work through in just 25 pages, but Sutter and co-writer Caitlin Kittredge do so with aplomb.
Unfortunately, I'm not sure I can ever see myself rooting for Lucas to earn back any of the humanity or the second chance or even a way to cope simply because Lucas isn't remotely likeable. Sure, he's nice to animals and gets into this mess trying to avenge his stray dog (let's name drop another Keanu Reeves masterpiece – John Wick), but he also caused a family of five to veer off the road to their deaths early on and it's an incident hardly acknowledged by the book, the audience, or Lucas himself.
While the first half of the issue gives us Sutter's frank, self-deprecating narration that doesn't necessarily ask you to forgive Lucas his transgressions so far, it doesn't do much to endear audiences to him. The second half of the issue gives his life new purpose, but introduces a confusing bit of time travel and the supernatural that loses the grit of the first half in favor of confusing Lucas and readers alike.
Jesús Hervás' artwork has a few strange angles, but mostly it's a perfect match to Sutter's voice – strong character work does a lot to bring the dialogue to life here. There are a few panels with strange angles that take a little bit of time to work out, but overall it keeps pace with the writing and helps to move the action along nicely. And colorist Adam Metcalfe sets the scenes with moody lighting in dark blues and purples, punctuated by pops of red.
Despite its flaws, I do appreciate the voice Sutter and Kittredge carry through this book and, while not necessarily rooting for Lucas, I'm interested to see where the story takes him in his quest for absolution. As a six-issue miniseries, if we continue at this breakneck pacing audiences are guaranteed to see that much and more in the coming issues.


A REVIEW COPY OF LUCAS STAND WAS PROVIDED BY THE PUBLISHER IN EXCHANGE FOR A FAIR AND HONEST REVIEW. NERDOPHILES WAS IN NO WAY COMPENSATED FOR THIS REVIEW. OUR OPINIONS ARE OURS AND OURS ALONE.