Zootopia [Blu-ray]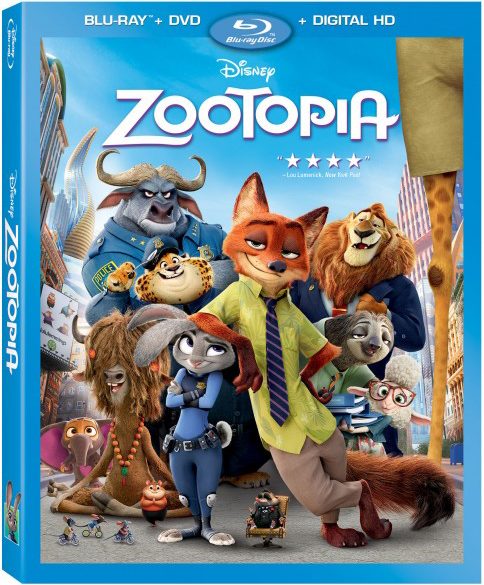 Release Date: June 7, 2016
Cast: Ginnifer Goodwin, Jason Bateman, Idris Elba, J.K. Simmons, Tommy Chong, Octavia Spencer, Jenny Slate
Director: Byron Howard, Rich Moore, Jared Bush
Studio: Walt Disney Pictures, Walt Disney Animation Studios
Distributor: Walt Disney Studios Motion Pictures
Genre(s): Comedy, Animated
Extra Feature Rating:  ★★★★★
Rating: ★★★★★
Review Spoilers: Low
Amazon | IMDB | Rotten Tomatoes | Wikipedia
To be honest, Zootopia may be the best movie we've seen or reviewed this year.
Walt Disney Animation Studios caters primarily to the young, their movies always bring in a wide audience of viewers. While some of their movies can be very kid-focused, Zootopia is a movie with a very broad appeal. Disney really worked some movie magic with this one.
Zootopia manages not only to be a thoroughly enjoyable film for all ages but also a very complex story that offers a timely reflection on our own society. They manage to dress it all up with the silliness of animals dressed in human clothing but it's a movie with heart and a message that we could all do to remember.
Set in a world where mankind never existed, Zootopia is a city where animals of all kinds come to live together in harmony. The story follows Judy Hopps – a determined young bunny who hopes to prove herself as a first rabbit officer with the Zootopia Police Department.
But the deck is stacked against her and not everyone wants to see her succeed.
When Judy decides to take on a complicated case involving a series of missing mammals, she had to enlist some unorthodox help from con-artist fox Nick Wilde. The two have to work together to solve the case and in the process they learn to overcome some of their misconceptions about one another.
Ultimately what you get is a must-watch movie that is both timely and heartwarming. You really can't find a better movie to watch that literally everyone can enjoy. I can't recommend Zootopia enough and I know there are a lot of people out there who have anxiously been waiting for it to come out on blu-ray and DVD. Thankfully, that wait is over.
And the final home release comes with some pretty awesome special features.
Research: A True-Life Adventure
Ever wonder what goes into creating the animated creatures that appear on screen? You're not the only one. When the animators pitched their idea they were initially told to think less about the story and more about how to make it come to life. And how better to research animals than to see them in their natural habitat? The animators went to Africa to study animals and try to find their inspiration – and they documented the trip! The watering hole actually played a bit part in the development of the city of Zootopia.
The Origin of An Animal Tale
If you ever wondered what truly goes into making a Disney film then this is the absolute perfect featurette to watch. Zootopia has been in the works for a while and if you followed the development of the movie you probably already know there were a lot of delays and rewrites. It's changed a lot from it's original inception when it was first announced back at D23 in 2013.
The Origin of An Animal Tale shows how the film changed drastically over the years from the world-building to changing up the primary characters. The original movie was actually pretty dark and it's worth it to see just how different things turned out. They also do a really great job of explaining the way they developed Zootopia's overall message and theme and how they adapted it as the movie changed around.
Zoology: The Roundtables
Initially introduced by Ginnifer Goodwin – the voice of Judy Hopps – these roundtables bring together the people behind Zootopia to talk about different aspects of creating the characters. From the challenges of actually animating the characters to the challenges that went into creating them and costuming them all, the roundtables really compliment some of the other featurettes by focusing more on the actual making of the movie rather than the storytelling. There are three roundtables entitled "Characters," "Environments," and "Animation." I'm partial to the first two – especially "Environments," which goes into the actual design of the city of Zootopia!
https://www.youtube.com/watch?v=Kg7-405UGMA
ZPD Forensic Files
Like looking for Easter Eggs? Then this is the featurette for you – especially if you suck at actually finding them like I do. The ZPD Forensic Files go through and point out some of them for you – including hidden Mickeys and references to earlier Disney films as well as the upcoming Moana! (It's very subtle so you'll probably miss it until someone points it out.) There's also two little elephants dressed as Anna and Elsa and they are adorable. See if you can catch them before watching this bonus feature!
Scoretopia
Do you enjoy musical making-of featurettes? Then this is the perfect bonus feature for you. Inspired by the idea that they wanted to mix the 'world music' genre with their own ideas, the folks behind the score took a lot of their inspiration from a wide variety of unique instruments. They use a lot of different instruments and things to make very cool sounds – the sounds that ultimately help tell the story of Zootopia. It's really amazing to see these people in action. It's so cool. I can't even begin to imagine the kind of talent and creative minds they must have.
Deleted Characters
The traditional Deleted Scenes bonus feature gets a new addition in the Zootopia release. In a film that is so jam packed with characters and animals you have to imagine that some of them got left behind – especially when you consider that the film was in production for a long time and underwent a lot of changes after it was announced in 2013. The film makers take the chance to give you a little insight to some of the characters that didn't make the cut.
Deleted Scenes
Easily the best bonuses on the release, the deleted scenes for this film not only show some cut scenes from the final film but from throughout the film's development. In early drafts of the film the predators in Zootopia were required to wear oppressive 'tame collars' that shocked them any time they got overly emotional or excited.
One of the most moving, depressing deleted scenes takes place at a "Taming Party" where a little bear gets his first shock collar. Seriously, if you're looking to cry, watch that scene. It's so sad even some of the film's creators still get worked up by it. Zootopia took a decidedly darker turn in those earlier drafts and it's worth watching some of those cut scenes if just to see how much changed in development!
Also included is this music video for Try Everything by Shakira which is prominently featured in the film. (Basically, if you saw a trailer or clip from Zootopia there was a good chance this song was included to some extent.)
You know what wasn't included that I appreciated?
Bonus features that geared heavily towards interviews or commentary by current Disney Channel stars. A lot of the re-releases of the classic films and even some other new releases from Disney have included bonus features with 'special guest' appearances from people completely unrelated to the film. Zootopia didn't pander to the crowd in that regard and I think it made this an even stronger home release.
Honestly, I don't need to sell anyone on this. It's Disney. It's Zootopia! Everyone who saw it in theaters raved about it afterward and that's not an exaggeration. Basically everyone loved it. Zootopia has a 98% rating on Rotten Tomatoes as far as critics are concerned and a 94% audience rating – plus it's one of their highest rated animated films.
Do yourself a favor and see what everyone's been talking about! The blu-ray and DVD release today – June 7th.
A REVIEW COPY OF ZOOTOPIA ON BLU-RAY COMBO PACK WAS PROVIDED BY THE DISNEY AND FINGERPAINT MARKETING IN EXCHANGE FOR A FAIR AND HONEST REVIEW. NERDOPHILES WAS IN NO WAY COMPENSATED FOR THIS REVIEW. OUR OPINIONS ARE OURS AND OURS ALONE.