Love it or hate it, these days San Diego Comic Con attendees rarely end their day when the convention hall closes. Beyond off-sites during the day, there are increasingly more and more evening events vying for attendees after hours.
Now is the time to start looking into what your favorite shows, fandoms, celebrities, and blogs have planned for July, as ticketed events will start going on sale and your evenings (and the events!) will fill up. Our favorite places to keep track of these events are the San Diego Comic Con Unofficial Blog and the Outside Comic Con Twitter.
Check early and check often, as things will be announced throughout June and even into July. Things like the popular Funko Fundays and the 2016 Agents Wrap Party, an Agents of S.H.I.E.L.D. and Agent Carter fan gathering, have already sold out and the Friends of CCI Sunday night dinner and swag trade is full of RSVPs.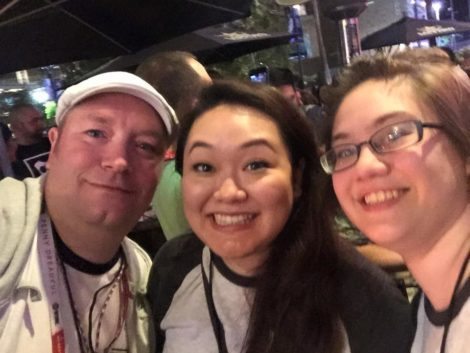 To narrow down your choices, first decide whether you are willing to spend money on a ticket or if you would prefer to stick to free events. While they may be a bit more crowded, free events can offer up just as much as ticketed ones.
For the past two years one of our favorite events to attend has been National Geographic's Nerd Nite, which has quietly hosted free food, an open bar, and fun guest presenters on the Friday night of the convention. No word yet on whether or not they'll return this year, but you know the Nerdophiles team will be keeping an eye out for the announcement.
Other free events we're hoping to hear more about soon include Conan Bingo, the Nerdist's Conival, Nerd HQ, and the MTV Fandom Fest (which did require a badge). Last year, TheOneRing.net, Orphan Black fans, and Doctor Who fans all had meet-ups during the convention. Welcome To Night Vale, the popular podcast, teamed up with Tumblr to host a fan meet-up as well.
Rumors of the newest Star Trek movie screening on preview night this year have been making the rounds, with the assumption being that it will be free, but a lottery ticketed event. Free screenings for tv shows and new movies are becoming more common during San Diego Comic Con, all you have to do is wait in line.
#ConanBingo was the hands down coolest party in town for #SDCC2015. Thanks for a great time, @ConanOBrien! pic.twitter.com/idRQvwFtXp

— Sam @ NERDOPHILES (@samaside) July 11, 2015
Free events already announced this year include:
Crazy4ComicCon's Game of Bloggers
Her Universe Fashion Show
Heroes vs Villains Art Exhibit
Underground Lightsaber Fighters Battle
Ghostbusters Mass-Hysteria Fan Party
If you're willing to pay for an event, it will naturally become a little bit more exclusive and generally there is food, drinks, or other goodies involved in fandom gatherings – the perks of having some money to work with! There are also a lot of comedians and podcasts that make time for a stop during San Diego Comic Con – Kevin Smith and Chris Hardwick are both hard to miss at the convention!
SherlockeDCC is a popular party for the Sherlocke fandom, with cast and crew from the BBC Sherlocke shown known to make an appearance from time to time. Their tickets have already gone on sale and the highest tiers have sold out, but they're still available!
Like SherlockeDCC, many other ticketed events have already gone on sale, so it's time to check those finances and triple check that schedule. The worst feeling is overbooking yourself for two awesome events in one night and having to choose!
Ticketed events already announced this year include:
San Diego Comic Con Unofficial Blog's Enchantment under SDCC
Doug Loves Movies Podcast
w00tstock 8.0
Carry On My Wayward Cocktails
Hop-Con 4.0
San Diego Brews Cruise
Heroes Brew Craft Beer Fest
Harmontown Live with Dan Harmon
Nerdist Podcast Live! @ 7 PM & 10 PM
Once Upon a Time: The Rock Opera
We'll definitely be at Game of Bloggers on Preview Night, if anyone wants to stop by and say hello to us! And if National Geographic announces another Nerd Night gathering, you can bet we'll be there too!
What are you most looking forward to during evenings after the convention? Let us know in the comments!