I Draw On Cats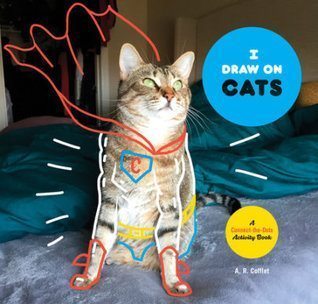 Author: A.R. Coffelt
Release Date: March 29, 2016
Publisher: Potter Style (Crown)
Genre(s): Activity Book
Rating: ★★☆☆☆
Review Spoilers:  N/A
GoodReads | Amazon
With adult coloring books on the rise it was only a matter of time before other interactive activities started trying to recreate the success. Are connect-the-dot books the next big thing? A.R. Coffelt – the artist behind I Draw On Cats, a popular Instagram account, seems to be hoping to usher in the next big thing with her connect-the-dot release of the same name.
The idea behind the Instagram is that A.R. Coffelt takes ordinary, everyday photos of cats and doodles over them creating whole new scenes. A cat looking off into the distance becomes a superhero. A cat laying goofily on the carpet becomes a unicorn. A cat who is completely and totally over your shit and shows it becomes a judge in an old school wig. It's fun to see how she manages to make cats into astronauts, firefighters, wizards, and more.
The idea behind the book is to get you in on the fun.
I Draw On Cats is full of photos of cats but instead of having them drawn over for you instead there are series of numbered dots. Instead of A.R. Coffelt doing what she does best, she outlines things and you're given the opportunity to fill in the pictures yourself.
It's a cool idea but I wasn't sold.
The I Draw On Cats style isn't easily replicated by readers working with just paper and pen. Regular pens won't look anything like an I Draw On Cats picture and they won't show up well on darker photos. Unfortunately, the book provides no guidance as to what sort of pens or paint pens you actually should be using. And while the dots themselves are colored that seems to be less of guidance on the color the reader should be used as a way to separate different groups of dots on the same photo. But, again, that's not really explained.
The book just sort of throws the idea out there and expects you to run with it.
Unfortunately it becomes less fun and more disappointing as you continue to fail to capture the true magic of I Draw On Cats.
It doesn't help that the design for the book is awkward and frustrating. It features a series of photographs that unfold in one long strip instead of as individual pages. There are photos on either side of the sections and they are easily separated along perforated edges. I'm just not sure why they are easily separated or presented in this manner in the first place.
Ultimately, I Draw On Cats would have been a total hit as far as I'm concerned if it was just a traditional artbook instead of a connect-the-dot activity book. I mean, it's a cool idea and if it had perhaps been a black and white book in which I could have used any pen I liked then maybe I would be less critical of the idea as a whole. I just hope that if this book doesn't do well it doesn't discourage someone from publishing a more traditional coffee table book compilation of the best of A.R. Coffelt's work. Because that I'd love to have!

A REVIEW COPY OF THIS BOOK WAS PROVIDED BY CROWN PUBLISHING VIA BLOGGING FOR BOOKS. NERDOPHILES WAS NOT COMPENSATED IN ANY WAY FOR THE REVIEW AND THE OPINIONS HERE ARE OURS AND OURS ALONE.