There comes a point in the year where those of us who were not able to get passes to San Diego Comic Con have to come to the realization that we are really not going. It sucks. We have to cope with it. This year, however, not getting to go has been made a little sweeter with the introduction of Comic-Con HQ. What is Comic-Con HQ? Here's a snippet from the official press release:
Comic-Con International and Lionsgate (NYSE:LGF) today unveiled launch plans for Comic-Con HQ, their newly named subscription video-on-demand (SVOD) platform debuting shortly before San Diego Comic-Con this Summer. Comic-Con HQ will launch with free beta access on May 7 with its official premiere in June leading up to Comic-Con International: San Diego in July.

The ad-free streaming service will feature an evolving slate of programming including original scripted and unscripted series, recurring daily and weekly entertainment commentary, plus unique access to a growing library of live and archival programming from their world-class events, a highly-curated selection of film and TV genre titles, and behind-the-scenes access and bonus features from genre titles that defy and define pop culture.
As of May 7th, Comic-Con HQ is open for free beta registration and will be available for free to all beta testers until the end of this year's San Diego Comic Con. Already a number of press releases have gone out about the kind of content that will be on this new streaming service.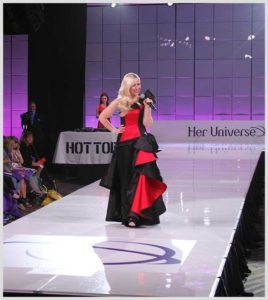 Con Man, the Alan Tudyk, Nathan Fillion online phenomenon will be exclusively streaming on this platform. There are also set to be weekly programs, archived movies, television, and other relevant media, and live streamed events for those who stay on with the streaming service after San Diego Comic Con is over.
Also available on this platform will be special San Diego Comic Con footage, that will give those of us stuck at home base a chance to experience a little bit of what the convention has to offer. Select panels (my guess would be any of the larger panels) will be streamed for easy access, so you don't have to wait for them to be uploaded elsewhere to hear the latest from your favorite show or about your favorite upcoming movie.
There is also slated to be a number of other entertainment based programs happening at the time, which I imagine will be similar to Emerald City Comic Con's "live stage," where they have revolving programming all day that can be viewed live at the convention, or streamed.
Comic-Con HQ will be available on your desktop computer or any sort of portable device, such as a tablet or phone. My guess is you'll be able to pull it up while you're camping out in the Hall H line to entertain yourself (and your line buddies) while you wait to get in to get a seat. To sweeten the deal, and encourage beta testing, anyone who signs up before May 21st will be entered into a grand prize drawing to win a trip to San Diego to experience the convention in person.
https://www.youtube.com/watch?v=rDaPL9tl2dA
How do you register? The first step is to go to Comic-Con HQ's website HERE. You can click the "yes please!" button to be taken to the registration page where you'll be able to generate your beta code. From there, you'll enter in your relevant information and will be taken to a screen requesting your credit card information.
This is, perhaps, the one draw-back to the service. After San Diego Comic Con ends on July 24th, anyone signed up for the service will be charged moving forward. The prices are $5/month, or $50/year to have unfettered access to the content on Comic-Con HQ all year around.
If you're willing to plunk down your credit card information, go for it, and you should be fully registered and ready to see what Comic-Con HQ has to offer.
You can find the complete press release located HERE to learn more.