Synopsis of 6×01: The Game of Thrones has taken a sharp turn as characters escape their horrors, find themselves in strange new worlds, and realize that no one is safe from the game.
Rating:★★☆☆☆
I won't lie, even though there were some shocking moments in this episode, it was still weak at its core. Multiple story lines were visited and the short glimpses we got into them seemed tossed in without much thought other than, "The fans want to at least see this character, right?" Let's just hop on into this — there's a lot to cover.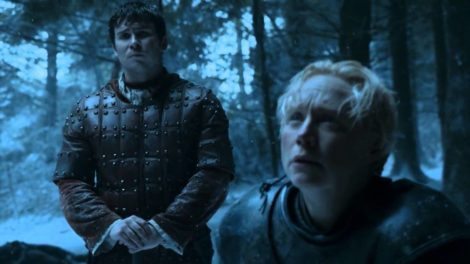 Sansa and the eunuch formerly known as Reek, Theon Greyjoy, are on the run being pursued by guards of the Boltons. Theon encourages Sansa to keep going, helps her across a freezing river, and when it becomes obvious that they are going to be found, hides her and prepares to take the fall to save her. When she is discovered and it looks like the end is near, Brienne straight BUSTS up out of nowhere with Pod and starts killing the guards left and right. Theon even hops in and kills someone attacking Pod. With the enemy out of the way, Brienne kneels to Sansa and asks the young lady if she may continue to protect her by her side. Sansa agrees, and a new alliance is formed.
The other Stark girl, Arya, is in Bravos and yes, she's blind. She begs at the side of the road and the young waif who also worked in the House of White and Black appears, immediately providing her with a weapon and beginning to attack. Arya stumbles around and falls as she hopelessly tries to fight back, and the girl tells her that she will be there tomorrow- indicating that Arya is still training.
Over in King's Landing Cersei is silently sitting in the castle, hiding from the world after her public shaming. When a servant mentions that a boat from Dorne is in the harbor she instantly becomes overjoyed, whispering "Myrcella" before rushing out to greet them. What she saw though was worse than she could ever imagine, her daughter, "the good one", had been killed. As she begins to cry over the prophecy of how all her children would die, Jamie declares that nothing will get between the two of them again in this world.
Back in Dorne, Ellaria and Doran walk around the gardens discussing the future of Dorne and how he hopes for a better future for his people. As he sits down in his chair, one of the Sand Snakes who was with them turns and kills Doran's bodyguard as Ellaria stabs Doran in the heart. The rest of the guards watch on as Ellaria kills Doran and tells him that he was a hated king who knew nothing of his people. Meanwhile, the other two Sand Snakes are off killing Trystane (in a particularly gruesome manner) and as Doran dies Ellaria declares, "Weak men will never rule Dorne again."
The route with Dorne and the Martells is actually so far removed from the book at this point that as a fan of the Martells, I have no idea what to expect now that Ellaria is in charge. This is completely new territory for fans, and for any enemies of the Sand Snakes.
Speaking of far off lands — Tyrion is left in Mereen trying to pick up the pieces after Jorah and Daario go off in search of the missing Khaleesi. As if tensions weren't high enough in the city that just witnessed a mass attack by assassins, the harbor is set ablaze and the city is left in even worse condition than before.
Khaleesi herself though has been taken in by the Dothraki who are surprised to find Khal Drago's widow in the middle of nowhere. After some banter between her and the people she was once queen of, they tell her that she didn't fulfill what was necessary of any widow of a Khal — to go live out her life in a temple with all of the other widows which, I don't know, seems just kind of boring? Like, what would even happen to her there? Who knows.
But the last season ended with the death of Jon Snow and that's where this episode picked up and the most time was spent. Jon's body is discovered and Davos brings in his body, trying to figure out what to do now that the Lord Commander was murdered. The guy who really hated Jon calls a meeting where he announces that he was the one who orchestrated the murder and that he was in charge now.
Davos has something in mind though.
He consults with Melisandre, who is visibly shaken over the death of the man she thought she saw fighting at Winterfell. After her useless murder of Shireen and the death of Stannis (yeah, Brienne finally killed Stannis), she faced another blow that absolutely destroyed her confidence in her abilities. She goes off to be alone and sleep, and that's where things get crazy.
Melisandre fulfills the weekly quota of full frontal nudity, but when she takes off her necklace things change, wilt, age beyond belief. Yes, Melisandre, the beautiful red haired priestess, is reduced to nothing but an old woman with horrible posture and long white hair with some spots balding. Her magic is real, but why hasn't it been working?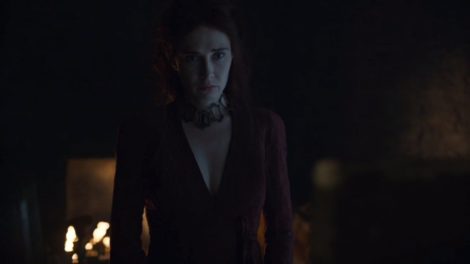 As a whole, this episode left a lot to be desired, without a strong focus on any one story. This season we have a lot of new unexplored places to go, and not just in Westeros and Essos, I mean as a story. With all of the turmoil going on in this world, there's bound to be a greater conflict at play. Let's hope the writers manage to keep the story tight and move it forward at a good pace.