Wonderland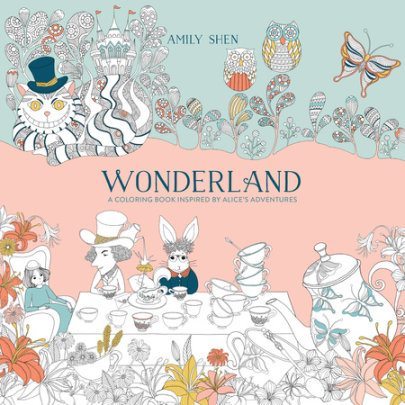 Author: Amily Shen
Artist: Amily Shen
Release Date: April 5, 2016
Publisher: Watson-Guptill
Genre(s): Coloring Book
Rating: ★★★★☆
Review Spoilers:  N/A
GoodReads | Amazon
Coloring books are taking the world by storm and these days you can find books based on just about anything from fairy tales to modern television shows. Unsurprisingly, Alice in Wonderland has gotten the coloring book treatment a few times now. But unlike most Alice in Wonderland themed coloring books, Amily Shen's Wonderland doesn't seek to simply retell the classic story by Lewis Carroll.
Instead, Shen takes you on your own adventure through Wonderland.
You start your morning off doodling in a notebook in a seemingly ordinary cafe but soon you're whisked away into a world inspired by Carroll's works. The book is told in second person and places you at the forefront of the journey. Wonderland is broken into brief chapters that advance the story along. Instead of featuring text on every page, there are a handful of pages throughout the book that explain what's going on in the coloring pages that follow.
While the story doesn't exactly follow Alice's there are numerous similarities and while the scenes are similar the book takes a lot of liberties with the setting. One minute you're visiting the White Rabbit in his home and the next you're playing croquet with the Queen of Hearts. But while you eventually do have a tea party with the Mad Hatter you won't do so before visiting a traditional tea house in the woods or running through the streets of a very modern looking city.
Still, the liberties give rise to some fantastic coloring pages that you might not get otherwise so I have no complaints!
Another fun thing about Wonderland is that it's not just a coloring book. This is Amily Shen's first coloring book but she's published a number of drawing books in the past and that shows in this book. There are numerous prompts throughout for you to add something to the story. The book asks you do draw in a notebook, invite a friend to a party, and add butterflies to a blank page among other things. There's also a scavenger hunt aspect to the book, too, that's introduced a few chapters in. It doesn't seem like it fits all that well into the book until the end when a part of the story gets revealed through it which redeems the gimmick.
There's just so much to love about this coloring book.At about 80 pages long, Wonderland is a steal for the price. The pages are thick and sturdy and the line art is amazing. I also love the fact that it actually tells a full story and the way it brings a unique feel to a beloved classic. I highly recommend this one to people who are looking for their next coloring adventure – especially fans of Alice in Wonderland!

A REVIEW COPY OF THIS BOOK WAS PROVIDED BY CROWN PUBLISHING VIA BLOGGING FOR BOOKS. NERDOPHILES WAS NOT COMPENSATED IN ANY WAY FOR THE REVIEW AND THE OPINIONS HERE ARE OURS AND OURS ALONE.