Synopsis of 3×08: Flint, Vane, and Bonny attempt to rescue Rackham and procure the cache from Rogers. Rogers makes a stand and Vane pays a price. Eleanor seeks help from Hornigold.
Rating: ★★★★☆
Flint, Vane, and Bonny have holed up at the late Miranda Barlow's old house. Anne is anxious, fearing they will miss the caravan and she will loose Rackham forever. Flint insists that they must patiently wait. Before long, one of Featherstone's men arrives, with news and details of Rackham and the cache's pending departure from of Nassau.
Back in Nassau, Rackham is escorted from his dungeon in chains and along with Rogers and a large contingency of armed men, they depart. Rackham is blinded sided by the reveal that Rogers lied to him and intends to deliver him, along with the jewels, to the Spanish.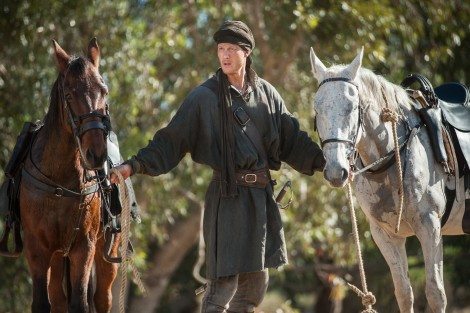 Eleanor shares with Max that Anne relinquished the cache with little resistance. Surprised, Max believes Anne should have responded differently if she realized she had been lied to and the two quickly surmise that Anne willingly gave the cache up with an ulterior motive or plan. Eleanor and Max have no luck asking the remaining governor's men for help to stop a plot and ambush on Roger's convoy. Eventually, she is forced to seek aid from Hornigold, who is still skeptical towards the idea, but sees merit in her reasoning. Hornigold shares that he believes the Walrus lies in wait on the horizon, despite the Walrus crew believing they go unseen by those on the shore.
On the Walrus, Silver is discreetly approached by several of the crew, who are led by Mr. Dobbs. Dobbs, in a bout of anger and retaliation, has taken one of the ex-slaves from the maroon community hostage, claiming that this man in particular was responsible for the deaths of several of the original crew back in the maroon community before an agreement was reached. Silver, at an impasse as to how to proceed without tearing their alliance apart, eventually brings Madi into the fold. Madi swiftly releases the man, but Silver realizes Madi has silently instructed the man to say nothing.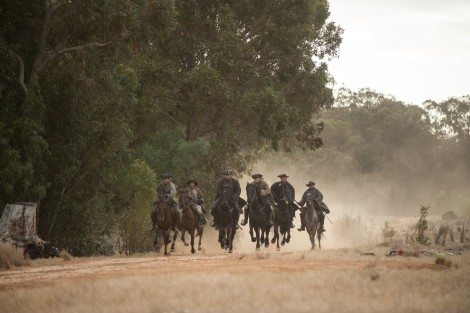 Rogers and the convoy come under swift attack from Flint, Vane, Bonny, and their men on horseback. Flint and company quickly make work of the soldiers, leaving Rogers to defend the carriage. Vane is able to shoot the wheels of the carriage sending it careening and flipping off the road. Anne tearfully rescues Rackham and the two share a passionate kiss. Flint commandeers the jewel cache and insists they make haste away immediately.
Flint leaves and Vane promises Flint that they will quickly follow. Vane frees Rackham from his chains and Rackham and Bonny flee as they spot the governor's men approaching. Vane attempts to mount his horse and follow, but a bloody Rogers appears from the field, having been tossed from the carriage when it fell, and Rogers shoots Vane before he can leave. Rogers spares no animosity towards Vane as he flat out pummels him with a shotgun. In his wounded state, Vane attempts to fight back, but Rogers men soon arrive and outnumber Vane, pulling him away from Rogers.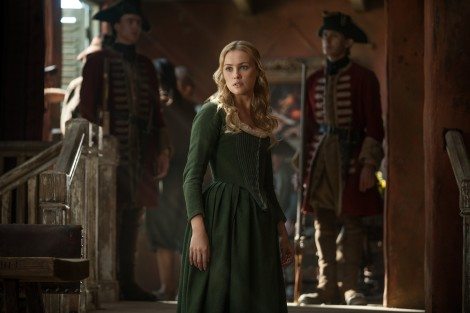 Out at sea, Silver is taken by surprise when an unknown ship appears on the horizon and Silver orders the men to set sail immediately. Unbeknownst to Silver, Hornigold leads the helm of the other ship and aims to intercept them.
Eleanor and Max both realize that after the governor's transport was intercepted, there must be a spy amongst Nassau and privy to the governor's decisions. Rogers arrives back in Nassau bloody and bruised and Eleanor rushes to meet and aide him. What she fails to initially realize is that they have also returned with Vane.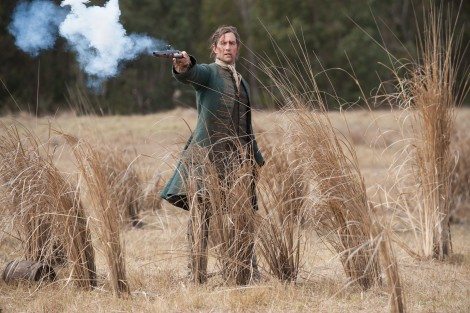 Rackham and Bonny meet up with Flint and Billy on the beach. Flint, distraught over Vane's capture at the hands of the Governor, prepares to depart for Nassau to rescue him. I am continually surprised by Flint's and Vane's deep unwavering loyalty to each other, despite their callous relationship on the surface. Billy insists that Flint must stand at the helm of their fleet, now that war is very near. Billy claims that he will return to Nassau instead to learn more about Vane's situation and stir resentment towards Rogers.
Later, Rogers confides in Eleanor and tells her of Vane's presence in Nassau. Rogers believes Hornigold is their last hope that they have in recapturing the cache and preventing a war. Despite Eleanor's insistence, Rogers still believes she feels a pull towards Nassau, and ultimately Charles Vane. There's no doubt that Vane is now a very real temptation to Eleanor, but whether she makes a move on that temptation remains to be seen.
She admits that she does not know how she will react when coming face to face with Vane and she is last seen stoically entering Vane's cell as the scene fades to black. If you have been watching since season 1, most of us desperately hope to see Eleanor and Charles together again, and only time will tell whether Eleanor will give into her primitive feelings and support Vane. I can't help but think what damage the Governor and imprisonment has already down to her psyche and state of mind.