Synopsis of 3×07: Flint, Vane and his crew return to Nassau to recruit men. Eleanor and Rogers explore a new relationship. Vane and Bonny attempt to secure both Rackham's life and the cache.
Rating: ★★★☆☆
Last week we saw Rackham instruct Anne to flee with the jewels. It appears though that Max has set up a private meeting with Anne in an attempt to help her see some reason. Max shares with Anne the governor's dire situation and pleads with Anne to surrender the cache, to stop the men from torturing Rackham and to see him free. Max, now confiding in the governor, returns to the governor and tells him that she believes Anne will turn over the cache to save Rackham from further harm.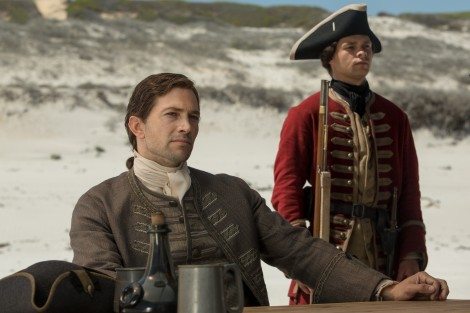 Meanwhile, Flint and Vane have returned to the maroon community to speak with the queen. Their queen is none too pleased to hear that Flint has returned empty handed, essentially without a fleet and only with one man, Vane. Vane though, insists that finding Rackham and Anne's cache is their best way to control Nassau and the Governor by compelling him into a fight where they will have the upper hand.
Surprisingly, Flint wants to bring Governor Roger's force to the maroon community and their beach to fight their battle. While Flint cannot guarantee the queen a win, Flint insists the odds are in their favor. The queen begrudgingly agrees to continue supporting Flint and tells Flint of a stockpile of weapons used by Mr. Scott in Nassau. While Scott cannot make the journey, the queen instead sends her daughter, Madi, with Flint and the Walrus crew to help secure the stockpile.
Rackham continues to sit in a jail in Nassau, entirely unharmed. It seems that Rogers intentionally aims to mislead Anne with Max's help. Much to Rackham's surprise, the Governor insists that once he receives the cache, both Anne and he will be released. Or so that was the initial plan.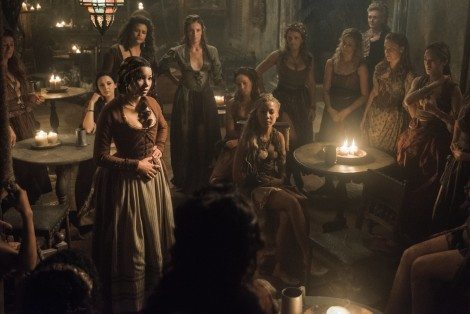 Hudson continues to relay information concerning the Irca cache to her Spanish Intelligence handler, Grandal, in Nassau. Grandal insists that if Spain is to receive the entire cache of the Irca gold, Spain will leave England and Nassau alone. However, Grandal makes one stipulation and requires that Rackham also be turned over to the Spain alongside the gold, as a sign of good faith. Hudson reluctantly shares this news with Eleanor and Rogers and Rogers is forced to change his plans regarding Rackham.
Flint, Vane, Madi, and Silver create a plan to infiltrate Nassau and find Rackham and Bonny. Flint plans to recruit men and hopes to inspire fear in those that don't. However, Billy insists that Flint cannot go, as that would be too obvious and not inspiring enough. Instead they must sent someone like Silver in his place, to share Flint's survival amongst the community and bolster morale and belief in Flint's name.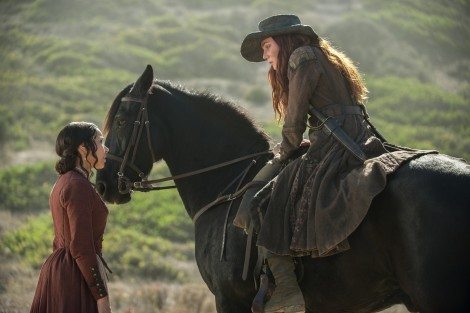 Not surprisingly, Eleanor and the Governor sleep together, mostly in part due to Eleanor's insistence, but the Governor doesn't put up much of a fight against her demanding, if not obtuse charms. It really was only a matter of time until the two gave into their mutual attraction and the Governor's men have already spread gossip of their intimate relationship.
While in bed, the Governor shares with Eleanor that eight of his men have fallen ill, which we later learn is due to the yellow fever. Undoubtedly the fever will take many more lives in the future and may aide or hinder Flint's plans. While I don't care much for the Governor, I must admit that the Governor and Eleanor make a compelling couple. Forces out of their control plague both and yet both find solace in each other. Still, the Governor apparently has a wife and I can't help but think of her feelings on his relationship with a pirate.
In Nassau, Vane recruits Featherstone to help him find Rackham and Bonny. In return, Featherstone gets help from Idelle. Idelle is able to use Max's brothel girls in order to obtain details regarding the governor's plans to exchange the cache and Rackham with Anne.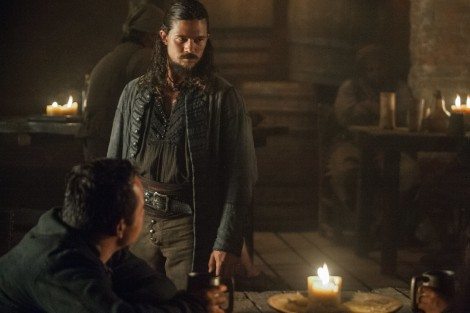 When night falls, Silver and Billy waltz into the tavern at Nassau and Silver lays all his cards on the table, sharing news of Flint's survival and his search for loyal men. With a rousing speech, Silver gives the men an ultimatum; meet Flint on the beach and their sins for taking pardons will be forgiven or face the consequences later.
Dufresne slips from the shadows though, calling Silver out on his lies and his weakness. Silver, far stronger and more righteous than he appears, lashes out at Dufresne, essentially bludgeoning him to death and leaving with the last word. Silver regroups with Madi, who has secured her father's secret stockpile of weapon and ammunition and the two return to the Walrus.
Word of Silver's aggressive decisive actions spread quickly through the crew and Flint approaches Silver to see how he is faring. Flint finally opens up to Silver, admitting that Miranda's death took a very heavy toll on him.
Later, Rogers and Eleanor investigate Dufresne's death and the rumors of Flint's return. Rogers asks Max to discretely investigate the matter and attempt to prevent men from meeting Flint on the beach. Max asks her brothel girls to spread lies of Flint's weakness and turn off men from joining Flint. Max puts Mapleton, an older Madam, back in charge of the brothel.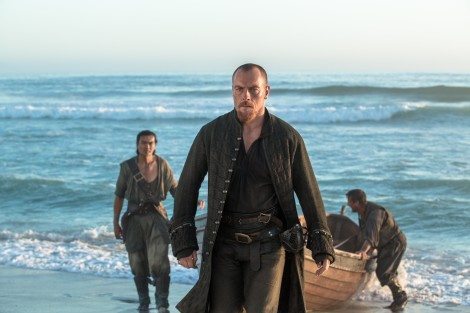 When Flint and the Walrus make their approach, they surprisingly find that the Governor is waiting for them, not with arms, but with a simple table to speak openly and to scare away those interested in joining Flint. Rogers offers Flint pardons in return, but Flint remains stoic, insisting that England has already shown him her true colors and can offer him nothing. Having tried to remain civil, Rogers takes a step forward, claiming that any men now associated with Flint and piracy will be hanged.
Anne meets with the Governor's men in private, but she quickly realizes the ruse as Rackham is not present. Anne is powerless as the men outnumber her and they quickly make off with the chest, or so it would seem. After the men leave, Vane approaches her telling her she made the right decision.
In a strange turn of events, it would appear that Vane has convinced Anne to willingly give the cache to Rogers. Vane insists that now that the Governor has what he wants, he will let his guard down and Rackham and the cache will now be easier to steal. It is an interesting decision, but their success now relies on the force of Flint's fleet and their ability to overtake the ship that will transport Rackham and the cache.