Synopsis of 3×06: Flint challenges Teach to a duel over control of the pirate fleet and the future of piracy. Vane chooses a side. Rackham plays a dangerous game and makes an irreversible decision. Madi and Silver find common interests.
Rating: ★★★★★
To say I have been waiting for this episode for quite a while would be an understatement. Flint and Vane are each two halves of a whole and to finally see the two reunited tonight was worth the wait. This has been my favorite episode of season 3 and not just because of Vane and Flint camaraderie. Rackham shines as he plays his true cards and finally does something that he may be remembered for, despite the backlash from Max.
While Flint has run off to seek out Vane, it seems Silver has remained behind with the maroon community, whether because he sees himself as a weak link or he wishes to solidify their arrangement. No matter the reason, when Silver fails to present himself at a healing ceremony for Mr. Scott, Madi discovers Silver's leg has gotten worse and he is plagued with a fever. Madi insists on helping Silver, despite Silver protesting her help.
Silver believes he cannot show weakness in front of Madi's people and must endure the pain he has been dealt. Madi is far wiser than she looks though, as she also bears the burden of refusing to look weak. She has been groomed to follow in her mother's footsteps. Silver relents and agrees to receive some medical help from Madi's people. It is painfully clear that both Madi and Silver admire each other and their loyalties to their people.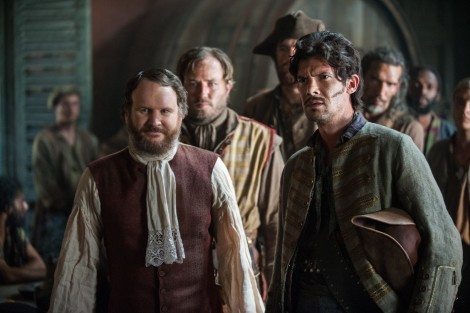 Out at sea, the crew of the Walrus is learning to work with the former slaves from the maroon community, but things get off to a rough start when Flint's original crew grows irritated with the former slave's actions. Billy is less than convinced with Flint's plans to retake Nassau and start a war with England. Flint and his crew soon reach the island that Teach has made his home.
On the island, Teach and his men now enjoy the spoils of freedom, including naked women and drunken games. Flint quickly makes landfall, to the utter surprise of almost every man on the beach. In his typical stoic fashion, Flint shatters both Teach's and Vane's beliefs that he was dead, but Flint seems less than pleased to see Teach again. Behind Vane's face, I couldn't help but notice a sliver of hope or desire when spotting Flint.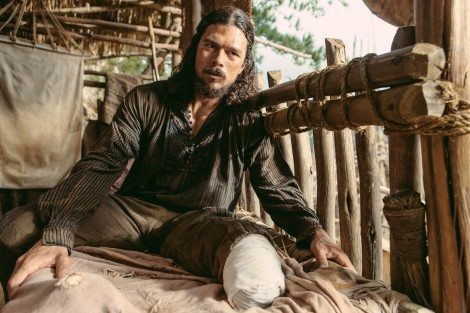 Back in Nassau, Eleanor speaks privately with Hudson, the woman who approached the Governor about working for the Spanish to return the Irca gold. Eleanor realizes the Spanish have made this matter personal, as Rackham's decision to convert the gold into more manageable currency is a direct insult to the Spanish.
Rackham, guilty of potentially loving Nassau too much, returns to town attempting to see if Anne and he are able to return and garner pardons. Featherstone, Rackham's former quartermaster, approaches him demanding to know why Rackham has returned. Rackham attempts to get a pardon, but his name is flagged and Rackham is taken into custody to speak with the Governor.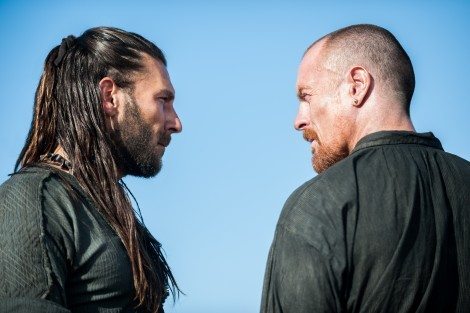 Teach, Flint and Silver sit down to discuss the future of Nassau and Flint expresses his desire to retake Nassau, believing that by harassing the Governor's trade routes, they will weaken the Governor. Teach is less than inspired, claiming that men have tried and failed to do what Flint desires. Flint reminds Teach that Teach's fleet was formerly Flint's, but Teach refuses to step aside lightly.
Instead, Flint focuses his attention on Vane, wishing to reinstate the compact between the two of them, believing the men will follow Vane back into battle. To decide the matter, Flint and Teach choose to duel, first with pistols and then with swords, to decide who remains captain of the fleet.
The governor speaks politely with Rackham, claiming that Rackham must give up the gold he took or all of their lives will be forfeit to the Spanish and their invasion. Within time, the governor soon presses Rackham for his cache and Rackham eventually agrees, with his own terms however. Rackham instructs the governor's men to deliver Anne a sealed letter with instructions for her to turn over their jewels to the men.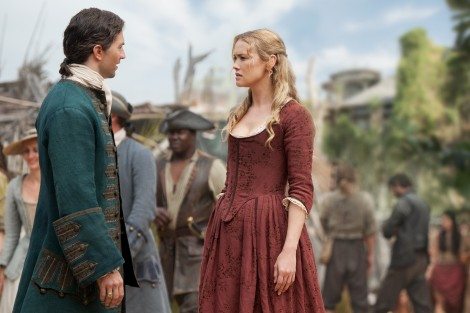 To my surprise, Vane pleads with Flint to see reason and stand down from the duel. Flint asks Vane who he really is and it is clear Flint has re-stoked the fire within Vane to return to Nassau, which both consider their home. In a very suspenseful traditional duel watched by both parties, Flint and Teach face off against each other. Flint is luckily able to get his shot off first, grazing Teach in the head. Teach, the large giant he is though, is able to stay on his feet and the two move on to swords.
I will admit, I was holding my breath during these few tense minutes as the two dueled. Teach is able to wound Flint in the arm, striking him down to the sand. Before Teach deals Flint a deathblow though, Vane steps in, saving Flint's life and declaring his allegiance with Flint. Vane fights off Teach to the point that Teach lays down his sword and stalks past Vane, whispering in Flint's ear to take Vane and leave his island for good. It would seem that Vane has finally made his decision regarding his loyalties.
Max pays Rackham a visit, insisting he has made the right decision and has saved Nassau's future. What Max soon realizes though is that Rackham has actually betrayed the Governor and has instead given Anne instructions to take the cache and run. Rackham seeks to deny the Governor the cache in order to deny him his victory.
Anne, following Rackham's orders, kills the messenger and flees as instructed. Rackham foolishly believes that by bringing the Spanish to their doorsteps, he is effectively creating a new rebellion, a new pirate empire to fight against the Spanish. Despite the nature of his foolhardy plan, his idea has merit and may actually work if executed effectively, but the success now rests in Anne's hands really.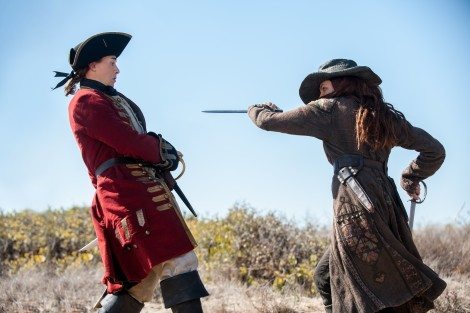 The Governor, now in an even more precarious situation, is desperate to obtain the gold Anne has run away with and he will do anything in his means to get it back. Max even pledges her allegiance to him, now that Rackham and Anne have betrayed her.
Out at sea, Vane reflects on his recent decision to work with Flint. From the sound of it, the two walked away without the support of the fleet, but Vane's assets may be worth the loss. Vane shares with Flint of the discovery of the Spanish ship and the Spanish intelligence that Teach took down earlier. Vane eagerly tells Flint that he has learned of the portion of Irca gold that has been converted into movable jewels, the same cache that Anne has fled with and Rackham has denied to the Governor.
Now, as the Governor's forces relentlessly search outside Nassau for the cache, Flint and Vane consider turning their attention to finding it as well, believing it may be the key to defeating the British occupation of Nassau. Something tells me Anne would be much more willingly to team up with Vane and Flint, or Flint and Vane may be able to find Anne much quicker than the Governor may. Only time will tell, but with Flint and Vane working together, they are sure to be a formidable team.