WHO IS NOT ELIGIBLE TO PARTICIPATE?
Unfortunately, not everyone is going to get the honor of an anxious Saturday morning spent watching the Spinning Blue Circle. If you bought a Four-Day Badge with Preview Night during Pre-Registration sales, you are not eligible to participate in Open Registration. Likewise, if you did not register a Member ID before February 11, 2016 at 9:30 AM PST, you are not eligible to participate in Open Registration.
If you still aren't sure whether or not you are eligible for the Open Registration madness, you can log into your Member ID and it will show you at the top of your account and also under the Registration Info tab.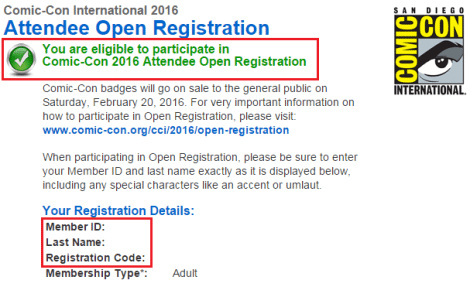 I'M ELIGIBLE, NOW WHAT?
Make sure that you have thoroughly read the email sent out by Comic Con International regarding Open Registration. It has the important information regarding registration, as well as your registration code for the EPIC registration waiting room. The link for the waiting room will be emailed out at least 24 hours prior to the sale and that is where you will authorize your registration code between 8:00 AM PST and 8:59 AM PST on February 20. At 9:00 AM PST sharp, the EPIC Waiting Room will close to new entrants.
Before you enter the waiting room, make sure that you have your payment method on hand and the last names and Member IDs of anyone you want to buy badges for (you can buy up to 3, including for yourself). New this year, you will need an address that will be valid in June 2016 to mail ALL purchased badges to. This will make it easier for you when you do get to the page where you can buy badges, as you only have 15 minutes to complete your purchases.
Be aware of the pricing of badges as well, in case you are planning to purchase more than one. One 4-Day Badge with Preview Night will set you back $245 this year.

I'M IN THE ROOM!!!
Congratulations, you made it past the Spinning Blue Circle! Once you get to the point of buying badges, you'll be shown what days are left available for purchase and you will have 15 minutes to make all the necessary purchases for yourself and anyone else you may be buying a badge for. Make sure you know the address that you are sending ALL badges to. It does not have to be the same as the billing address.
Yes, this means that if you purchase badges for yourself and a friend, both badges will be mailed out to you or vice versa. Now more than ever, it is important to team up with people you trust!
MORE RESOURCES
Still confused? Here are some of our favorite helpful links:
We will be on Twitter the day of badge sales to participate in all of the chaos with you guys, but feel free to ask us any questions before Saturday!