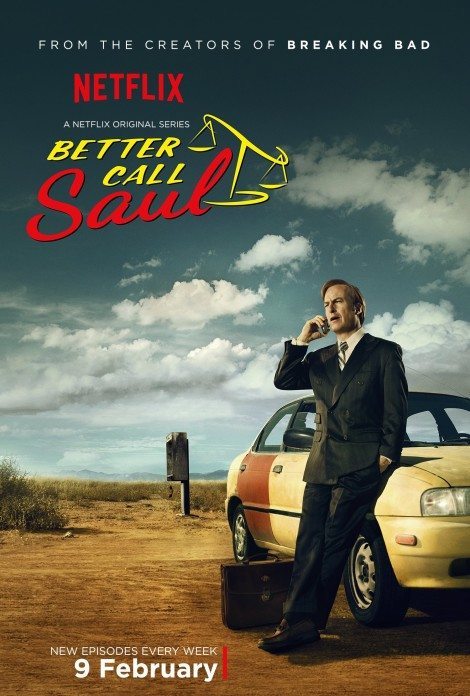 Cast: Bob Odenkirk, Jonathan Banks, Rhea Seehorn, Patrick Fabian, Michael McKean
Created by: Vince Gilligan & Peter Gould
Episodes: 10
Genre: Drama
Rating: ★★★★1/2
Review Spoilers: Medium
Better Call Saul is a hydra.
It must be. You would need that many heads to wear this many hats.
Saul is equal parts a prequel to one of the most heralded dramas of all time, a spinoff for two of Breaking Bad's more beloved Frasiers, a character piece about a miserable man, a showcase for the best cinematography digital technology has to offer, and one of the best damn shows in town.
Vince Gilligan and Peter Gould have done the incredible with Better Call Saul. Not only is it good (when it very well could have been the opposite), it may very well surpass the show from which it sprang. Perhaps we should have never doubted Vince Gilligan and Peter Gould. After all, they are Vince Gilligan and Peter Gould.
After a colorless cold open that finds everyone's favorite anthropomorphic sleazebag Saul Goodman (Bob Odenkirk) managing a Cinnabon* after the events of Breaking Bad, Saul slips back into its comfortable position before Walter White was ever diagnosed with cancer. Saul Goodman isn't even yet a lawyer. In fact, Saul Goodman isn't yet named "Saul Goodman." He's Jimmy McGill, hapless ne'er-do-well and former con artist, who wants desperately to be a lawyer.
*Props to Cinnabon for allowing use of their brand to symbolize the lowest low a human being can stoop to.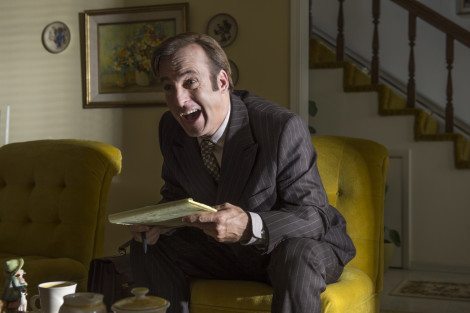 Newcomers to the Breaking Bad-verse (who are you and why are you here?) may wonder just who this is, this eponymous "Saul," since nowhere in the first season does anyone refer to Jimmy McGill as "Saul Goodman." The idea just hasn't occurred to him yet.
Jimmy is barely a lawyer. His office is a single tiny room in the back of a nail salon. Constantly looming over Jimmy is the big law firm in town: Hamlin, Hamlin, & McGill. Run by human oil slick Howard Hamlin (Patrick Fabian), HHM is everything Jimmy hates and everything he wants to be.
He applied for a job there but was shot down. Kim, the woman of his desires (Rhea Seehorn), is itching to become a partner. Keen-eyed readers will notice that in HHM, the 'M' stands for "McGill." That McGill is Chuck McGill (an unbelievably good Michael McKean), a lawyer who was on top of the world but could hardly be lower when we meet him. HHM will not let Jimmy go. Or is it the other way around?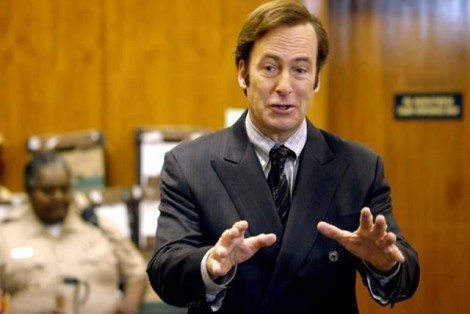 Every day, Jimmy takes care of Chuck. Chuck has experienced an incredible breakdown and now believes himself susceptible to electricity and electromagnetism. He doesn't run power to his house. Cell phones have to be left outside. Chuck doesn't dare go outside, even at night. Jimmy brings him all of his food, and bags of ice to keep it from going bad. It's a daily burden for a man with too much on his mind.
That burden creates a true misery in Jimmy and in Better Call Saul. The show traffics in misery in much the same way that some of its characters traffic in methamphetamine. As beautiful or funny as Saul often is, it is primarily miserable. Jimmy is unsuccessful. He's sad. Kim is sad. Chuck, despite his smiles, is horribly sad. Mike Ehrmantraut (a splendid Jonathan Banks, the only other returning character from Breaking Bad and the role for which he quit Community) has nothing to live for.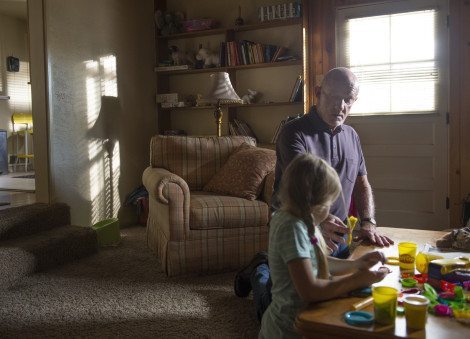 As great as Banks is and as knockout an episode as his character centerpiece "Five-O" may be, Mike's presence early on is illustrative of some of Saul's issues: it just can't let go of Breaking Bad. The pilot ends by bending over backwards to incorporate a character from Bad that died early on in that show's run. His appearance might as well be scored by trumpets. It's an "I can't believe it's him!" moment for a character that feels out of place on Saul.
Likewise for Mike, who, ten episodes in, still hasn't really justified his presence on the show. If we didn't know his ultimate fate as Saul's muscle, his presence and occasional focal points would be flabbergasting.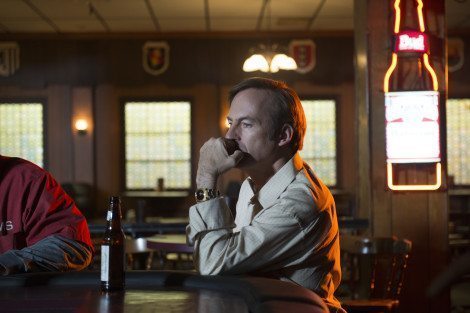 But very quickly, Better Call Saul transcends these early skips. The encounter that spurred on the cameo becomes an engrossing plot of embezzlement and intrigue. Jimmy finds another case. It's compelling and heart-wrenching as he dives deeper and deeper until the water is well over his head. Jimmy convinces Chuck out of retirement for one last go.
Saul is also the most visually striking television show ever. Every episode features incredible staging and lighting. Shots from one episode serve as mirrors to others from many episodes previous. The use of lighting and framing are unlike anything seen on television previously. It is truly cinematic TV.
Despite my initial complaints, Better Call Saul has become appointment television. It lived in the shadow of one of TV's greatest. It crawled out of the shadows to become great in its own right.
Season Two premieres February 15th on AMC.