Synopsis 02×06: The Librarians learn what happens when you make a deal with the devil when Eve connects with an old friend who needs a bit of help.
Rating: ★★★☆☆
In what was just the start of a young woman's terrible, horrible, no good very bad day, she took off running after she crashed her car and hid in a motel room. She was not any safer there, though, as a fiery vortex opened up in the ceiling and sucked her in. That's a pretty bad day.
Meanwhile, the team enjoyed some much needed time off. Jake and a chupacabra made jerky while everyone else wondered where Eve disappeared to. Apparently she'd gone to visit a friend who was running for mayor of a small town in New Hampshire. Denning, her friend from the military, was facing some possibly bad campaign publicity after one of his campaign managers disappeared. She planned to help him get to the bottom of it, but the Library had other ideas as the rest of the team showed up to help as well.
They all ended up at a motel, where Brandy Vargus' body reappeared and was very, very dead, her soul sucked clean.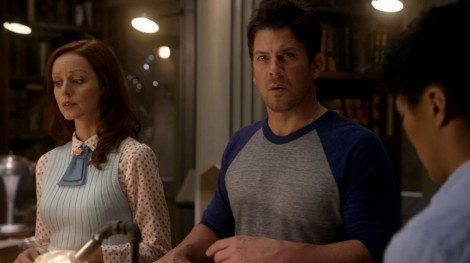 Jenkins filled everyone in on what exactly it was they were dealing with, as Baird tried to convince her friend that magic exists in the world. The team was looking at a devil, one of many creatures that feed off of souls (which seems to be a theme this season). Devils move from contract to contract, disaster following as they continue to live off of the souls they consume. In this case, Denning's mayoral competitor appeared to have a longstanding deal with the devil. According to the town history, there was one person who appeared all throughout history next to a Keating family member: they'd found their devil.
The town was going to be in trouble, too, because Keating's contract was about to come due and something terrible was slated to happen.
The Librarians needed to get the contract and destroy it in order to keep bad things from happening, so they all attended a party put on by Keating's campaign in an attempt to find both the devil and the contract. Jenkins and Cassandra, looking adorable as ever, led the charge and infiltrated the party. They were quickly followed by Jake and Ezekiel, though things became tricky the closer they got to contract. Apparently the magic driving the contract also has a tendency to protect itself. So as they got closer, their luck began to run out.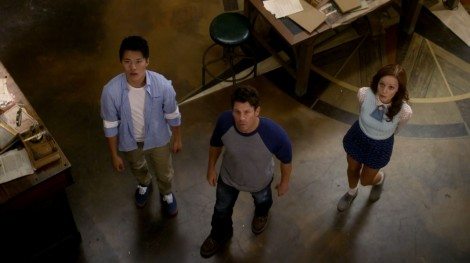 Jenkins, while the team searched the building for the contract, began to chat a bit with the devil. It was the coolest scene so far this season because it was a reminder of Jenkin's immortal state. Two immortals were just chatting in the middle of a party, very well aware of the other's power without being particularly impressed by it. However, the devil seemed confident that the contract would protect itself and everything would go according to plan.
Finally, the team found the contract and were able to secure it. They got it through a tube that delivered it straight into Baird's hands right before security busted them. However, Denning took the contract from Eve and made his own deal with the devil. He ignored Baird's warnings about what he was doing and gave into temptation. The town needed a hero, not the status quo, and he believed making a deal was the only way to make it happen.
The Librarians figured out that the disaster was going to be an explosion during a campaign event, and they scrambled to try and prevent it. It would kill and injure hundreds of people, but Denning would look like a hero at the end of it. While Eve kept eyes on the devil, the team delved underground to try and find the gas valve to shut it off to prevent the explosion. Of course, contract magic came into play and they kept running into bouts of bad luck. Things looked bleak.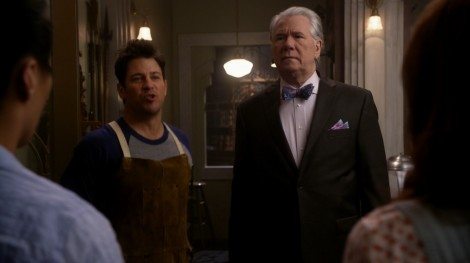 As gas filled the room, and the team sealed themselves inside, the devil appeared to try and convince them to make a deal with him. He'd save their lives and offer them their deepest desires in exchange for a deal. They were Librarians, and he'd never made a deal with a Librarian before. Of course, each of them turned down the offer. They were willing to sacrifice their lives for the good of the people at the event and managed to hold out long enough for Jenkins to come save them.
That's right, Jenkins came to the rescue this time. He sauntered in there without a care, impervious to the gas because of his immortal status and was able to save the team. Up top, Eve figured out she could void Sam Denning's contract with the devil by signing her name over his. It was then up to her to make a wish, and she wished for the devil to become a mortal. At first the devil believed himself to be victorious until he realized what she'd wished for.
Turned mortal, there was nothing he could do. He was bound by the magic of the contract to be mortal and live out the rest of his days like any human would. Nicely done, Baird.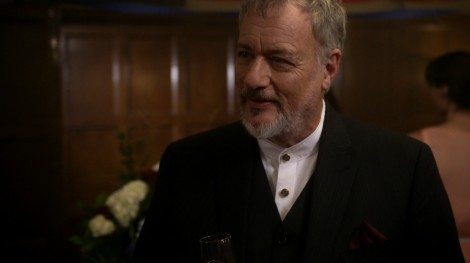 The team returned to the Library to recover from their perilous journey. The Librarians had to drink some concoction that would help them recover from the gas, and sleep. While they rested, Jenkins and Baird had a heart to heart about her role as a Guardian. She thought she'd done a pretty terrible job protecting them, but Jenkins gently corrected her. The Guardian was not there to protect the body, as much as she was there to protect their souls.
Magic was a powerful force in the world, and the Librarians had open access to items embedded in it. It would be easy to fall into temptation, and the Guardian was there to protect the Librarians from giving into that temptation. In that vein, Eve had been successful. They'd chosen their roles as Librarians over what magic could offer them, and it was in no small part due to her efforts to protect them.