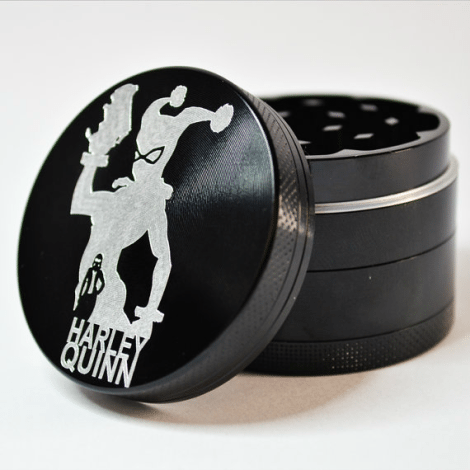 Here we have an… herb… grinder! The grinder itself is made from aluminum, specifically aircraft grade aluminum as specified by the seller. The lid is magnetic, which is always nice, and it seal tightly. The seller states that the grinder is durable and light weight. You can order this product in various colors, like red, blue, green, pink, etc.. The Harley Quinn engraving remains silver. I like how they have Dr. Harleen Frances Quinzel, M.D. within Harley Quinn. That small accent is what really wins me over. This seems like a rather niché item, seeing as how you have to have a need for a grinder and also really like Harley Quinn.
One GrindTex grinder will cost you just over $23, with shipping in the United Kingdom at just under $6 and shipping anywhere else just under $8. Honestly, this is a pretty neat idea and I enjoy the thought of someone buying this being able to get it engraved with their favorite character.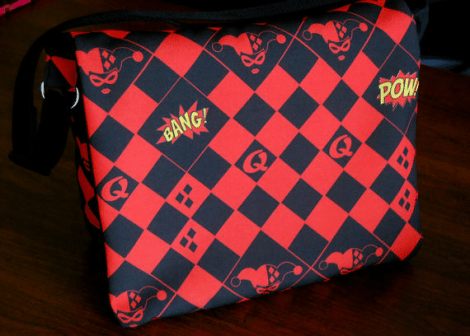 I know it's not the flashiest bag Harley Quinn could have, but I am actually kind of into the simplicity and old school nature of the design. The bag is 13″x 3.5″x 10″, which is about the average size for a messenger bag. It has four smaller pockets, two on the inside, and one on each side, as well as the one main pocket that seems big enough to fit a small laptop, though probably a tablet would fit more comfortably. The seller has some pretty nice reviews, including specifically for this item, so if you are interested in it, I highly recommend getting in touch with them!
The bag itself will cost you $35. Shipping is sadly restricted to only the United States at the price of $6.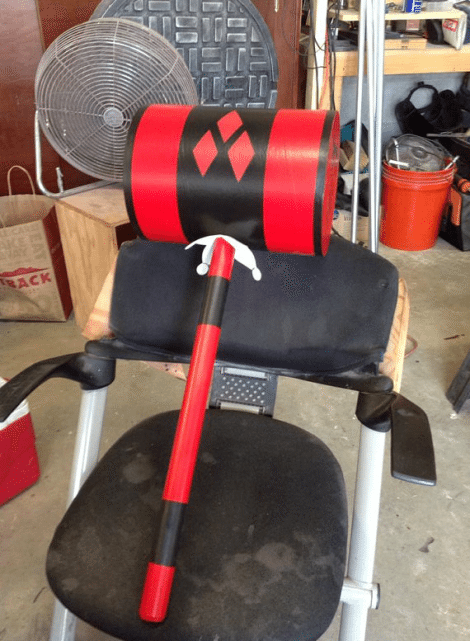 Ever wanted to go around dressed as Harley Quinn terrorizing small children and neighbors? JDTProductions has gone ahead and made that easier easier for you! They do not state the exact size of the hammer in the description, but it ships in a box with the dimensions 44″x 18″x 10″. It seems to made from wood and is described as being relatively sturdy, which leads me to imagine a group of serious looking adults going out and testing it on various objects/people throughout town. The seller even offers a multiple item discount. Also, they offer Harley Pop Guns as well.
The hammer is quite large and made from wood, so don't expect the shipping or item cost to be cheap. That said, the hammer alone is $110, while shipping in the U.S. is $35. The hammer can be shipped to you anywhere else in the world for $50. A bit pricey, but a really cool piece of memorabilia.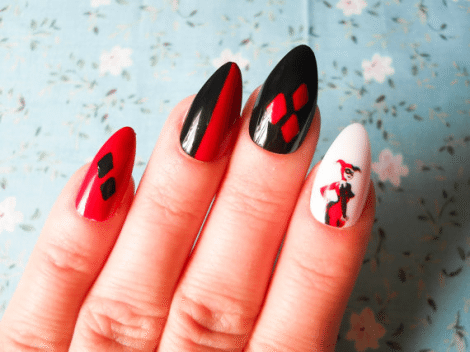 First, I love the shop name. Femme Fatalons have caught my attention recently and so now I bring you these! A twenty-four piece set of Harley Quinn themed stiletto style nails. The nails supposedly last anywhere from one to three weeks depending on how well you take care of them. The set includes two sets of each size, with the sizes ranging from 7mm to 18mm. Niceclaws is another store with some really great reviews, so if you happen to be into nail art and fake nails, they would be a fantastic place to check out.
A twenty-four piece Harley Quinn nail set will cost you $21 without nail glue, an $23 with nail glue. Shipping varies, with Canada at $3, the U.S. at $5, and anywhere else you could possibly live at $7 for shipping.
Hit us up in the comments letting us know if you would buy any of these!