Season 5 of Grimm premieres this
Friday, October 30, at 9 pm on NBC
Life is certainly never dull for Wesen-hunting Nick Burkhardt and Season 5 of Grimm promises to be no different. To help you get back on track in the Wesen world, here what's you need to remember regarding season 4.
At the start of season 4, Nick is struggling without his Grimm abilities. Monroe and Rosalee futilely search for a way to restore Nick's Grimm powers, but the process is slow going. Without his powers, Nick is forced to rely on Trubel's Grimm abilities instead, bringing her along with him and Hank during police investigations of Wesen crimes.
Sean Renard's mother, Elizabeth, having returned to town to save Sean's life, approaches Nick and offers him a way to regain his abilities, but with a catch. Juliette must take on Adalind's appearance for one night. Juliette and Nick consider a future without his Grimm abilities, but when Monroe and Rosalee's lives are in danger, Juliet insists he become a Grimm again.
Finally, after three seasons of remaining in the dark, Nick shares his secret with Wu. While at first a little wary, Wu quickly jumps into the Wesen lore and manages to hold his own with Nick and Hank as Wu helps them investigate Wesen related crimes.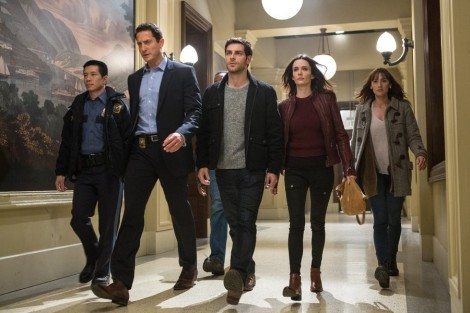 Adalind, after taking Nick's powers, travels to Austria and the Royals, still believing they were holding her daughter Diana. Thrown in the dungeon, she soon discovers that she was duped and that the Royal family does not in fact have her daughter. Subjected to torturous experiences in her cell, Adalind finally admits defeat and insists that she will do anything to help Viktor get her daughter back for the King. Adalind and Viktor return to Portland with the hopes of discovering Kelly Burkhardt and Diana's whereabouts.
Over the course of the season, Juliet begins to develop Hexenbist abilities, culminating in the discovery that she is becoming an extremely powerful Hexenbiest as a result of helping to return Nick's powers to him. Juliet seeks help from a surprised Sean, who directs her towards an old friend of his, a mysterious woman named Henrietta. After meeting with Henrietta, Julet discovers that this change is permanent and that she will only grow stronger with time. Juliette's friend attempt to find a cure for Juliet's metamorphosis, but Juliet soon reaches a point where she no longer desires a cure and instead revels in her newfound abilities. Juliet's personality begins to change, with her becoming more antagonistic and tempered.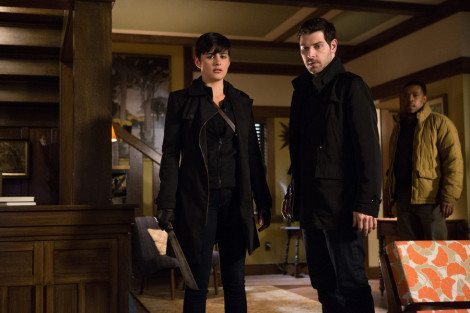 Along the way, Adalind discovers she is pregnant with none other than Nick's child, after sleeping with him that one evening when she stole his powers. When Adalind shows up on Nick's doorstep, asking for help, Nick at first refuses but after learning of her pregnancy, soon relents. As Nick is forced to start caring for Adalind and their child, Juliette feels increasingly alienated from the group, all the more while her powers continue to develop and her personality continues to change. Adalind offers to help find a cure for Juliette, but inadvertently cures herself of her Hexenbiest side when she offers to test the cure on herself.
Viktor is later called back to Austria after failing to make any progress in procuring Diana. Another royal, Prince Kenneth, is sent to Portland in his stead. Kenneth is much more opportunistic and aggressive than Viktor was and quickly discovers that he can use Juliette to his advantage. Appealing to Juliette's hexenbiest side, Kenneth convinces Juliette to help him track down Diana. Using her position as Nick's girlfriend, Juliet contacts Nick's mother via email, lying to her by claiming that Nick is in trouble and asking her to come back to Portland. Kelly takes the bait and arrives at Nick's home with Diana ready to help her son, but finds herself ambushed instead. Kelly is killed and Diana is taken by Kenneth. Nick later arrives home to find Kelly's head left as a present from Kenneth and in a fit of rage, demands revenge for her death.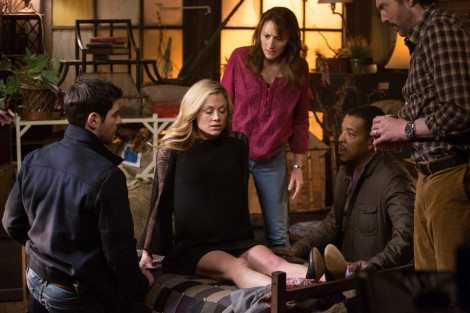 Sean Renard, after being shot and saved by his mother, later discovers that he has been inhabited by the spirit of Jack the Ripper. Sean experiences periods of black outs where he grimly realizes that his counterpart Jack is killing young women in town. With Nick's help they are able to remove Jack's spirit, but Sean must come to terms with his actions and somehow find a suspect for the killings. Nick and Sean are able to kill Kenneth together and attempt to blame the killings on Kenneth instead.
Detective Chavez of the FBI arrives in Portland to investigate the beheading of one of her agents. She quickly surmises that Trubel may be a Grimm and later kidnaps Trubel to determine if she is in fact a Grimm. Trubel discovers that Chavez herself is a Wesen and that she is part of a secret shadowy government agency.
The Royal King himself meets Diana and Juliette and attempts to take Diana back to Austria with him. The helicopter pilot however kills the king and secrets Diana away. Juliette returns to Nick's house, at first attempting to apologize, claiming she did not know Kenneth was going to kill Kelly. However, her Hexenbiest side emerges and she attempts to kill Nick. Trubel arrives and manages to shoot Juliette instead. Juliette dies in Nick's arms and the two share one last real moment together.
Now that Nick has lost both his mother and Juliette, how far will Nick go to get revenge? We had the opportunity to sit down with the cast of Grimm a few months ago at San Diego Comic Con and actor David Guintoli promised us that Nick would be venturing down a much darker road this season. But with fatherhood calling, Nick is going to have to find a balance between being a father and going off the deep end.