Synopsis of 11×03: The race is on the save Castiel. As the Winchesters search for Rowena, Amara upsets the balance in Hell.
Rating: ★★★★☆
The Winchesters have a major problem, and it's lying on the bunker floor wearing a trench coat.
The Darkness is on the move, but Sam and Dean have an angel to save in "The Bad Seed." The God Squad was no help, the boys are at a loss, and with Cas deteriorating by the minute, there's only one person who can save him. That's right, it's time to call in Rowena.
Rowena
Talk about counting your chickens before they hatch. Rowena's been busy since the events of "Brother's Keeper," but all her work has been for naught. With the Grand Coven in pieces, the witch was planning on building the "Mega Coven" upon the foundation of Crowley's demise. It's only when mommy dearest starts her recruiting in earnest that she realizes she doesn't have a leg to stand on. Her big claim to fame – using an angel to off the King of Hell – is nothing but a sham.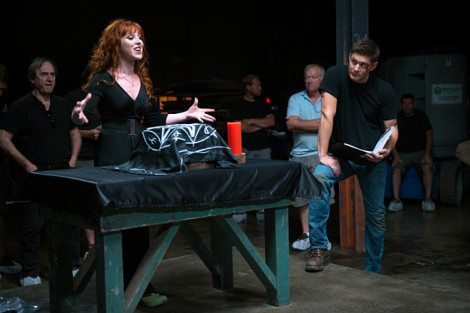 Now, not only has Rowena lost the big kahunas of the hex-bag set, she also has to contend with a horde of Crowley's black-eyed minions. Luckily it's a demon/witch facedown that tips Team Free Will off to the Scot's location.
Team Free Will
Grace or no grace, Castiel is back to being a baby in a trench coat. This is if that baby had an intense case of 'roid rage and a habit of dropping into angelic seizures.
With Cas freaking out from the attack dog spell, the Winchesters have their wingman on lock down. Unfortunately, the boys failed to factor in the angel's decidedly inhuman strength. It's really not a mistake they should be making at this point, but you know, they've got a lot on their mind? Anyway, as soon as they get Rowena back to the bunker, Cas is out of there like the Flash.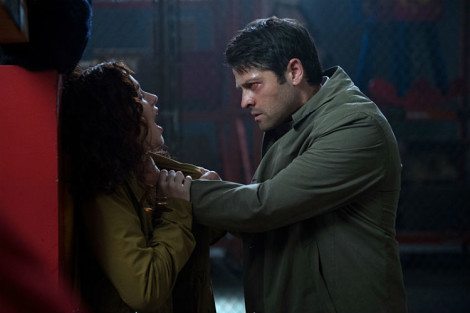 So, what do you do when a rouge angel is on the prowl for his next victim? Track his phone, of course. Thank Chuck for GPS. Now it's Rowena, Sam, and Dean on he road. What could go wrong?
Well, Rowena could upset Sam and Dean's newly minted trust, for one. The witch is a master of chaos, and her casual reference to Sam's promise to kill Crowley puts Dean on edge. Sam for his part looks like he just sat on a cactus, something Dean would be more than happy to arrange.
The Winchesters, however, will need to put aside their differences to keep Cas from killing a poor innocent woman…who was walking alone, at night, in a dark alley, while texting. Come on, girl. It's like your auditioning for the first few minutes of a CSI episode. Luckily, Dean arrives on the scene just before Cas chokes the life out of his victim. Sam and Rowena weren't far behind, and before Rowena pulled her great escape (again), she managed to put Cas back to rights.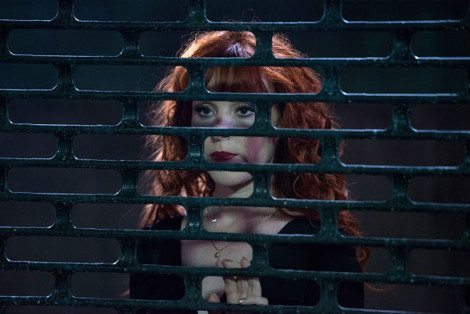 Unfortunately for her, she left the codex in the bunker. Score one for Team Free Will.
The Darkness
Down in Hell, the King isn't faring much better than his mother. Much like the time he tried to negotiate with the Leviathan, "Uncle Crowley" has bitten off more than he can chew. Thanks to little Amara, the big daddy demon is about to choke.
Amara – who can talk to her Emily Swallow version in the mirror btw – is brushing up on her world history. From Dante's Inferno (in the original Italian) to Hitler's speeches, the Darkness' education is preparing her to remake the world in Crowley's image. The tyke, however, has different plans, most of which involve feeding her veracious appetite.
The Darkness' desire for souls is seemingly insatiable. Every snack she has pushes her closer to adulthood. By time "Bad Seed" comes to a close, there is a teenage Amara on the scene. Crowley wants to put the pre-biblical force on a diet, but the redheaded menace isn't having it.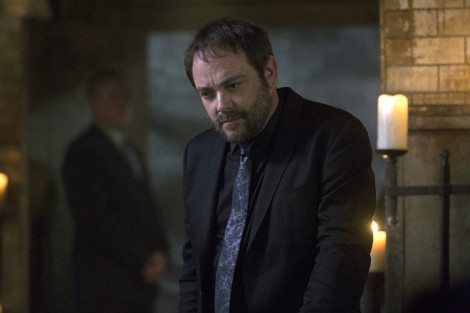 Side Note: Has anyone noticed Supernatural seems to have an obsession with red headed villains. Abaddon, Rowena, Amara – all evil, all powerful, all card-carrying members of Team Ginger. If Lucifer pops the lock on the cage will his new vessel be a Carrot Top wannabe?
Catch up with Cas, the Winchesters, and the Darkness when Supernatural airs Wednesdays at 9 p.m. ET on The CW.