Trollhunters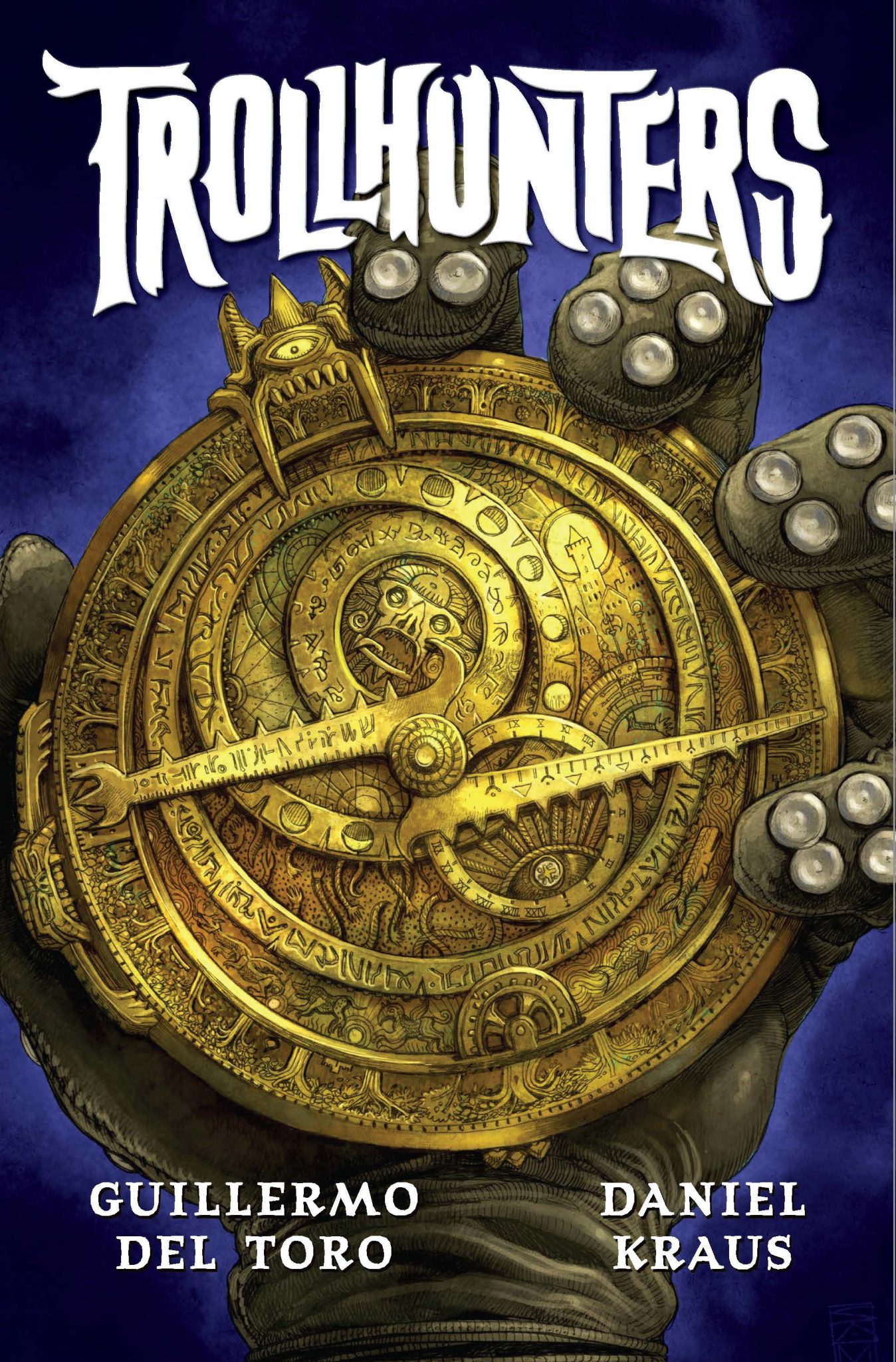 Author: Guillermo del Toro and Daniel Kraus
Release Date: June 30, 2015
Publisher: Hot Key Books
Genre(s): Young Adult, Middle Grade, Fantasy, Humor
Rating: ★★★☆☆
Review Spoilers:  Low
GoodReads | Amazon
Trollhunters is a hard book to categorize. Online it seems to be generally considered a 'young adult' book but when I was reading it I thought it fell squarely into 'middle grade' territory. Either way it doesn't really matter. Readers at both levels are going to be able to enjoy this one. Fast paced, quirky, and fun, Trollhunters is the perfect book for reluctant readers. At a little over 300 pages it the perfect length and it kicks off what could be a pretty entertaining series.
The book follows the adventures of fifteen year old Jim Sturges, Jr. who in the beginning lives a pretty mundane life alone with an overprotective father. The older Sturges has lived his life in fear after his older brother disappeared when they were children during as rash of child disappearances. That paranoia has forced his son to live a fairly sheltered, unusual life while he himself has done everything he can to play it safe and fly under the radar. None of this prepares Jim for what he soon learns – that he is destined to become a great warrior in the battle between mankind and the evil trolls.
He teams up with his best friend, his long lost Uncle Jack, and a cast of 'vegetarian trolls' who just want to bring an end to the conflict between these two worlds. Unfortunately, not all trolls agree with that sentiment and it's up to Jim and the others to protect the children of San Bernadino from grisly fates. In doing so he tests his own limits, the strength of friendship, and his uncle's patience.
Now, I don't want to oversell this book.
It's not perfect.
Yes, Guillermo del Toro is attached to the project and, yes, he's usually pretty dependable when it comes to horror. The Strain series has been spectacular and it has translated to the small screen to become an epic television series. Besides, I just love him. He's great. That does not, however, mean that you should expect del Toro level horror from this book. It's very Percy Jackson-eseque in a lot of ways so it's really not going to scare you much.
Adding to the book's downsides is that the characters are really hard to relate to if you're an older reader. Some of the jokes and some of the comedic moments were just a bit too immature and childish for me and I think the majority of young adult readers will feel the same. The book seems to jump around from being too serious to over the top and for older readers I think that's going to distract from things.
That said, Trollhunters is perfect for the demographic it's targeting. Kids who like solid action with middle grade humor are going to really like it. And it's a great stepping stone for kids moving from middle grade books into the world of young adult fiction.
If you're looking for classic del Toro here you'll be getting more Hellboy than Pan's Labyrnith… and more accurately, that's what you'd be getting from this book if Hellboy was written by a thirteen year old boy. So, if that's what you're looking for by all means pick it up and give it a read. Trollhunters is an entertaining enough read, it's just not really meant for our older readers. But, hey, you can't really fault a young adult book for being a young adult book!


A review copy of Trollhunter was provided by the publisher via NetGalley in exchange for a fair and honest review. Nerdophiles was in no way compensated for this review. Our opinions are ours and ours alone.