Synopsis:  Nathan and Audrey attempt to stop Duke's released troubles from wrecking havoc in Haven. Dave and Vince investigate Dave's visions and learn more about the killer from his visions. Dwight takes matters into his own hands when the police department inadequately responds to the troubles.  Duke deals with his guilt from releasing hundreds of troubles, while the citizens of Haven finally learn the truth about the troubles.
Rating: ★★★★☆
Season 5B picks up literally seconds after the explosive finale of the first half of season 5. Duke, after releasing a cloud of black aether, collapses with Audrey, Nathan, and Charlotte looking on in concern. Nearby in Haven on a crowded beach, the malicious black swarms of aether start to unleash chaos by infecting unsuspecting people and activating their troubles. While Haven starts to tear itself apart, Nathan races back to the station while Audrey and Charlotte work to get an unconscious Duke to the hospital.
Vince reveals to Nathan and Audrey that he has been having visions of the Croatoan colony killing in North Carolina. He suspects that something came out of a portal, or thinie as they call it, in North Carolina and killed all those people. In order to learn more about Haven's connection to Croatoan, Vince and Dave visit the coroner's office, asking Dr. Gloria for narcotics to help Dave tap into his subconscious to help activate more visions. Instead, Gloria whips up some good ole liquor to intoxicate Dave.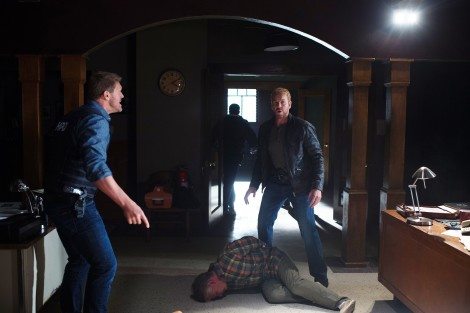 Struggling to keep Haven afloat, Dwight Hendrickson, now police chief, races to keep his town in check and keep people calm, in hopes of preventing people's troubles from being unleashed by their emotions. Duke, on the other hand, miraculously awakens at the hospital, feeling fine with no apparent repercussions from "exploding." Torn with guilt that the town is destroying itself because of him, Duke seeks out his family journal, in the hopes that they can discover more about what they are up against.
Across town, Nathan and Dwight, investigating a trouble that was called in, find reports of people literally frozen in place. They discover a dense mist of fog surrounding Haven that seems to be preventing people from leaving. This impenetrable barrier is causing more panic as people realize they cannot leave town. Nathan asks Audrey to look into the potential cause of the barrier, whom they believe to be a troubled man named Joe. After returning to the station with more questions than answers, Nathan and Duke carefully divulge the truth of the troubles to the remaining officers and staff. Nathan warily asks them to adapt and to not treat the troubled as criminals, but his pleas are meet with confusion and fear.
Duke asks Nathan to help him investigate and save a young troubled girl who causes everyone she touches to literally explode. They shortly discover that Joe's son, a Haven police officer, is troubled, and is the one freezing those around him when paralyzed in fear. His son reveals that it was indeed his father who caused the wall of fog around town. Duke, unaffected by Joe's son's troubles, reasons that Joe and his son may have gotten new troubles today after Duke released the aether. His son soon demonstrates his control of his powers by releasing those frozen and accepting that he is no longer afraid.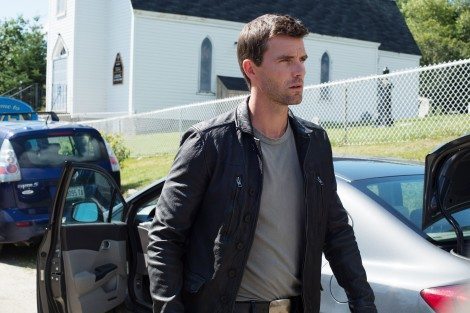 Audrey and Charlotte desperately search for Joe, but to no avail. Charlotte asserts that she and Audrey are no longer immune to the troubles and might be safer if they left Haven. To Audrey's surprise, Charlotte asks Audrey to leave Haven with her, returning to their real home through the void. Audrey, almost loyal to a fault, insists that Haven is her home and that the troubled people need their help. When Audrey asks for Charlotte's help again to create a cure, Charlotte ultimately reveals to Audrey that she doesn't know how to remove a trouble from someone without killing them. Charlotte admits that the barn was never supposed to actually cure the troubled people, but rather kill them and end the problem forever. Enraged, Audrey promptly dismisses her offer and insists Charlotte leave town.
Back at the coroner's office, in his drunk stupor, Dave experiences a brief vision of something chasing a man in the woods. Along with Audrey and Nathan, Dave and Vince investigate the source of his vision in the woods and find Joe's dead body, the man who created the barrier around town. Vince rumors that the killer may have scared Joe into creating the barrier, then subsequently killed him so they would be unable to bring it down.
As things begin to get worse, in an act of desperation, Dwight broadcasts a message from the station across Haven, informing the town of the barrier surrounding it and insisting that troubled people can live in peace with others. Dwight claims that the Guard is now taking over what he calls the new Haven. Dwight, having disbanded the Haven PD, insists the Guard is now the primary law making and peace keeping force in town.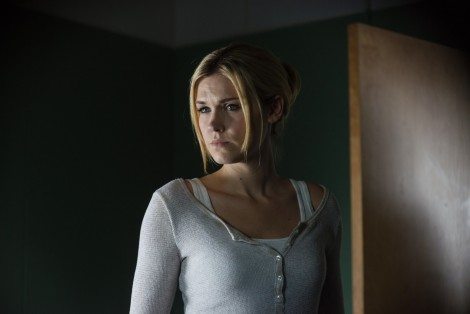 Charlotte, having tried to leave town, reluctantly returns, revealing that she is essentially trapped in Haven for the time being as she cannot open the portals to take her home. Nathan asks her to try at least once to create a cure that would rid everyone of their troubles in town, to which she grudgingly agrees to try. Later, Nathan and Audrey ask Duke to walk through the barrier surrounding town, as they believe he is immune to the troubles and may be able to find outside help. Duke, still wracked over his role in bringing Haven to its knees, gloomily accepts that he is not a hero, just a smuggler and walks through the barrier, leaving Haven behind him.
TWO WEEKS LATER
After two weeks of trying to combat the town's new troubles, Dwight ushers everyone remaining in Haven to the elementary school, as half of Haven has lost power. Those caught in the dark are prey to someone's dangerous darkness trouble. Darkness is literally killing, bringing a whole new meaning to the monsters in the dark in your closet and under your bed. If people are caught in the dark for too long without light, they are swallowed by a mysterious monster. Dwight seems like he is handling things as well as could be expected after two weeks of enduring constant troubles, but before long, people are becoming desperate and a few begin stealing precious batteries.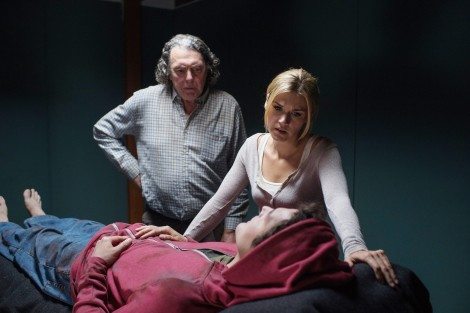 Duke, now living outside of Haven, begins looking for a job, but his lack of a resume and rap sheet from Haven, a town people claim they have never heard of, isn't helping his case.Wherever Duke turns, he discovers that no one has ever heard of Haven. He phones an old friend named Monty, but is surprised when Monty's daughter shows up instead, claiming her father split town months before, leaving her solely responsible for her father's gambling debt.
Dwight gathers the rest of Haven together, insisting that desperate times calls for desperate measures. He claims that the only way to keep people safe is to punish those who are committing crimes, and Dwight publicly banishes a man for stealing a few extra precious batteries. For now, it sounds like banishment equals execution. Meanwhile, Nathan gathers a rag tag group of people, including Dave and Charlotte, to mount a risky mission to repair the power plant and restore power to Haven before the school looses power permanently.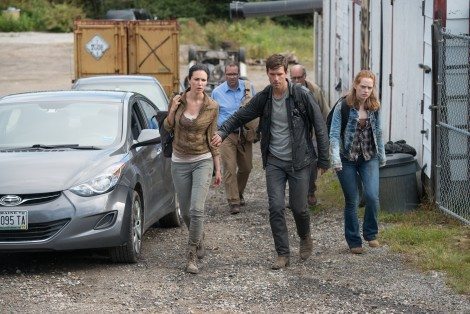 Charlotte is doing her best to fix things and help Haven, but frustration is beginning to set in. After two weeks, Charlotte is no closer to a cure for the troubles. She shares that while aether caused the troubles, it can also apparently end them too, if manipulated correctly. Nathan claims William left Mara a stash of aether in Haven, but they have no clue as to its whereabouts. Wanting to help, Dave discovers a detector that could be capable of detecting aether when close enough.
Back at the school, Dwight seems to be struggling with making the difficult decision to begin banishing citizens who break the rules. Audrey is tipped off by a woman that claims her husband saw someone walk into the darkness and out unscathed and Audrey believes this person could be the source of the darkness trouble. Later, Audrey discovers that Dwight and Vince have found the body of the woman's husband who appears to have been attacked by the same serial killer that killed Joe. To her surprise, Vince also reveals that Dwight is using a troubled person to put the people he has banished to sleep in a sort of induced coma, instead of actually throwing them out as she previously had believed. Dwight's goal is to maintain the fear of banishment, as without it, anarchy would ensue at the school.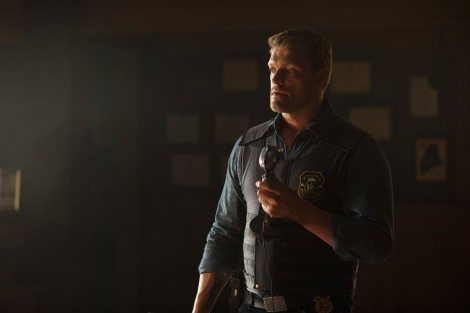 At the power plant, the team accidentally overloads the power grid, inadvertently shutting down power across Haven. While power is now being produced, they are unable to distribute it across Haven and must find some way to restore the grid before sundown. As the sun sets, a powder keg begins to explode at the school as the power remains off. Audrey, being the problem solver she is, uses some people's harmless troubles to her advantage, creating some temporary light to keep the darkness at bay until Dave and Charlotte are able to restore power to the rest of Haven.
Nathan and another troubled woman named Kiera split from Dave and Charlotte when Nathan detects subtle signs of aether nearby. Nathan discovers a large dark deep cavern where the aether readings fly off the chart. Nathan, desperate to find more aether for a cure, foolishly pursues the aether down the hole with Kiera. When Charlotte and Dave return to the school the next morning to find Nathan and Kiera still missing, Audrey grows incredibly concerned and is prepared to mount a rescue mission. To her surprise, Nathan returns unharmed but regretfully shares that Kiera got stuck in the dark and died, much to the outrage of the rest of Haven's population.