BUFFY: DEMONS OF THE HELLMOUTH
(A GUIDE FOR SLAYERS)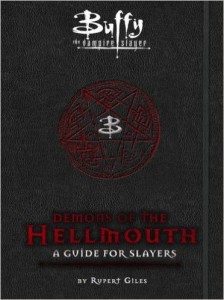 Author: Rupert Giles
Release Date: September 29, 2015
Publisher: Titan Books
Genre(s): Fantasy, Magic, Science Fiction
Spoilers: Mild
Rating: ★★★★☆
As someone who's been a Buffy fan since she was twelve years old, and who still has a faded Buffy poster inside her closet, this awesome collectible hit me with such a wave of nostalgia I wanted to rewatch the entire show right then and there. And as soon as I'm done writing this review, you can find me on Netflix if you need me.
A beautiful hardcover, supposedly written by Giles himself as a guide for future vampire slayers, and complete with silly annotations by the Scoobies, this fully licensed book contains detailed pages and photos of every single non-human, partially-human, or formerly human entity introduced throughout the entire Whedonverse.
And I mean every single one. There are full, multi-page spreads for the major characters, but even the one-offs with no official name are in there. It was a great reminder of the breadth and depth of the show's mythology and offered insight into details of the show I'd missed, or long-forgotten.
Every character is described by Giles not just in terms of it's physical appearance and significant traits, but also through his stories, thoughts, and feelings about the experience he had with them – much like the old Watcher's journals he was often seen reading from in early seasons of the show. Every page becomes a small recap of the episodes and storylines those characters came from, and the annotations often humorous references or direct quotes from those memorable moments (like Buffy drawing hearts around Angel's photo).
The book doesn't contain any information that adds to the known canon, which might have been appealing, but it does offer a great frame of reference for the scope of the show, and a shout-out to most of the major characters and their personalities.
My favorite part is a toss-up between the final entry on 'troubled teens,' listing off all the Sunnydale High students who were human, but got involved in supernatural mojo and caused trouble for the gang, and the touching and eloquent foreword  by Anthony S. Head. He describes the experience of being offered the part, how close the cast and crew were, and how, while they knew they had something special, they never could have anticipated the legendary cult classic it became.
It's about time this fictional universe had a full collection of all it's tips and tricks. The only disparaging thing I can say is that, for all it's faux scotch tape marks and coffee rings, the book does look extremely mass-produced, rather than like a tome of Giles' hodgepodge photos, scribblings, and clippings as it purports to be.
But that's a small thing in comparison to its deference to the fans and the beautifully complex and sometimes ridiculous world it represents.


A REVIEW COPY OF THIS TITLE WAS PROVIDED BY TITAN BOOKS IN EXCHANGE FOR A FAIR AND HONEST REVIEW.