Synopsis of 2×06: Rick and Morty have to travel inside Rick's ship battery, which is actually a tiny city. The ship protects Summer in ethically questionable ways.
Rating: ★★★★1/2
After sort of an off week last time, Rick and Morty is thankfully back to the fascinating, disturbing, hilarious stuff it does best. And to think I doubted you for even a second.
After a rousing showing of the Ball Fondlers movie in an alternate dimension where there's a Ball Fondlers movie, Rick, Morty, and Summer realize the ship won't start. To fix the battery, Rick transports Morty and himself into the device, which he reveals to be a tiny universe, with a tiny planet within it, which unknowingly generates all the power for Rick's car through the labor of the civilians. Turns out, the planet has stopped producing power for Rick through manual labor because they've discovered a new power source: one of the scientists on this planet (Zeep, voiced by Stephen Colbert) has created his own tiny universe that does the exact same thing as Rick.
Of course, someone in that universe has already started work on their own version of the same thing, and as the group keeps travelling into smaller and smaller universes, things get meta fast. They also inherently get somewhat repetitive, as much of the humor from this episode comes from Zeep saying and doing some of the exact same things as Rick. But this is also some of the finest science fiction work that the show has done so far. The concept of the singularity – the point where artificial intelligence can itself develop even smarter artificial intelligence – has guided sci fi stories for decades, but "The Ricks Must Be Crazy" poses bold new questions about the idea. What if these inventions aren't robots, but living creatures, existing for the sole purpose of powering a larger device? Is this slavery, or just an inherent part of technological advancement? What significance does a life like that live, especially when every new iteration negates the usefulness of the previous one?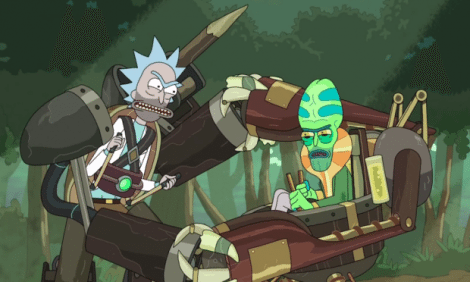 Thankfully, Rick and Morty asks these questions without giving them easy answers, not to mention without compromising the entertainment value of the episode. Having Rick and Zeep in the same space effectively doubles the amount of dry, sarcastic Sanchez wit, and when they go head to head the results are hilarious. And the episode closes with a giant chase sequence to escape from the various iterations of universes, one that comes packed with consistent surprises ("Morty, you've gotta turn into a car!") and jokes ("Now let's get out of here and destroy this whole universe!" "Excuse me?").
On the other end of things, Summer got locked in the ship at the beginning of the episode, with the AI command to "keep Summer safe." It does this in a series of consistently horrifying ways, beginning with a laser that eviscerates a passerby into a hundred pieces, which is nothing in comparison with what it does when it attempts to deter attackers psychologically. As the forces against the ship grow larger and larger, Summer's demands to remain ethical in keeping her safe become more and more difficult to fulfill. Eventually it pulls it off by negotiating a truce with the civilization of giant spiders who also exist in this dimension, granting the ship diplomatic immunity. This B plot has great material if you're willing to follow it to some incredibly dark places, and I just wish we'd gotten to see more of the AI's personality.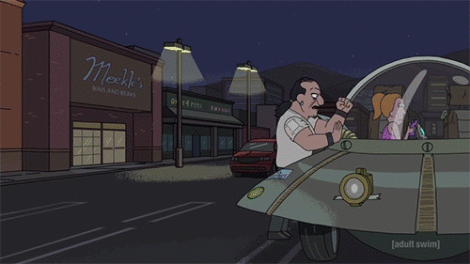 Overall, "The Ricks Must Be Crazy" is yet another creative and very funny episode of Rick and Morty, but one that's even more sophisticated in its exploration of science fiction concepts than usual. I'd love to see more of this side of the show as we continue.