Synopsis for 1×02: Things are getting worse and people are finally starting to take notice. Teenagers continue to be bratty, even in the apocalypse.
Rating: ★★★☆☆
In this episode of Teenagers Make Poor Decisions, we see Maddy and her family struggle with their new found knowledge of whatever they decide happened with Cal – they haven't really stated it, nor have they decided to warn anyone else. Instead, they rally the troops to try to get the hell out of dodge.
Alicia makes a pit stop at Matt's house after school, where she finds him burning up and bitten. He's still alive though and she opts to take care of him even as her parents urge her over the phone to stay away from him. Giving them no choice but to collect her themselves, it's Matt who finally tells her that she should go home with them. Before that, Travis found a bite on his shoulder and mentioned that Calvin wasn't like this. Maddy thanks him for what he says to Alicia and it's probably the last time we'll ever see poor Matt.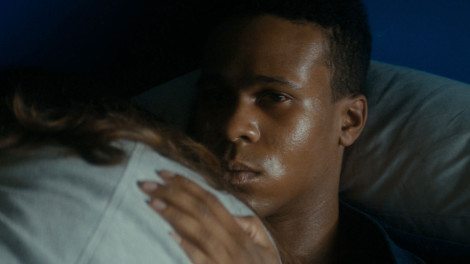 Things in the neighborhood are more or less normal, with the neighbor planning a birthday party and Maddy deciding not to say anything to them about what's been going on. Instead, she urges Travis to go pick up Liza and Chris so that they can all leave together. But no sooner is he gone than Nick starts feeling the withdrawal symptoms hard.
Maddy can't get any doctors on the phone to fulfill Nick's prescription for the withdrawals. Alicia and Maddy argue over where to get him some medicine in the meantime and what to give him when Maddy comes to a revelation. She makes Alicia promise not to leave as she herself heads to the school for medicine from the nurse's office.
Chris is ignoring his father's calls and Liza argues with Travis over where he is and what he's doing, while being stuck in Los Angeles traffic. He witnesses a police officer stockpiling water and completely misses the opportunity to top off his gas. Meanwhile Chris is getting into the middle of a social revolution and filming the unrest as people protest the senseless killing of a homeless man. He ignores his father's instructions to get back to his mother's house because he's a part of something!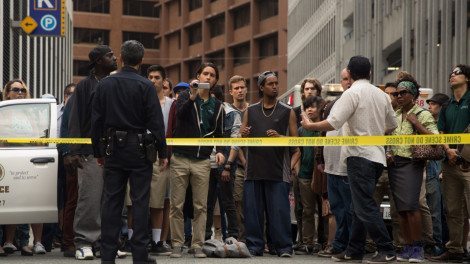 Inside the eerily empty school, Maddy almost seems like she's done this before – efficiently getting the keys she needs to unlock the room with the drugs. She then pulls a crowbar from her bag and makes quick work of a cabinet full of drugs. What's that doing in a school anyway?! She runs into Tobias who slyly asks if he can have his knife back now.
She returns it to him and in exchange he gives her a rundown of what's going to happen next. He wasn't wrong last time, Maddy. They end up raiding the cafeteria of food at Tobias' insistence. But before they can leave, they hear groaning from somewhere in the school over the speaker system. A fire alarm goes off in the distance and they book it right to Principle Art. Maddy calls to him like an idiot, catching his attention, and he almost eats Tobias. Ultimately, she bludgeons him to death with a fire extinguisher.
Nick's struggling in Alicia's care, getting worse with each passing moment. Rather than wait around, she decides she's going back to Matt's with a thermos to check on him. Nick argues with her that she can't leave and she gets as far as the sidewalk outside before she hears a thump and runs back in to find Nick seizing on the floor. It's an unfortunate scene and on that she looks too familiar with.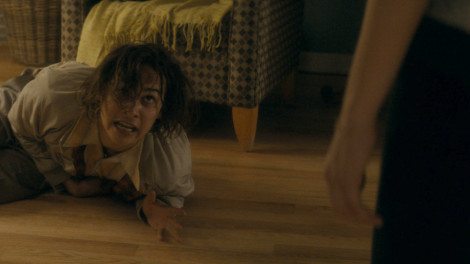 Travis gets to Liza's place and they both set out to pick up Chris. In the midst of the chaos, they find him, but they also notice the police in full riot gear coming up from their exit. At the same time, a female police officer shoots another person in full view of the crowd – thankfully getting her in the head on the second shot, but sending everyone into a frenzy. Panic sets in and people take advantage of the situation to riot as best they can. Travis talks his way into the local barber shop that closes up tight.
After the scene at the school, Maddy drops Tobias at home, even though she offers to let him stay with them. All that effort for the food and it looks like it was left. It goes from night to day rather quickly, but at least she's able to bring Nick oxycodone, which he promptly crushes up to take. Alicia is obviously upset and Nick uses the moment to rat her out and try to take credit for 'keeping her here' after she tried to leave.
More affected by what happened than she had let on, Maddy nearly has a breakdown in the bathroom – one which Alicia notices – before pulling it together. She talks to Travis, who urges her to leave without them and they'll catch up, but she refuses that option. Things are starting to fall apart and, when Alicia notices the neighbor getting attacked, Maddy has to bodily stop her from going to help. But she still hasn't told her what's going on.