San Diego Comic-Con is known for it's crazy, almost daily after-parties. Most of us regular people can only watch them unfold online or – for the more dedicated fangirls among us – from behind rope lines. This year, though, Conan O'Brien threw an exclusive series of late night parties and gave everyone a chance to attend.
Well, everyone who decided to give the event a chance and rushed online to sign up for tickets.
What was the focus of these late night parties?
Bingo.
Conan O'Brien was throwing a series of bingo nights at Comic-Con. The location was a secret. The details unannounced. The whole thing was 21+ and over. I don't know about you but it instantly sounded awesome.
By some chance of fate my little sister managed to score tickets and so on Friday we ventured on to Conan Bingo knowing only that this was "Not Your Grandma's Bingo." We lined up outside of a building where the only real identifying signage was the neon shape of Conan's hair.

Inside it felt like we had walked into some underground club. While they prepared seating arraignments inside we were treated to an unending stream of hors d'oeurves and signature cocktails. We mixed and mingled with others as we waited to be seated. There was even a chalkboard wall to write on.
Once we were seated it became clear just how lucky we were to get these tickets. There were at most 120 people at various tables around the room. The tables were decked out with formal place settings complete with Conan Bingo branded mason jars and a full bite-sized menu brought out in waves throughout. Let me tell you, the mini chocolate milkshakes and the carrot cake bites were delicious.
But let's get back to bingo.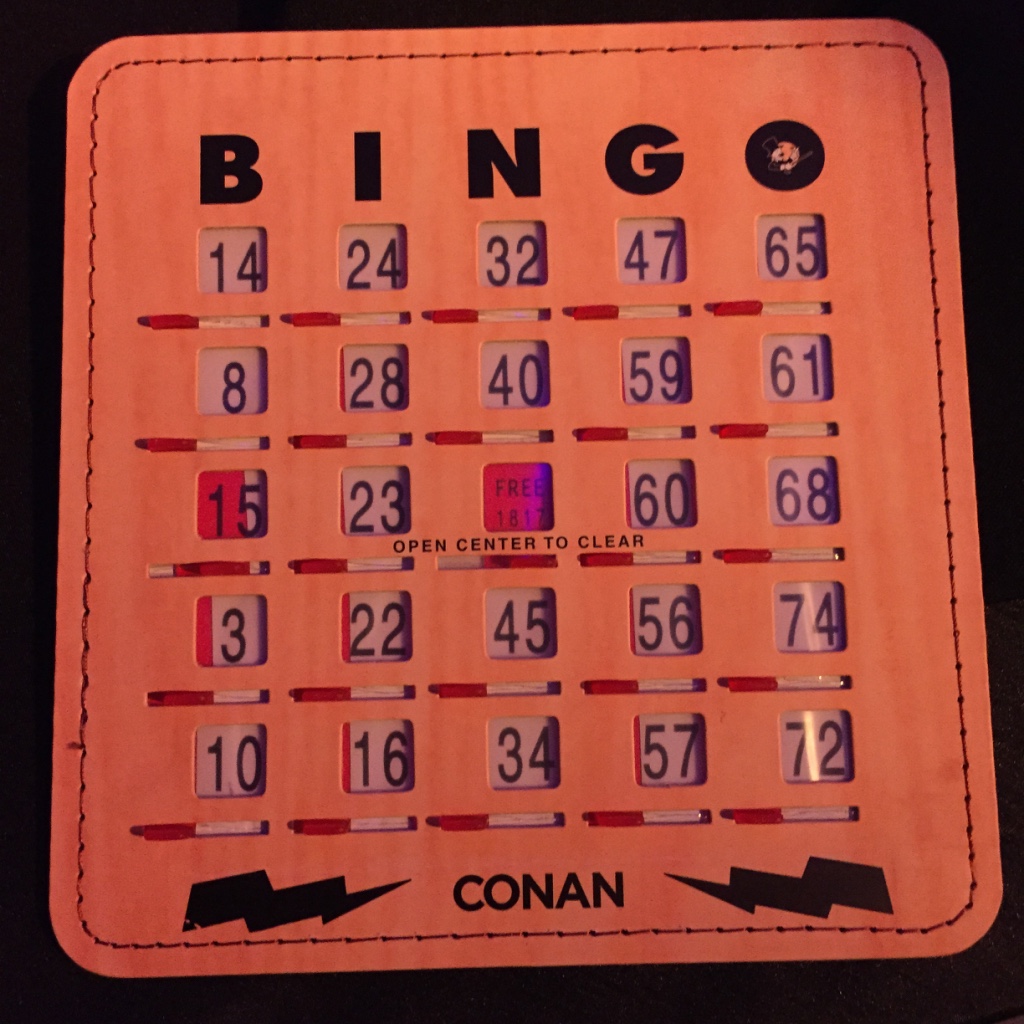 Yes, we played bingo. In fact, we played three rounds of bingo hosted by the fantastic J. Michael Stauffer. No, Conan was not there sadly but we toasted his glorious hairdo and started up a night I'm not sure any of us will forget soon.
And let's be honest who really needed Conan when we had Stauffer?
Stauffer is the man when it comes to 21+ bingo. He's been calling bingo games in New York for years now and after experiencing Conan Bingo it's no surprise as to why. He really knows how to get a crowd pumped.
Each round was introduced through choreographed dance and followed with the nerdy themes of SDCC: sci-fi, heroes and villains, etc. The winners of each round got an awesome prize pack including all four Conan Funko POP! figures, tickets to the next night's Conan filming, Beats headphones, and more. At the end of the night the three winners then competed against each other in an epic dance off to take the crown of Bingo Champion and to take home the final prize – a GoPro.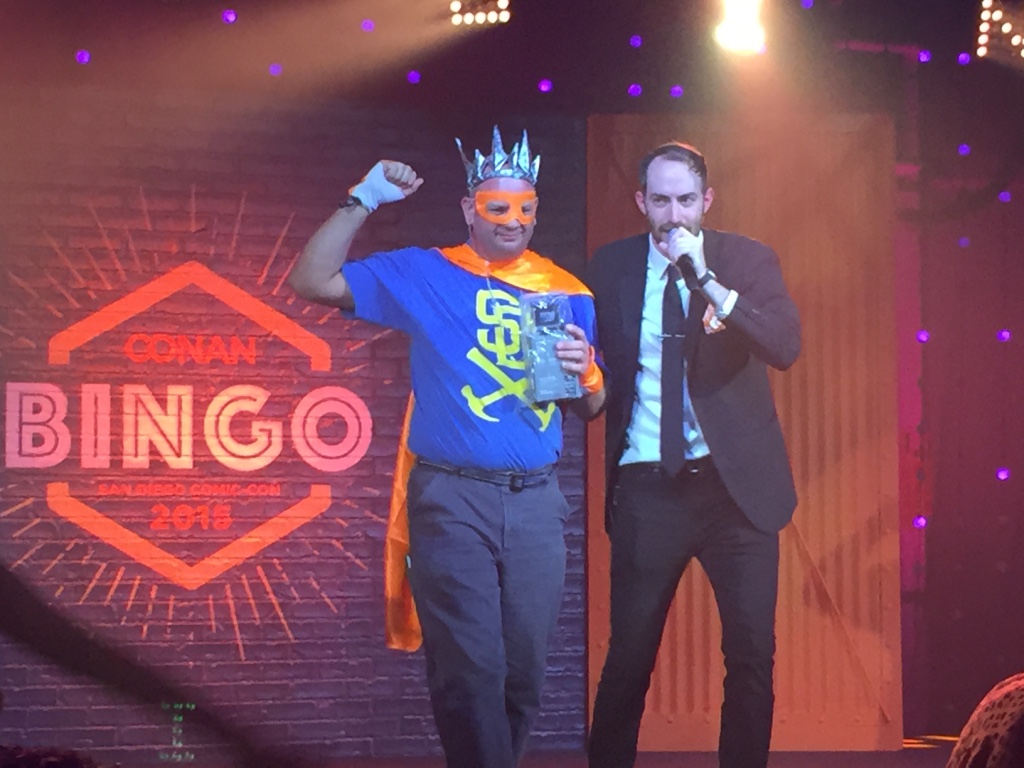 Dance offs were pretty common through out. So was dancing just in general. And singing. The DJ kept people on their feet and 'Balls Karaoke' kept people singing. What is 'Balls Karaoke' you ask? It's sort of like a game where you replace words in a popular song with 'balls.' My sister did a version of Sweet Home Alabama which worked great if just for the line "Sweet Home Alabama – where the balls are so blue!" Sadly she didn't win. But winners won a round of specially branded Conan champagne bottles for their whole table.
Meanwhile the drinks kept coming and the music kept playing.
At the end of the night everyone walked away a winner. We got a fantastic experience and some pretty awesome swag. Every player got to take home their bingo cards, Conan Bingo mason jars, and a bag that included the day's Conan Funko POP! figure, some sunglasses, a t-shirt, a bandana, and some Snickers bars (since they sponsored the event).
Honestly, it's the coolest 'party' I've probably ever attended – at SDCC or anywhere, really.
I only hope Conan will bring it back some point or hold something equally as epic next year!
#ConanBingo was the hands down coolest party in town for #SDCC2015. Thanks for a great time, @ConanOBrien! pic.twitter.com/idRQvwFtXp

— Sam @ NERDOPHILES (@samaside) July 11, 2015