BOOM! Studios continued to deliver on two solid series' this week, UFOlogy and Deep State, both series we enjoyed.
Dark Horse ended The Order of the Forge after three issues and Kylee is personally hoping that it's laid to rest for good. Past Aways and Resident Alien both had strong offerings with sharp, witty scripts and interesting turns within the stories. The much buzzed-about Fight Club continues to draw on the nostalgia factor, but will probably be a fantastic read once it's gathered as a trade.
What did you pick up this week and what do you think of our reads? Let us know in the comments!


Sam's Reads
UFOlogy #3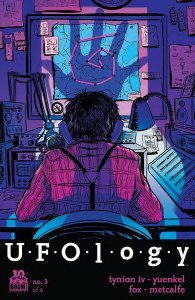 Author: James Tynion IV & Noah J. Yuenkel
Artist: Matthew Fox
Publisher: BOOM! Studios
Source: BOOM! Studios DRC
★★★☆☆
Strange things are starting to happen around town – a lot stranger than Becky's house fire. A body from the morgue has disappeared leaving behind a slimy goo and the same sort of residue is found at the scene of a car accident. A good Samaritan picked up a hitchhiker and ended up losing his head and wrecking his car (at least the poor hitchhiker didn't intend for that to happen).
Meanwhile we get some background on Becky and Malcolm's parents and their old collaboration on all these supernatural. But it's really Becky and Malcolm themselves that are dealing with the craziest shit. Back in school now Becky is just trying to get back to her life but it's not working out for her. Her scar keeps glowing and she keeps seeing things and hearing people saying, "Don't be afraid," and asking about a briefcase. After Malcolm convinces her to help him do some research and drive him around she shows up at his house late at night. But she's not alone. Someone – something – has followed her.
Eyeball guy from the last issue and a few others are there when Malcolm comes down to meet with Becky so maybe we'll finally figure out what they're up to. And hopefully we'll find out more about this army creation that accidentally killed our good Samaritan. He doesn't seem like he's that much of a bad guy but, well, he is sort of a bad guy, right? Who knows.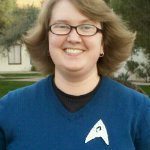 Sam Wildman is a co-founder and co-editor at Nerdophiles. She wishes her scars glowed randomly. @samaside


Kylee's Reads
Fight Club #2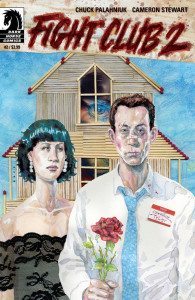 Author: Chuck Palahniuk
Artist: Cameron Stewart
Publisher: Dark Horse
Source: Dark Horse DRC
★★★☆☆
This issue kicks off with a bang – or a burn, as it may be – in the aftermath of the fire that claimed Sebastian and Marla's home and son. Or did it? We see Sebastian in therapy and Marla in her groups while the FBI steps in to investigate why they seemed to take a life insurance policy out on their son just before the fire. Sebastian also has a questionable relationship to arson, having lost his parents in two separate fires in his lifetime.
Thankfully, the FBI agents have already been indoctrinated into the world of Tyler Durden with their acid kisses, affording Marla and Sebastian the opportunity to figure out just what's going on. She admits to tampering with his meds to see Tyler and he realizes that he was the one to kidnap their son, having burned another body in his place. There's blatant fan-pandering with the line, "I want you to hit me as hard as you can" and numerous parallels to the original Fight Club, I'm still waiting to see if this is a re-hash of the previous installment (the line, Paper Street, the Space Monkeys hanging out on the porch) or if something new comes of it.
Past Aways #4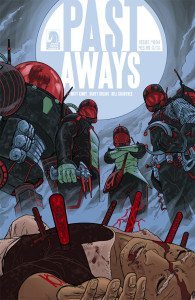 Author: Matt Kindt
Artist: Scott Kolins
Publisher: Dark Horse
Source: Dark Horse DRC
★★★★☆
The team is fighting more alien tech – this time in the form of a giant tentacle – that's been displaced from time and seems to be malfunctioning. This one keeps thinking the same thought over and over again: 'must bring them back.' Phil is the first one to the control center, where he finds a man sent to this time to rescue them. However, Hein Trooper has time sickness and is stuck in a loop with a damaged ship. Phil uses an illegal short range teleportation device to get him out of the tentacle secretly.
He tells Art that he used a charge to get rid of the automatic control system and only later find out that the tentacle was probably meant to be some kind of rescue vessel for them. We also got a peek into Art and Phil's first meeting, where Art saved him from being tortured – leading me to wonder how they got from there to here in their relationship. While Art is off talking to a primitive twenty first century psychologist, Phil is with Hein Trooper and declares that he'll help if he helps kill Art. Things are getting good with Past Aways! Every time I think I've got a relationship figured out, more layers are added and more character flaws are revealed. I really enjoy how things are slowly teased out each issue.
Resident Alien #2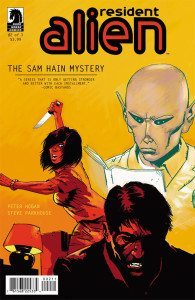 Author: Peter Hogan
Artist: Steve Parkhouse
Publisher: Dark Horse
Source: Dark Horse DRC
★★★☆☆
Harry thinks more on the Sam Hain mystery, showing readers a sordid tale of affairs and murder. Written from a woman named Ruby's point of view, she has an affair with Simon, whose wife is gone all summer, before they part ways. After their break-up, Ruby's abusive ex-husband, Nick, shows back up. Simon comes to her rescue and they end up having to bury Nick in the garden, leaving each other once and for all after the deed is done.
After reaching the end of the story, Harry wonders if it might be autobiographical at all. With the help of his assistant at the clinic, they wonder if Rex Monday might not have been a woman all along. They comb through patient records and find one elderly woman, who was treated just yesterday, that fits the bill. Harry visits her, finding her with a husband of some sort, but she doesn't deny his accusations and his questions about Nick. She hasn't heard the name Rex Monday in so long, but seems willing to discuss things with him. The mystery being spun in Resident Alien continues to get more interesting with each twist and turn.
The Order of the Forge #3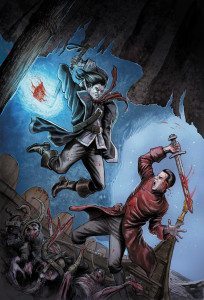 Author: Victor Gischler
Artist: Tazio Bettin
Publisher: Dark Horse
Source: Dark Horse DRC
★★☆☆☆
Mercifully, this is the last issue of The Order of the Forge and it ends in just as cheesy a fashion as you can imagine. I finally got my zombies after Hammond forces George and his niece to open some secret passageway. They all fall into the secret catacombs beneath the down, leading to an old Viking ship. George and Kate encounter Viking zombies for all of three pages, where they make quick work of them and then… make out. Ugh, less whatever this is and more zombies next time.
With the help of Paul Revere and Ben Franklin, who catch up to the rest of the gang, they make short work of Hammond and his lackey before escaping the crumbling cave. Once free, they realize their powers are a gift and call themselves The Order of the Forge after the Viking ship they just destroyed. And then… the end. There are hints that Hammond survived, so another series is not out of the question, but please just. No. A lot of interesting opportunities were squandered in this series and if, for some reason, someone decides to greenlight a second series, I really hope they make more interesting use of the supernatural.
Deep State #7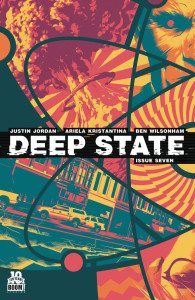 Author: Justin Jordan
Artist: Ariela Kristantina
Publisher: BOOM! Studios
Source: BOOM! Studios DRC
★★★☆☆
This issue is confusing… to say the least. Brand is attacked by a jilted friend from college, who she admits she was never very close to, and Harrow is hunted down at his off-the-grid residence and delivered a medal. They somehow come to the conclusion that it is Odin, a computer program used to manipulate people through their electronics. But it's just a program and whoever is behind it must have compromised Control. When they hunt down the young man responsible for Odin, they're surprised by none other than John Harrow.
This one-eyed Harrow makes quick work of the programmer and then begins to question Brand. He's hoping to have destroyed Control, spins a little tale about Brand's own origins, and how – when you're really good – you get picked to check on Agent Harrow. When Brand attacks the one-eyed Harrow and questions her own partner, asking if he is "entire and effective," he answers, "No." The conspiracies are growing exponentially as things get more and more convoluted with Deep State, which is not necessarily a bad thing. This fast-paced, action-packed issue has the art to match and I personally can't wait to see how far down the rabbit hole this goes.


Kylee Sills is an associate editor at Nerdophiles. Give her zombies or give her death… and maybe give her fewer historical revisionists in the future. @kyleewho