Synopsis for 3×02: Rewind, then fast forward, 'cause we're going back to the epic fight at the end of season two before we follow Will Graham and Abigail Hobbs to Europe while they track Hannibal.
Rating: ★★★★☆
What would Hannibal be without re-traumatizing viewers by re-playing the end of season two? The first little part of the episode was a rehashing of where we left Will Graham's story. Since 'Primavera' is the first episode this season we get to see Will Graham, it made sense to go back to where he was stabbed and follow the events from there. After Will was gutted, the viewers watched him wake up in a hospital looking quite disoriented. A nameless doctor informed him that someone is eager to see him, and Abigail Hobbs appeared.
Yup, Abigail was alive. It seemed like no one actually died after the big confrontation with Hannibal in season two. Will was, naturally, relieved, but Abigail seemed off somehow. She insisted that Will messed it up. They should have gone with Hannibal. Hannibal had been waiting for him, waiting to whisk them both off to some place he had prepared for them. Yet Will, even when Hannibal handed him the chance to admit his initial lies, continued the facade and Hannibal took extreme measures to soothe his broken heart.
After the scene with Abigail, Will disappeared back into a dream-like state and appeared in Hannibal's old office. When he looked over he saw another form of himself next to Hannibal as his old friend described his memory palace. Naturally, when Will looked around again he realized he was in Hannibal's memory palace. It was a strand connecting them, and it was what allowed Will to track Hannibal to Europe.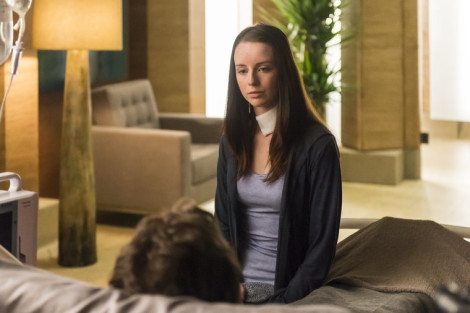 Speaking of which, the episode fast forwarded to eight months later. Will was recovered, so was Abigail, and they had both taken off to Italy to try and find Hannibal. They ended up in a cathedral, the one from Hannibal's memory palace. Also, the place where Hannibal left a valentine for Will in the form of a man folded into a heart. Will Graham immediately became a suspect when a priest told the Italian police in Palermo that he had been a frequent guest and seemed out of place.
Cue Inspector Pazzi's (Fortunato Cerlino) series entrance. In a lovely scene, he and Will sat beside each other and Pazzi expressed a deep interest in Will's presence in Italy. He admitted he'd researched American FBI profiling, and knew of Will's recent incarceration. Will was quick to point out that he was acquitted, but if nothing else, Pazzi seemed amused. He was also curious: "Is Will Graham here because of the body, or is the body here because of Will Graham?"
In its usual artsy way, as Pazzi and Will feel each other out, another tableau is revealed. It was one Pazzi had investigated – a couple made out to look like a Boticelli painting. He believed the work was that of a man he had tracked when he was younger, the "Monster of Florence." In his hand was an old picture of Hannibal, which Will recognized immediately. It was enough to confirm Pazzi's suspicions.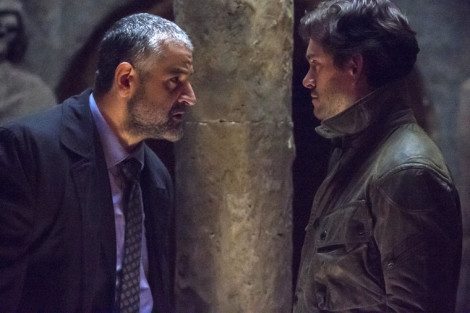 Viewers then were given just a tiny taste of Hannibal's history from Pazzi's perspective. He had seen Hannibal when he was a young man, sitting in front of the Boticelli painting, drawing it over and over again. Even then he knew of Hannibal's guilt, but a young Hannibal was able to escape any sort of proof without issue. Someone else was eventually blamed, with no evidence to convict him. Yet he ended up in prison while Hannibal continued to roam free.
Sounds familiar, right? Welcome to Will Graham's recent life.
In what was probably the most horrific sequence shown on Hannibal (far worse than the infamous 'social worker sewn into a horse' scene), Will Graham investigated the heart and it unfurled right before his eyes. It was a valentine. Hannibal had put his broken heart on display, and the heart molded itself back into a man. Except that man was headless, handless, without feet or flesh, walked like a creepy monster and grew antlers.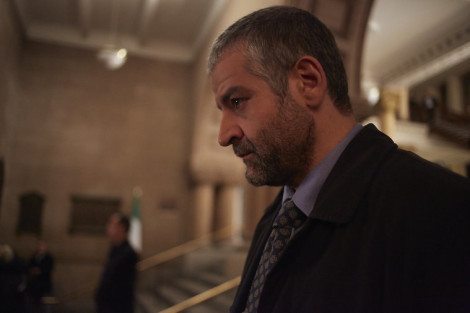 Swiggity swag, it is a fleshy disturbing nightmare stag. Or something. Hannibal as a show has continued this season to push the boundaries of what one can expect to see on network television. I dig it, but I'm also deeply disturbed by it.
Abigail appeared beside him to try and bring him back to reality as Hannibal watched him from the shadows. However, as Will and Abigail sat together and discussed Hannibal, he admitted to her that he hadn't been able to create a place for her in that life. It was here that it was revealed that Abigail had been merely a memory, a ghost following Will Graham around, and she died for the final time.
Anyway, Pazzi next found Will lying on the ground near where the heart had been left for him. He expressed his desire, after talking about prayer, to use Will Graham as bait to catch Hannibal. Before he'd been unable to catch him, but now that he had Will, he was certain they could incarcerate him. Will warned him that his investigation would lead only to his death, but Pazzi seemed ultimately unconvinced. Yet as their dialogue went on, Will realized something: Hannibal was there. He glanced over at the entrance to the building's catacombs and somehow knew that Hannibal was there somewhere, waiting for him.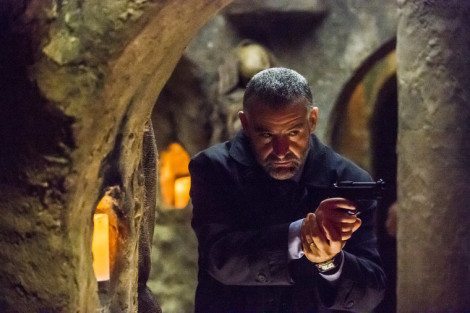 So he did what anyone would do: he went into the dark maze of catacombs to chase down a cannibalistic serial killer. The catacomb scene was teased ages ago, so there wasn't a lot of new content. Will set out to find Hannibal, Pazzi stupidly followed, and the two had another discussion about death. Pazzi confronted Will about it and Will just left him with a solemn warning and disappeared dramatically into the shadows.
The episode ended with Will telling Hannibal he was forgiven – and Hannibal sure heard him.