Synopsis for 3×22: An inmate supposedly broke out of prison and murdered a judge, but the case is far more than Sherlock and the team imagined it could be. Meanwhile, we got a peek into Detective Bell's personal life.
Rating: ★★★★☆
This week's episode brought a little humor into the mix, which was a nice shift from the series of more serious episodes we'd had. It began with the Stanley Cup in the shower as Sherlock admitted to running a number of tests to verify if it was the real Stanley Cup or not. If it was, then it had been stolen and sold online, which is how it had come to be in his possession.
While Joan was put upon by Sherlock's antics, a couple of young men found a gentleman stabbed in the subway. They weren't the most upstanding people, but they called 911 and waited with the body for the police to arrive to investigate.
It was revealed that Bell had been seeing a lady detective. Their date got cut a bit short as both of them got called into the murder investigation. So they went on their way, but not without the notice of Joan, who connected it the moment they showed up on the scene. Regardless, it was nice to get a peek into Bell's personal life.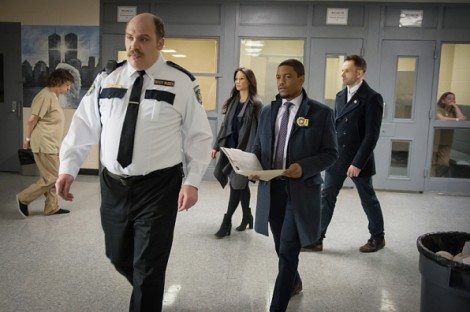 The dead man was declared to be a sitting judge, opening up a host of possibilities for his murder. The first was an inmate he had put away who was said to have recently escaped. Being the immediate suspect for very good reason, the team turned their eyes on a prison in New Jersey. It was a privately run facility, overseen by a group called Reformed Enterprises. They weren't sure how the inmate, Nicki, had escaped, but they were investigating and gave Sherlock and the team some good information on her.
Joan brought up Bell's lady detective girlfriend to Sherlock, who admitted to completely missing the fact they were dating. Rather, what he'd come to know was that the girlfriend was reporting to Internal Affairs, much to Joan's surprise.
Another man ended up murdered that had ties to the prison. The investigation heated up as they picked up the pace in searching for Nicki, who was the assumed murderer. They followed the clue, a book of poetry, to a lawyer who had given it to her while she was inside. He claimed he was innocent, though, and hadn't helped her escape. After all, he'd just put in a huge amount of time and effort trying to get her released the legal way. Why would he have put in all that work just to put his job at risk by helping someone escape prison?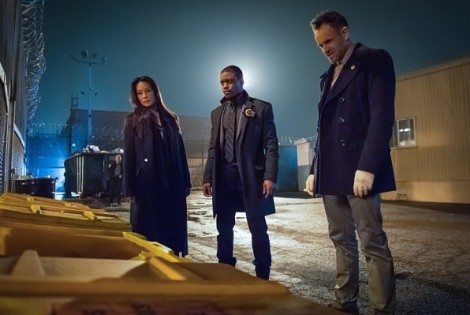 While following up on some leads, Joan decided to tell Bell about his girlfriend's connection to IAB. He immediately turned around and confronted his lady detective friend about it over lunch, effectively ending their relationship. Bell told her that he couldn't trust her because she was operating in the midst of shadows and secrets. He didn't like IAB, and the fact she was willing to inform on fellow police officers didn't sit well with him. They left on rocky terms.
Sherlock continued to find himself puzzled by Nicki's supposed escape from prison. Something caught his eye, though, as he realized there was a discrepancy between what the lawyer had said and what one of the correctional officers, McCann, had said. The lawyer claimed that Nicki hadn't wanted to switch prison jobs but had been forced to start working in computer recycling. McCann, on the other hand, all throughout Nicki's documents had said that Nicki had requested it. It was enough to get Sherlock up and running to the prison to look into it.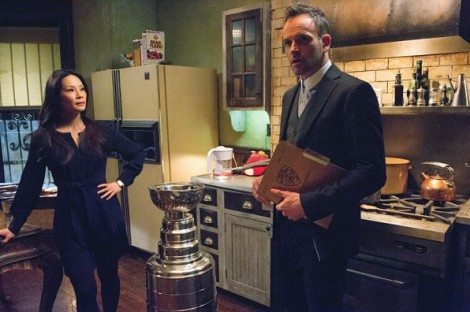 As he had suspected, he found her body in one of the hazardous waste bins. She hadn't ever left the prison. She'd been murdered. Someone had been trying to set her up. With the suspicion cast on the former Trey McCann, they headed to his old employer to discuss why he had been terminated. The Correctional Administrative Group was a group similar to Reformed Enterprises, insomuch that they looked to take prisons under private administration. McCann's old boss claimed he couldn't talk about why the man had been let go, but with a bit of twisting was willing to give Sherlock and Bell time to sit down with the files to read whatever information they wanted.
While perusing through the files, Sherlock and Bell had a moment. Sherlock encouraged Bell, in his own weird way, to not give up on the lady detective just because she worked for Internal Affairs. He admitted that he felt responsible for the paths those around him end up taking, because everyone around him seems to end up alone. It was very reminiscent of the conversation he'd recently had with Watson about the very same thing: don't become him. Being like him would not be the ideal for anyone, in his own opinion.
Bell seemed skeptical, but still open to the advice.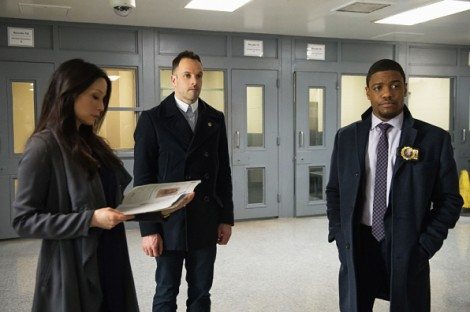 With their motives drying up faster than water reserves in Southern California, they turned to political gain as a possible motive. It was understood that the governor of New Jersey's close ties with Reformed Enterprises could put his entire reelection campaign at risk. So they turned to those closest to the governor to see if any of them would have looked to sabotage their boss. However, that quickly came up with nothing, as they found his staffers were very dedicated to the cause.
Instead, they made another jump of logic. If not the governor, then perhaps it was Reformed Enterprises that were to be smeared. Since the governor, to save face, had cut ties with Reformed Enterprises, a new prison contract was up in the air for competitors to swoop in. That took them straight back to McCann's old employers, the Correctional Administrative Group.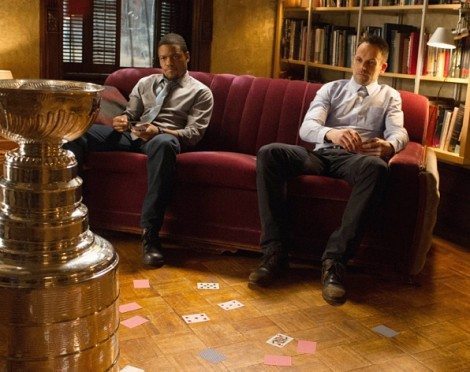 Upon confronting them, they were able to make a case and brought the lead guy down. He'd bribed McCann to kill Nicki. Then McCann was killed to cover it. The headlines, had Sherlock and the team not been involved, would have been unfavorable for Reformed Enterprises and would have tanked their ability to win the latest contract that the Correctional Administrative Group wanted. They wanted to take them out of the running, and in the process decided a few people's lives were worth the return.
Bell wanted to make amends with his lady toward the end of the episode. However, she admitted that due to their confrontation she was going to leave her precinct. While she'd still be a detective, if she wanted to be honest with herself and others she knew she needed to move to Internal Affairs full time. She said she would need time to adjust, but when the dust settled she'd be glad to hear from him again.
So Bell showed up on Sherlock's doorstep and the two had a moment of quiet bonding as they tossed cards into the Stanley Cup which, yes, was the real Stanley Cup after all.