Warner Bros. Home Entertainment provided Nerdophiles with a free copy of Legends of Tomorrow: The Complete First Season on blu-ray which is being reviewed in this blog post. The opinions we share are our own.


Legends of Tomorrow:
Season 1 [Blu-Ray]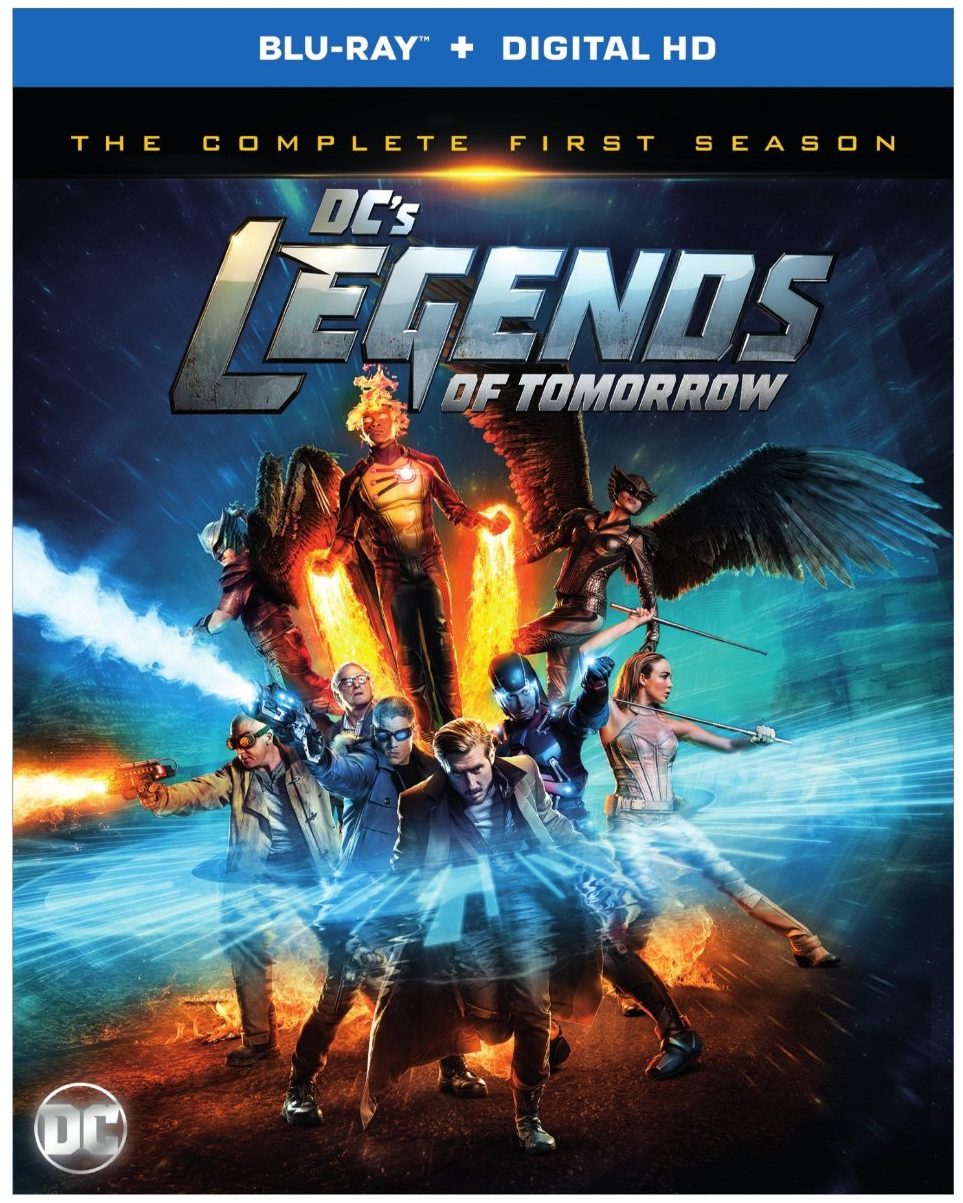 Release Date: August 23, 2016
Cast: Arthur Darvill, Victor Garber, Brandon Routh, Caitly Lotz, Ciara Renee, Wentworth Miller, Franz Drameh, Falk Hentschel, Dominic Purcell
Network: The CW
Genre(s): Sci-Fi, Comic Book, Superheroes
Extra Feature Rating:  ★★★★½
Rating: ★★★½☆
Review Spoilers: Low
Amazon | IMDB | Wikipedia | RT
Welcome to our review for the home release of Legends of Tomorrow's very first season! First things first, though. The blu-ray cover for this home release is beautiful and if you get the chance to see it in person I promise you won't be able to help picking it up. It has a super shiny sort of holographic feel and it looks really, really cool. I've spent more time than I care to admit just moving it around under the light in my living room.
I'm pretty easy to please.
That's probably part of the reason I enjoyed Legends of Tomorrow so much. Following in the footsteps of predecessors, Arrow and The Flash, Legends of Tomorrow is the CW's latest entry in their increasingly broad DCTV multiverse.
DCTV pulled together a group of heroes – and a couple villains – to create their very first superhero team series and I love them. It's an incredibly fun show. Where Arrow tends to get pretty dark and The Flash has been on it's own downward spiral of sadness, Legends of Tomorrow tends to remain fun and quirky – even when dealing with death, murder, and the fate of all time.
Season Review
Yeah, there's a lot at stake in Legends of Tomorrow. Our group of pre-established heroes are off to defeat Vandal Savage – a futuristic tyrant who will basically take over the world. Partnered up with Rip Hunter of DC Comics fame, they try to travel through time in Rip's ship, the Waverider, trying to find a way to foil Savage's plans.
But man are they bad at their jobs.
Don't get me wrong. I really enjoy this show. Legends of Tomorrow is an incredibly entertaining series. It just happens to follow what is probably the worst superhero team ever. I mean, ultimately things tend to work out. This is a pretty upbeat show.
The real charm of the series is that despite the sometimes heavy themes throughout the series everything still remains fairly upbeat. Relationships grow. Each episode brings a new conflict and often times a new historical setting. It just also tends to bring a new way for the team to mess up everything before ultimately succeeding (more or less) in accomplishing whatever goal they had in mind.
One of the surprising things about this series is that for the most part all of the characters get some amount of attention and development. With such a large, ensemble cast of characters with so many varied powers and abilities it would be easy for the show to focus on just one. Granted, the show plays favorites as the plot requires. Rip Hunter plays a big part as do this incarnation of Hawkgirl and Hawkman. But the rest of the team fill everything out with a few surprising cameos thrown in, too.
If you're a DCTV fan, Legends of Tomorrow is a great addition to the overarching franchise. If you're new to the franchise, though, you may want to check out Arrow (and the first season of The Flash) at the very least before diving in because there are a lot of references and plot points throughout the series.
Special Features
Once you've seen the series, though, check out the special features. The Legends of Tomorrow special features are an example of what a blu-ray release should be. They aren't just rehashed YouTube-style featurettes. Instead, they are largely fully fledged shorts in their own right.
Jonah Hex: Hex Marks the Spot is an excellent featurette on Jonah Hex. Spoiler alert if you are reading this before watching the first season: he appears in a special Wild West episode. The people behind the series talk about how they portrayed him, his comic book origins, and more. They also talked about how the episode as a whole helps establish Rip's own moral ambiguity by framing it through Jonah Hex. It also serves as a making-of feature for the whole episode which is really cool.
Another great special feature is A Fantastic Voyage: Touring the Waverider Set. The Waverider – the time ship on which the team travels – is effectively a character in its own right. The set designers get together for this special feature to talk about creating the ship, how they film on board the Waverider and more. It's definitely worth a watch – especially to see how awesome the set looks even without the magic of television and special effects.
History in the Making is another great feature that talks about using time travel as a vehicle for telling different stories. It also talks about how they make each and every episode happen. From scouting out locations to creating wardrobes to designing the interiors of sets to ensure they have a real period feeling, they go through all the challenges of making an episode of Legends of Tomorrow.
Rounding out the special features is the Warner Bros. Television Presents: A Night of DC Entertainment at Comic-Con 2015 – Legends of Tomorrow panel and an excellent gag reel. Seriously, the gag reel is awesome. It starts up like a 80s action series with old school sci-fi sounding upbeat music and computer font introducing everyone. It's very funny and has lots of great moments – plus it keeps that 80s theme running the whole time.
My only complaint?
THERE ARE NO DELETED SCENES! I mean, maybe they didn't cut too many scenes. I guess that's a possibility. I just really love deleted scenes so I was sad to see them missing. Maybe next season!
Final Thoughts
Legends of Tomorrow is a must-buy for DCTV fans – especially those who didn't get a chance to see the first season while it was airing on television. The second season starts on October 13, 2016 so there's plenty of time to pick up this set and get started. You've got almost two months to get through sixteen episodes. Easy!
Plus, you don't have to worry about where you catch up on the show because the blu-ray version also comes with a Digital HD code so you can take the show with you anywhere. (Right now the blu-ray is the exact same price as the DVD set on Amazon so grab it while you can.)
The first season of Legends of Tomorrow is out today on blu-ray, DVD, and Digital HD.