Video Game Storytelling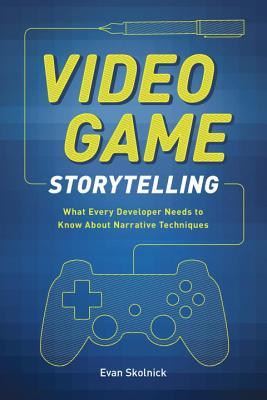 Author: Evan Skolnick
Release Date: December 2, 2014
Publisher: Watson-Guptill, Crown
Genre(s): Non-Fiction
Rating: ★★★★☆
Review Spoilers:  Low
GoodReads | Amazon
I love video games.
When picking games to play I've never cared much about graphics. Instead, it's always been the plot and characters that have mattered most to me. Video games have incredible narrative potential and when I play them it's generally because I want to know what is going to happen next. I want to know the story. I want to experience and absorb it the same way I would any other story be it told as a book, movie, comic, or otherwise.
Skolnick's book was a fantastic read because I had always wondered how people come up with the stories for video games. I'm no video game writer or designer myself. I'm simply a gamer who loves everything about gaming.
That's one of the strengths of this book: no matter who you are, it's written in such plain, approachable language.
The book is broken up into two sections – 'Basic Training' and 'The Trenches.' The first section breaks down the basics of storytelling. Skolnick talks about things like story structure, character archetypes, and dialogue in plain terms with fantastic examples placed throughout. The second section delves deeper into the narrative process and talks about working as a team to embed the narrative into the game. And he doesn't just focus on the storytelling, but looks at integrating it into the larger process of creating a game – from development team dynamics to level design.
Of the two sections, the second one is the more technical. It moves away from storytelling generally and starts to really focus on the challenges of storytelling in video games. The first part – while geared towards video game developers – could be useful for anyone looking to tell a good story in any format or media. Honestly, I got the most out of that section because I'm not a video game developer, but I can use the lessons given in those early chapters in my own creative pursuits. The second half was more of an insider's look at the process of game development, which was interesting but for other reasons.
Ultimately, I highly recommend Video Game Storytelling for video game fans who are looking for more non-fiction, easily approachable books about their favorite pastime. There is a growing number of options out there for gamers looking for behind the scenes looks at gaming in general and this is a great choice for the curious.
Definitely worth a read – especially if you're also a writer on the side. You'll not only learn about games, but maybe learn something you can apply elsewhere as well!


A REVIEW COPY OF THIS TITLE WAS PROVIDED BY THE PUBLISHER VIA BLOGGING FOR BOOKS IN EXCHANGE FOR A FAIR AND HONEST REVIEW.