Synopsis of 2×08: Flint faces his past when he delivers Abigail home to her father in Charlestown. Rackham and Max make plans to seize the Urca gold and Silver makes a sacrifice to keep his lies. Meanwhile, Vane makes good on his promise for revenge.
Rating: ?????
Abigail is dealing with nightmares of her own, as she recalls memories of her kidnapping at sea by Ned Lowe. Her fears are rightly justified as she dreams of Captain Lowe's murderous face seizing her violently from the ship's hold. Miranda is there to comfort her though as the two voyage with Flint and his crew to Charleston to finally return her to her father, Lord Ashe. Still, despite Miranda and Flint's reassurances of her safety, Abigail is incredibly wary of the pirates she travels with, unable to put aside the superstitions and reputations surrounding them.
Back in Nassau, Max has roped Rackham and his quartermaster, Mr. Featherstone into Silver's plan to seize the Urca gold. The three are having a spot of trouble trying to determine how to secretly smuggle the vast amount of gold without the entire populous of Nassau learning their secret. Their private meetings have not gown unnoticed though, as a mysterious young women spies on them from afar. This young lady swiftly returns to an older woman, who claims to have been the former owner of the inn Max now runs, and her young spy relays news of Max and Rackham's secret meetings to her.
This woman later visits Eleanor, who had apparently hired her to keep an open ear to the goings of those with significant investment around Nassau. She shares with Eleanor her thoughts of Silver's lie, of Charlotte and Flint's man leaving the island after running away together. She presents Charlotte's saving, claiming the girl would never leave the island without her money and believes it was all a ruse. Eleanor learns that Max may have gained information concerning the Urca gold from Flint's man and that Rackham has recently emptied the contents of his entire ship and is preparing to sail again. It seems like Eleanor is in a difficult situation, as in order for Flint's plans for Nassau to be successful, Rackham and Max mustn't seize the gold and Eleanor has been designated to stop them.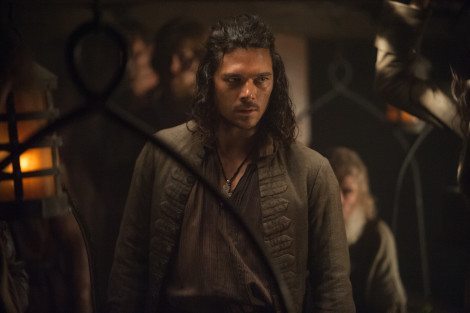 Meanwhile, Silver takes matters into his own hands on the ship when his precarious lie concerning the Urca gold becomes jeopardized by the very men he convinced to play along with his plan. One of the two men Flint instructed to watch the beach is having a hard time keeping his mouth shut, believing he is betraying the other men and Silver believes he has the potential to be a very real problem if he can't keep his mouth shut. Silver asks the second man to take care of the problem, but later learns that, rather than talking to his friend, he has instead orchestrated his death, playing it off as a terrible accident after he falls from the rigging. Enraged, Silver is shocked that his man would actually be willing to kill to preserve their interests.
His death spurs a humane response from the rest of the crew, and Abigail is finally able to see a glimpse of the real men pirates may actually be, underneath their stony cut throat exterior. Spurred by these revelations, she approaches Flint and Miranda and shares with them a secret which she has been keeping from them.
She shares a story that her father once told her, of a ship beset upon by Flint when he was much younger following Thomas' disappearance and his exile. Apparently, Flint and Miranda had hunted and killed Thomas's father, Lord Hamilton out of rage, leading her father on his vendetta to eradicate pirates like Flint. Abigail mournfully claims that she does not believe her father will listen to Flint, having been driven by the bloody murder of Lord Hamilton.
Meanwhile, David Butler returns to Nassau as Frazier, one of Eleanor's contacts and a seemingly reputable man in Nassau. He claims Eleanor must get rid of those who may jeopardize Flint's plans and those that would seek to steal the Urca gold.
With strong winds, Flint and his crew make landfall in Charleston and he and Miranda accompany Abigail to shore where Flint demands an audience with Lord Ashe. While Abigail joyously reunites with her father, Flint prepares to face judgment after so many years. Ashe is shocked to see both Flint and Miranda, but welcomes both of them into his home nonetheless.
Back in Nassau, Rackham and Featherstone approach the fort, knocking on the door seeking an audience. Rackham though, is curious by the fact that the fort is eerily silent, believing that there may not be anyone at all inside. With his crew's assistance, Rackham knocks down the door and discovers the body of Eleanor's dead father strung up on a post within. It seems Vane made good on his promise to Eleanor to exact revenge for her actions. A shocked Eleanor discovers a written message from Vane, claiming he will see Nassau always free. In a dramatic reveal, Eleanor also discovers that Vane has long since left the fort and has followed Flint to Charleston in order to claim his desired prize, the man-o-war. While Flint and Miranda are busy on shore with Ashe, Vane and his crew stealthy slip through the marsh reeds, yards away from where Flint's ship is anchored, preparing to victoriously take the unaware ship and her crew.