Release Date: March 13, 2015
Cast: Lily James, Richard Madden, Cate Blanchett, Stellan Skarsgård, Holliday Grainger, Derek Jacobi, Helena Bonham Carter
Director: Kenneth Branagh
Studio: Walt Disney Pictures
Distributor: Walt Disney Studios Motion Pictures
Genre(s): Fantasy
Rating: ★★★★☆
Review Spoilers: Low
IMDB | Rotten Tomatoes | Wikipedia
The tale of Cinderella is, perhaps, one of the most famous fairytales in the world. Nearly every culture has a variant of the rags-to-riches story, and now Disney has two versions. Kenneth Branagh's Cinderella is very reminiscent of Disney's 1950's animated classic that so many of us still remember and hold dear.
Branagh is a perfect directorial choice for this movie, as it has all the hallmarks of his aesthetic and directorial style, able to toe the line between dramatic and whimsical. In what we expect will start to become a long line of "remakes", Cinderella outshines last year's Sleeping Beauty remake Maleficent. It is appropriately enchanting. Not only does Lily James, but the entire cast has a solid performance.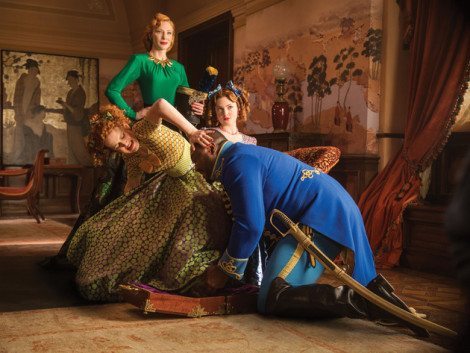 Cate Blanchett's Lady Tremaine is cold and elegantly terrifying, with the same menace that the animated classic maintains. Downton Abbey's Sophie McShera and The Borgias's Holliday Grainger play the ever despicable and bratty evil stepsisters, Drisella and Anastasia. Helena Bonham Carter shines as a quirky fairy godmother that does not disappoint. Agent Carter's Hayley Atwell makes a small but memorable appearance as Ella's kind mother. And of course, the recently deceased King in the North, Game of Thrones's Richard Madden breathes some life to the oft forgotten prince.
In typical Branagh fashion, his color palettes and visual devices embellish the story in ways that elevates it from a simple fairytale film. The screen is oozing in colors, with the step-sisters in garish oranges and reds while Lady Tremaine sports brassy golds and opulent greens. They are unnecessarily extravagant while Ella spends almost all of the film in her simple Cinderella blue dress (as if there is another way to describe that iconic color).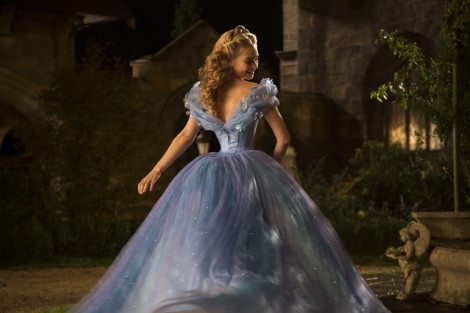 The royalty sport sleek crisp breeches and royal blue jackets, with a castle that is gilded in gold and mirrors reminding us a lot of Branagh's famous Hamlet. The costume and production team deserve a massive applause for their excellent work in turning a childhood fairytale into a believably beautiful and elaborate universe.
The story, is much like the one we know so well, with very little changes. As the saying goes, if it ain't broke, don't fix it. Madden's Prince Kit is a little over-the-top at times, riding into the first scene we see him in with a massive smile on his face. The storyline surrounding Kit feels a little extraneous. His advisors are telling him to marry for the future of the kingdom, his father is telling him to marry for love, even if it is a simple country girl. There is a bit of underhanded political drama captained by Stellan Skarsgard's Grand Duke and Lady Tremaine, but nothing really comes of it.
Instead, the film is best in its scenes with Lily James's Ella. She is positive and optimistic, kind to all, and beautiful in a way that can only shine from within. Like the animated Cinderella, Ella has her animal friends, and her beautiful transformation into a princess, and both are done in outstanding fashion. It never feels tried or childish, and puts the viewer into the magical world that they live in.
Final Thoughts: There really is no other word to describe this film other than enchanting. It delivers the same message in beautiful modern way, without being ostentatious or awkward. Branagh proves that you don't have to put overt modern twists on a old tale to make it a winner. It is a film that is perfect for all ages and a perfect compliment to the animated classic or simply as a standalone for new viewers.