Synopsis for 4×16: Team Machine is called on to protect a college student caught up in a conflict regarding money from medical marijuana sales. Meanwhile, Root goes off on a solo mission and ends up partnering with some sort of tech company on a project for an application she's working on.
Rating: ★★★★☆
The battle with Samaritan was sort of put on hold this week as the team turned back to dealing with the numbers. This time around they received the student number of a young woman by the name of Harper, an anthropology student whom Reese set out to track down. From the get-go she was acting suspiciously. Right in front of Reese, on campus, she switched backpacks with another student and made her way back to the dorms.
Reese rather awkwardly followed and found Harper had left to meet her boyfriend. She told the boyfriend, Trey, that she would cover his shift for him. Of course it wasn't a typical job, and soon it was revealed that Trey worked in a marijuana dispensary – which brings about a whole different set of issues.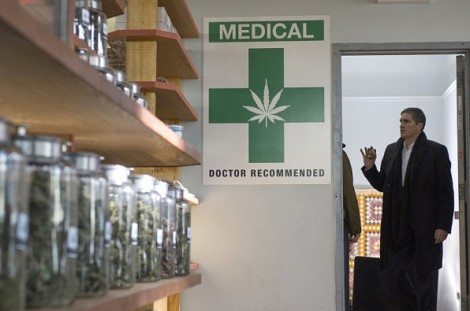 While Reese got lay of the land, Root showed up in their subway hideout, back from a trip to Sri Lanka. She acted rather cryptically, even going so far as to propose to Finch the idea of bringing more people into their operation. He dashed those hopes quickly, still hurting in light of what happened to Shaw. Root left Finch with tea to complete whatever task the Machine had for her.
Since depositing money into banks was out of the question, the owner of the dispensary had no choice but to hire private security and storage. It just happened to be an operation headed up by Dominic. In a bid to slowly take over the city, Dominic stepped into the private security game and a couple of his men came to pick up the money to take it to a safe location.
Nothing went as planned, however, as a local drug cartel showed up with guns blazing. They weren't happy with the money they were losing thanks to legalized marijuana and hoped to make a score. While Reese dealt with the chaos, Harper made a run for it. When he caught up with her she had the money that was supposed to be transported. She'd arranged for the whole thing to happen and when Reese insisted she hand over the money and let him help, she hit him with a baton and momentarily incapacitated him. There was more to Harper than it originally seemed.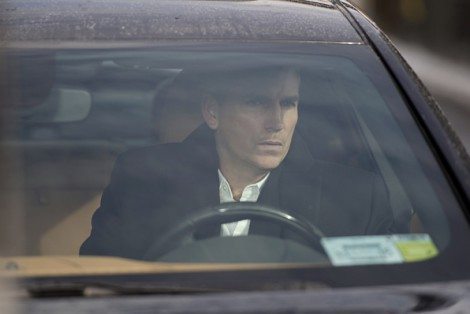 With a bit of digging, Reese and Finch revealed that Harper was a grifter. She was a con artist, stealing from criminals to make a profit. As Finch filled Reese in, he was also tracking Root through the crowded New York City streets to no avail.
Reese finally managed to track Harper to a club where she used the name Fiona. She came clean and admitted she'd stolen the money in order to pay off some debts she had to the owners of the club. Now that they were square, she was free to pursue other paths. Unfortunately for her, she didn't quite realize just who she'd pissed off. Reese informed her that Dominic's men were coming, just as they entered the club, and she disappeared. Reese remained and there was an amazing club fight scene sequence. It was beautiful.
While Reese tried to protect Harper, her "boyfriend" Trey was left open and vulnerable to Dominic's people. He was abducted from his apartment and taken to Dominic's hideout. They interrogated him, but the poor kid really didn't know anything.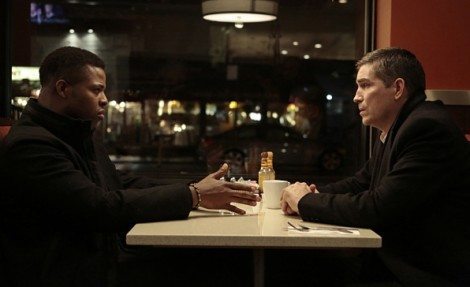 Finch and Reese managed to corral Harper into a safe house apartment where she proceeded to ask them questions about their operation. Partway through Reese left to see if he could find Trey while Finch and Harper were left to have an interesting conversation. We learned more about her in this scene as she admitted she moves from place to place, stealing money from criminals because it is a victimless crime. She hasn't settled, and Finch pointed out that it sounded like she was running instead of really living.
While all of this is happening, Root was off making a deal with some sort of tech company regarding an app she wanted to build. The whole thing is rather mysterious as the viewers were only given bits and pieces of what was happening. She's making a move for the Machine, but to what end is still uncertain.
When it was discovered that Trey was missing, Reese tried to make a deal with Dominic. He'd give him the money in exchange for both Trey and Harper. In a face to face meeting, Dominic said he'd make the deal if Reese would tell him who he really was. Of course Reese refused and then said something interesting. He told Dominic that their conflicts weren't personal. Rather, Dominic kept getting in the way and Reese would continue to fight against him if he kept preventing them from saving people.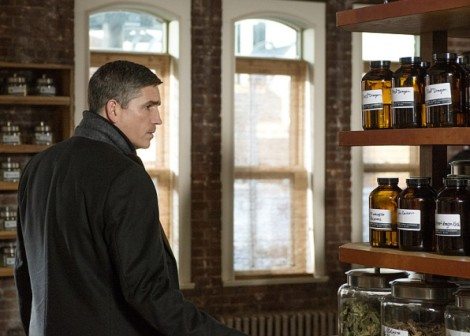 They brought up the truce with Elias and Reese admitted that while Elias does bad things, he stays out of the way. They have an understanding. For a moment it seemed like Dominic was willing to come to the same understanding. However, when he didn't get the terms of the deal he wanted both of them had to make a move. Dominic's men showed up as a sign of strength, but Fusco kept the situation from turning ugly by tagging Dominic with a sniper. At a standstill, Reese and Dominic parted ways and Harper decided it would be up to her to save the day.
Harper made a deal again with the cartel to try and make up for losing their money and getting one of their men shot earlier in the episode. They would turn her in to Dominic in exchange for money and access to the facility where he was keeping all of it. The cartel agreed to go along with her plan, but of course it didn't go quite as they hoped since Reese and the team was involved. Harper distracted both Dominic and the cartel while Reese went through the roof and rescued Trey. Then, when it seemed like the deal was about to go south between Dominic and the cartel, the police showed up and busted them.
However, Dominic had been tipped off and all the weapons his crew were carrying were registered legally through his security company. He was saved, the cartel members were arrested, Trey was returned safely, and the whole mission turned out as well as it could. Dominic even offered Harper a place in his organization, which she turned down for the moment.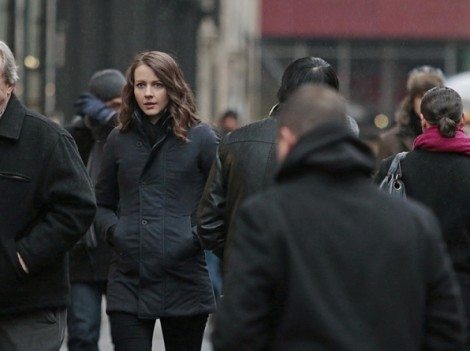 Root's storyline in this episode ended as she met the head of the tech company, a man named Caleb Fitz. He not only wanted to help her develop the app, but asked her if she'd be willing to jump on a project with them. My prediction, which is based on absolutely nothing, is that she's somehow infiltrating Samaritan. Perhaps the tech company works with Samaritan components. Or perhaps she's trying to recruit the company to help fight against it. The writers left it ambiguous.
The episode finally ended with a goodbye to Harper, but it seemed more like an open goodbye. Finch had her ring and mentioned that she knew where to find him if she wanted it back. That makes me wonder if she won't be showing up somewhere down the line.